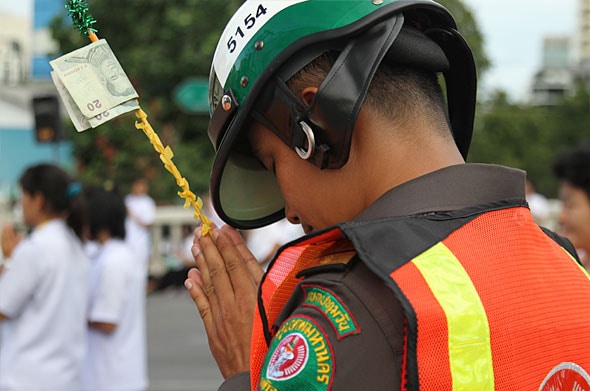 Visakha Bucha Day & Happy Birthday & VOTE?…
There's a lot going on today… We all know it's Visakha Bucha Day but it's also my birthday (yeah)… and… it's the day voting opens for the Top 100 Language Lovers 2011 competition.
So, yeah! Let the voting begin.
Happy Visakha Bucha Day…
Officially, 17 May 2011 marks 2,600 years since Buddha's enlightenment. To celebrate the anniversary, on the 8th of May 12,600 monks in orange and goodness knows how many Buddhists in white got together in front of Central in Bangkok. I was there. It was a massive event. And I was rightfully impressed.
Alms Giving to 12,600 Monks in Bangkok (thai-blogs.com – no longer online): Visakha Bucha Day is one of the most important days in the Buddhist calendar. It takes place every year on the full moon of the sixth lunar month. Three important events happened on this day. These were the birth, enlightenment and the death of the Lord Buddha. Buddhists make merit on this day by going to the temple to offer food to monks and to listen to sermons.
Richard Barrow showed up at 5:30 in the morning, putting me to shame. I didn't roll up until 7am and ran right into a sea of white. Not orange.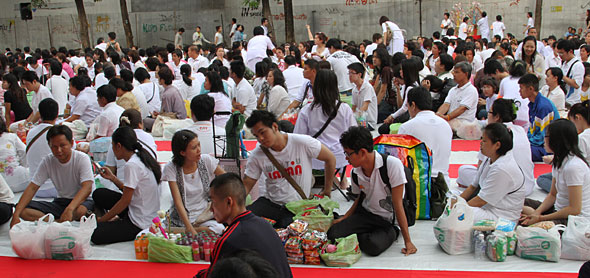 Passing along the rows of white, each sitting by their stash, I also came across street hawkers and merit making birds at the ready.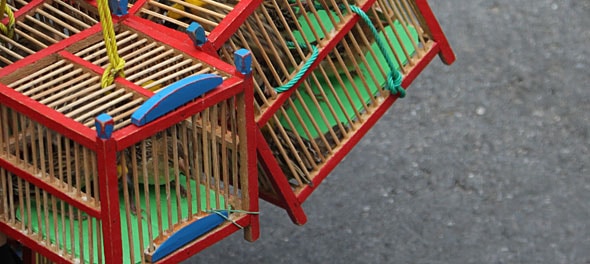 Then I walked past people crammed into available spaces on the sidelines.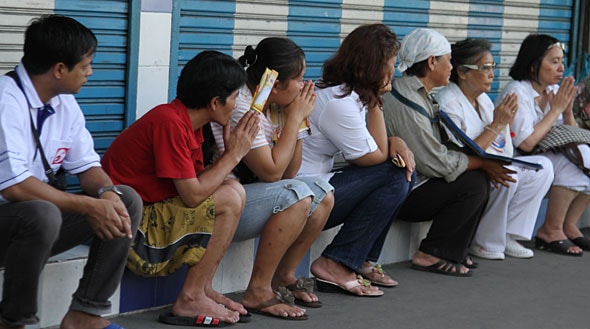 As well as young lads patiently waiting the morning out.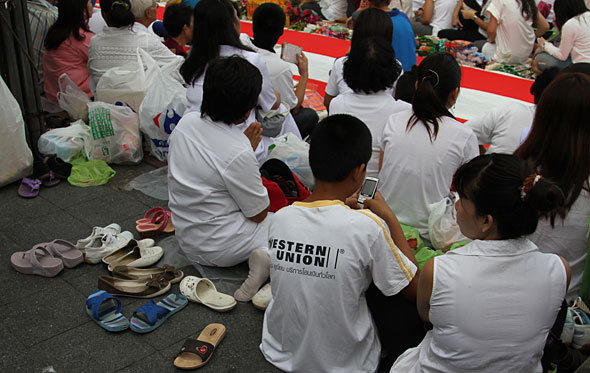 Finally, after about ten minutes of dodging the worshipers in white, I hit orange.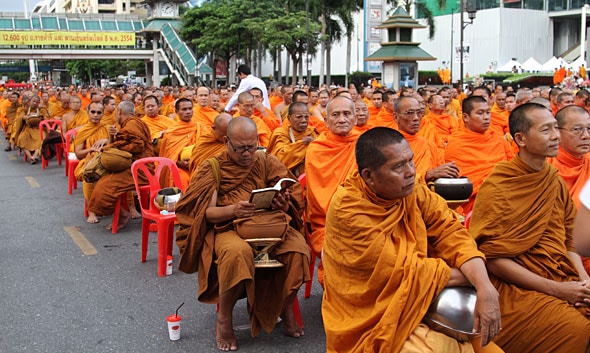 Lots of orange.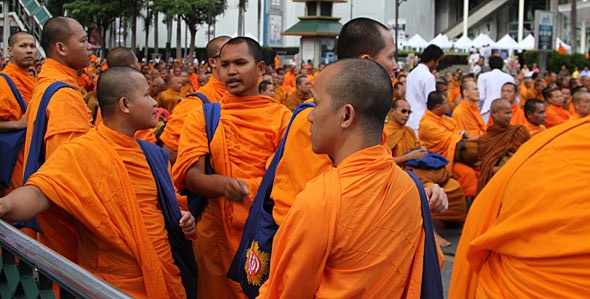 I don't know what hour the monks arrived but by the time I rolled up they were rightfully zonked.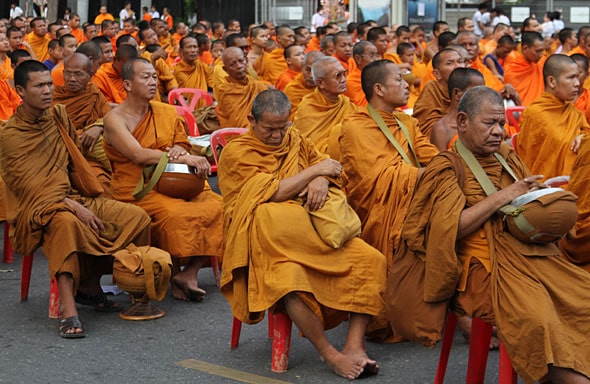 Some were animated during the speeches, while others did a bit of pot cleaning.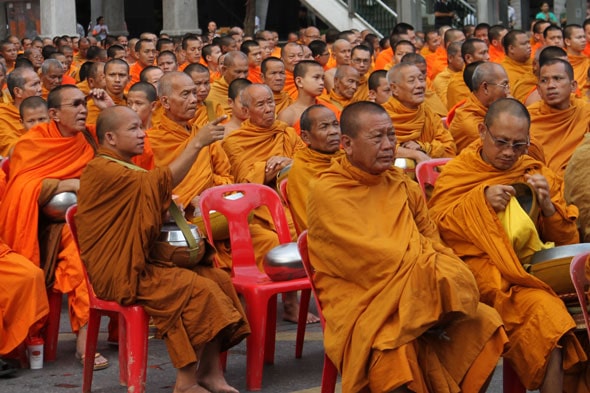 There was one TiT moment. See that pedestrian walkover? The one with the half naked model behind it? Photographers were walking up there to take advantage of the prime photo taking spot of the morning. When I went to do the same I was stopped.
Waggling my camera in protest I was told "Male photographers only". WHY? Says I. "Women cannot be higher than the monks."
I mentioned this to a Thai friend. He scoffed. Said there is no such rule in Buddhism.
So TiT strikes once again.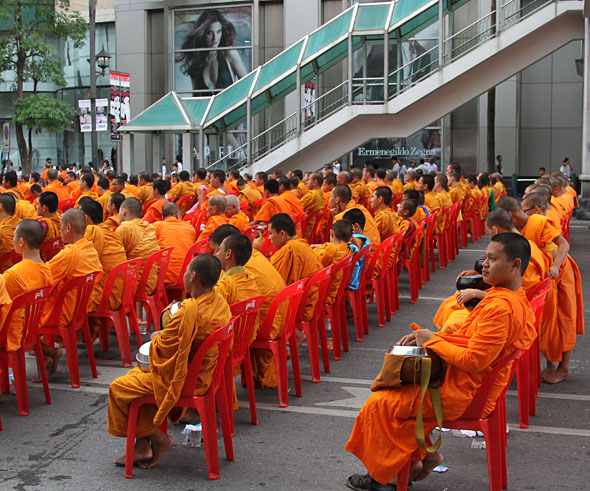 Were you wondering how comfortable those seats would be? I guess not much!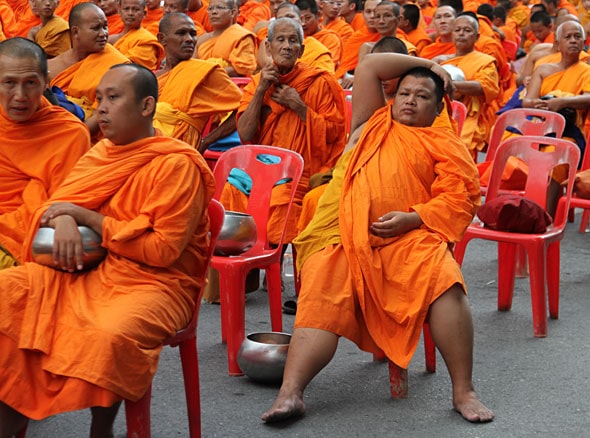 Now here's a monk after my own heart. He's parked right at the back where he can fiddle with his earphones undisturbed.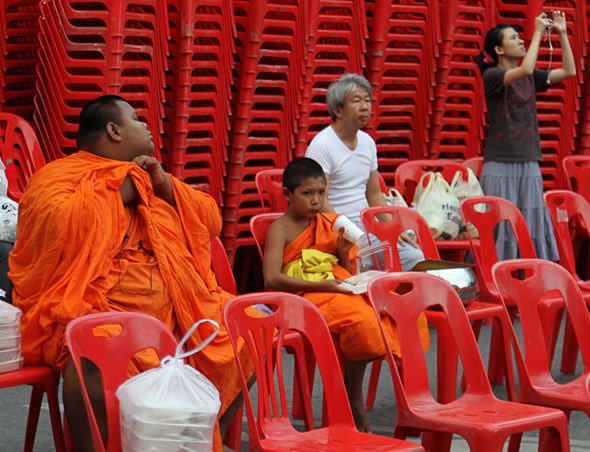 To snap a photo from as high as I could I walked to the very back of the monks, climbed up to and then across the Skytrain walkway. Did you notice the signs keeping step with the sitting monks? The ones that say "Women for Women"? Gotta love it.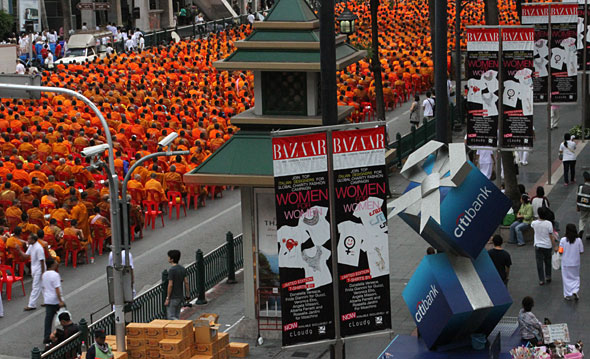 The sea of orange was amazing.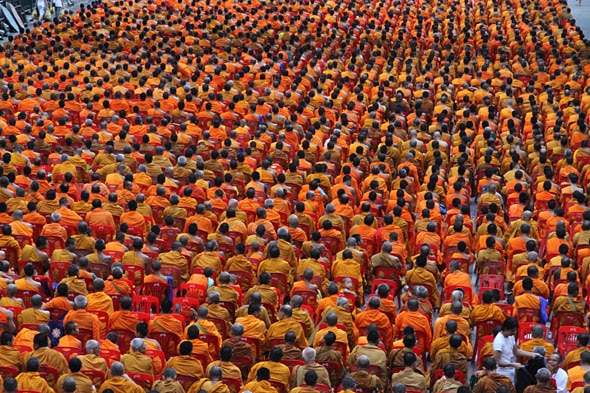 It was all amazing (but apologies, once again, my video skills are still total cacca).
Visakha Bucha Day, 17 May 2011, is a one off deal for Buddhists and if you are missing it, that's it. Finish. So if you are in Thailand and this is your thing, then please get your butts away from the computer and get out there. Or vote. There's always voting.