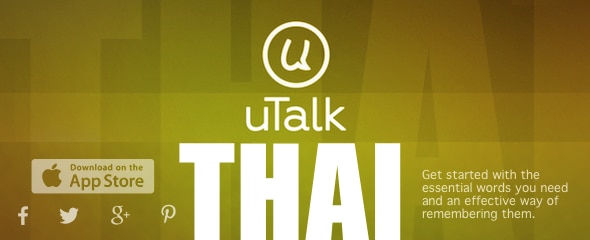 uTalk Thai iOS app Xmas giveaway…
Three iOS apps have been kindly donated to WLT by uTalk, a language learning company who designs some of the classiest iOS apps on the market. I totally fell in love with uTalk's first Thai app, and generations later, this one is better still.
NOTE: As many Android users have iPads, I thought it necessary to point out that an iPhone is not needed to run this app.
To win an app, the rules are simple:
Leave your comments below.
The comment(s) need to add to the conversation.
Note: Each relevant comment gets counted so leave as many as you like. If this is your first time leaving a comment on my site, it will need to be approved. But no worries, once approved it'll automatically slot in at the correct time.
Duration: The draw will run from the time the post goes live until the Sunday, 21 December, 6pm UK time. At that time I will number the reasonable comments and run them through an online randomizer. The winners will then be announced in the comments of this post. There will also be a dedicated post, but not after Xmas.
Good luck everyone! And ho ho ho.
The uTalk Thai iOS app review…
uTalk iOS apps are a pleasure to use, and this is their slickest yet. The icon driven navigation bounces you through the course, making learning a joy. But this app is not just about pretty pictures. There's actually Science Behind EuroTalk.
The course is designed around what is called 'dual coding'. By engaging your visual and verbal memory, dual coding improves both your retention and ability to recall words and phrases. So basically, instead of forcing rote learning down your throat (tedious), uTalk Thai's quizzes entice you to interact with the study materials.
The quizzes are not just fun, they have been created with learning/retaining in mind. To make any progress (even inside each lesson), you really do need to learn the words and phrases that are 1) spoken (native audio), 2) written (in either Thai script or transliteration), and 3) recorded (by you).
Getting around uTalk Thai…
There are 100 free languages to choose from, each with 15 essential words. After you've made a purchase click on the installed course to get started, or just select one of the available free courses.
Settings: User, Language (choose the language for the app, not the target language), Purchases (delete or restore), Support (sound and purchase explanations), and Rate uTalk.
World Tour: No matter if you've done well or awful (I tried awful to see) you are given the option of going on a World Tour. Don't worry, the plane won't crash! I have yet to figure out the sense of doing this activity but there's sure to be one. Fun?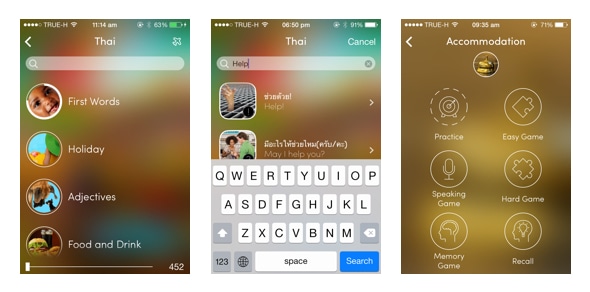 Nav and topics…
Once you've chosen your course, the next screen gives you the option to search or select a topic. As you can see in the graphic above, the search bar doubles as a dictionary search. Making a selection takes you to where the word (phrases included) appears in the course. Clicking the arrow at the top left of the screen takes you back to where you were.
In the full course there are 36 topics: Alphabet, First Words, Phrases, Social Phrases, Likes and Dislikes, Adjectives, Prepositions, Numbers, Numbers up to Twenty, Numbers up to Ten Million, Colours, Shopping Words, Shopping Phrases, Clothes, Vegetables, Fruit, Food and Drink, Restaurant, Outdoors, Sports, Leisure, Business, Technology, Calendar, Emergencies, Illness, Doctor, Body, Transportation, Travelling, Vacation, Countries, Bhra-tate-tai (ประเทศไทย), Directions, Accommodation, Time.
Selecting one of the topics takes you to a screen (shown in the graphic) with icons for Practice, Easy Game, Speaking Game, Hard Game, Memory Game, Recall. For this review I've chosen Accommodation.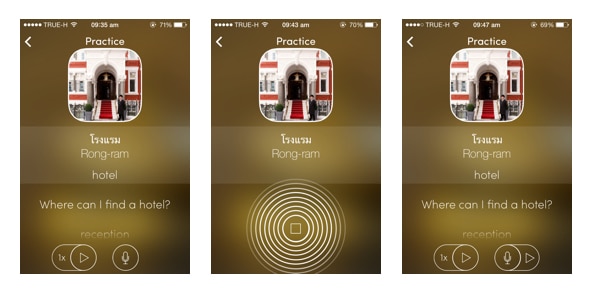 The Practice Activity…
In the Practice Activity you listen, read (Thai script, transliteration, and English), and record yourself.
At the top of the Practice screen is a graphic of the word/phrase. Below, in a lighter coloured band, is the word/phrase in Thai script, then transliteration, followed by the English translation (or the language you selected in the settings). This is the only section where you get everything (audio, visual, Thai, transliteration, English).
Audio: To hear the word/phrase spoken by a native, either click within the lighter coloured band or on the arrow at the bottom left of the screen. If you first hear a native male voice, clicking again on the arrow gives you the native female voice, and visa versa. To slow down the native audio, just click on the 1x (it then changes to 1/2x).
Recording: The recording icon does just what you'd expect (records your voice). It's up to you whether or not you say a word or phrase twice just like they do. After you record, your recording plays automatically. To hear yourself again just click on the arrow that has now appeared to the right of the recording icon.
To compare your recording to the native audio click on the far left arrow (think of the left arrow as the native audio and the right arrow as your recorded audio). If you are dissatisfied with your recording, rerecord.
Tip: To get the best out of the practice area, take the time to get as close to native as you can. Pay special attention to tone and vowel length as both are important in a tonal language. And be sure to record your gender (in Thai there are different pronouns and polite particles for male and female). If you can, get a Thai teacher to listen to your pronunciation.
To finish the activity: After you are satisfied with your recording, select the next word/phrase by scrolling down with a finger flick. Continue recording words and phrases until you've completed the Practice section. To get back to the main screen click on the back button at the top left of the screen (this navigation works for all sections).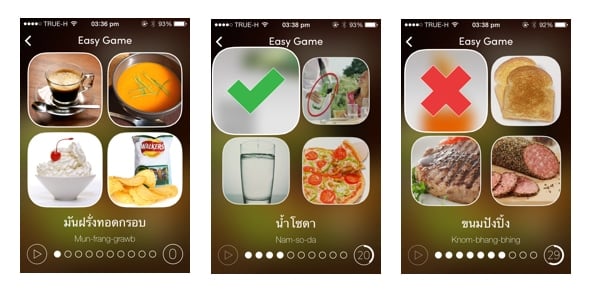 The Easy Game…
This is a listening and reading game. There is Thai script and transliteration, but no English. Some of the photos and graphics are not exact matches (it's difficult to portray thoughts and some actions), so in order for your brain to link the audio to the visual you really do need to pay attention.
As soon as you click on the game icon, the game starts. One after the other, graphic boxes appear with matching audio (a mix of male and female voices). The graphics bounce around the screen, switching places. Once they settle you hear a word as well as see it written in Thai script and transliteration.
To move to the next screen you only need to match one graphic to the audio by clicking on it. But, if you do get it wrong, the matching Thai audio for that square is spoken and a big red X appears along with the spoken ไม่! Get it right and you get a big green X with a response ใช่! A ใช่ advances you to a new selection.
Tip: Often the ฉัน and ผม in phrases won't match the photo, so guessing doesn't work!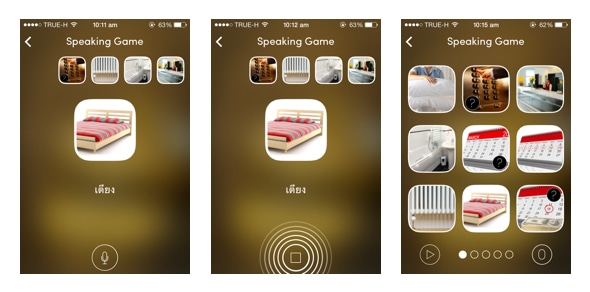 The Speaking Game…
In this game you listen, record your voice, and in the game match your recordings to the native speaker's. Only Thai script is shown, there is no Thai transliteration or English words.
First off, a screen with a selection of graphics appears and a native male voice is heard. From what I experienced, you cannot switch to a female voice. When you click on the recording icon the native voice is heard again (twice), and then you record yourself saying that word.
Note: In this game your recordings are used in the quiz, so you really do need to get it right!
After you've completed (recorded) your first set, a new screen comes up with nine icons. That's when your recordings come into the game. You are to match your recording to one of the graphics on the screen. When you select (click on) a graphic, a native voice speaks the selection, following with either ใช่ (yes) or ไม่ (no). If you get it wrong, you get a native recording, a nasty red X appears on the selection, and you need to choose again. If you get it right, a green X appears and the screen reloads.
Tip: If you need to hear the audio again click on the graphic BEFORE you click on the recording icon.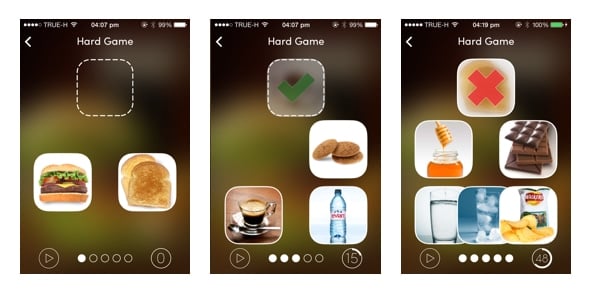 The Hard Game…
This game is audio (male voice) and graphics only. No Thai script, no transliteration, no English.
What you do is listen for the Thai word, then slide the correct graphic into the dotted space at the top of the screen. If you need to hear the audio again just click on the native repeat arrow on the bottom left. A wrong answer gets you a ไม่ along with a red X, and the incorrectly chosen graphic goes back where it came from. As in the previous game, a right answer gets you a ใช่ and a green X. To move to the next screen you need to get all but one right.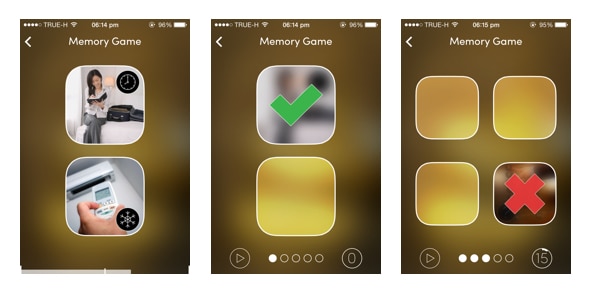 The Memory Game…
This is a timed game with graphics and audio only. No text at all.
Graphics appear with accompanying audio. A timer appears at the bottom, showing you how much time you have to memorise each position before the graphics disappear.
To play the game, memorise the location and then click on the blank graphic that used to match the audio. As before, click the native arrow on the left to repeat the audio. The game gets more difficult as it progresses, adding more graphics per screen until the end.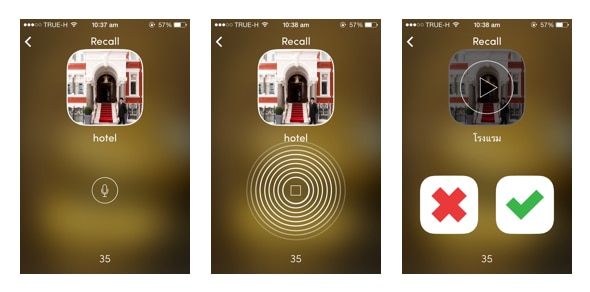 The Recall Activity…
This activity uses English and Thai script (no transliteration), and recorded audio (yours and theirs).
With this activity you are on your own and on your honour. As shown above, there's a graphic with a matching English word or phrase. Click the recording icon to record yourself translating the English to Thai. Right away you hear your recording, followed by the native audio. It's only then that Thai script replaces the English.
Next, two boxes appear. One has a red X and the other a green X. It's on your honour to select whether you were correct (green) or you bombed (red). If you are not sure, clicking the arrow that's appeared over the central graphic plays both your recording and the in-app audio. The number at the bottom of the screen denotes how many words/phrase there are to finish in this set.
My wish-list for uTalk Thai…
Statistics: With all the hard work needed to study with this app, for anal users (we know who we are) it'd be great to see a graphic showing progress.
Transliteration: A pet peeve of mine, the ability to turn it off would be wonderful.
Native audio: You don't get to choose to hear only male or female audio, and in some places there is only male. This could be an issue for those trying to pitch their voices to match (in Thai at least, the male is much lower than the female).
Thai vocabulary: In the food section especially, the foods are western. English loanwords (steak, coke, beer, cream, hamburger, hotdogs, etc) are ok, but also needed are local foods people will order in Thailand. This is a universal problem with multi-language courses. An English vocabulary/phrase list is translated into many languages, missing out on the uniqueness of the target language.
Formal vrs street: Most Thai courses error on the formal side and this one is no different. Being able to choose between formal or casual phrases would make the app more useful. Baring that, explain it somewhere in the settings (that no, Thais don't say krap at the end of every sentence!)
Explanations: Thai is a tonal language. At the very least they should point out the need to pay attention to vowel length and tones. One of the best examples I've come across can be found in the Talking Thai-English-Thai iOS dictionary.
Customise: I'd love to be able to add new words and phrases (with audio and graphics), similar to what BYKI offers.
More about uTalk Thai…


Price: Free (in-app purchases)
Seller: EuroTalk Ltd
Updated: 20 October 2014
Version: 2.0.3
Word count: Free version – 15 essential words (1 topic)
uTalk Essentials: £6.99 – 500 words and phrases? (11 topics)
Premium package: £11.99 – 1,000+ words and phrases (35 topics)
Audio: Native speakers (both male and female)
Thai script: Yes
Transliteration: Yes
Turn off Transliteration: No
Zoom/pinch: No need
Font control: No
Help: Yes (slim)
Requires iOS: 7.0 or later
Optimised for: iPhone 5 and iPhone 6
Compatible with: iPhone, iPad, and iPod touch
Blog: EuroTalk
Facebook: EuroTalk
Twitter: @eurotalk
Btw, there's a uTalk Challenge going on: Can uTalk a new language in one month? and Why I'm learning Thai in January – a poem. If you do join the challenge, please let us know in the comments, ok?
Once again, Happy holidays everyone – and good luck on winning one of three uTalk Thai iOS apps!