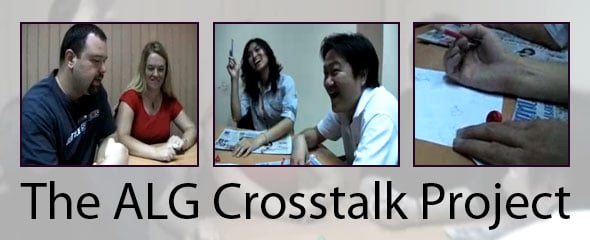 "*" indicates required fields
Announcing the Crosstalk Project…
Make new friends – learn a language – develop relationships – really communicate
Imagine for a moment that you are in a far away land. You recently received a job offer to work in a distant city, far from family and friends. Your new city is strange and foreign to you. You have never been there before, have not previously met anyone, and don't speak the local tongue. Yet, after about a month or so, you are starting to find your bearings. Housing and food are no longer an issue, but is something else missing? Perhaps you wish to learn to communicate with the locals, find some new friends, or even make contacts in the diverse expatriate community there? Maybe you can pick up a few survival phrases as you go? Or would a language course be more useful?
Communicating Abroad…
Many people dream of learning to communicate in a new environment. They arrive in a new place and work to pick up enough survival vocabulary to get by on a day-to-day basis.
They are focused on using words, focused on language.
Over the years, as I've seen foreigners trying to use Thai with pre-packaged phrases or patched together words, the realization has grown that there are usually much easier ways to get the point across. I like the story of my very heavy American friend (350 lbs. ~ 159 kg). He had traveled to Seoul, South Korea and needed a laxative. Not only did he not know any Korean language, he was out in the city and didn't know how to find a pharmacy. He wound up walking down the street until he found what looked like a pharmacy and, walking in, began to 'demonstrate' that he was unable to have a bowel movement by squatting in the middle of this store and grunting and groaning! Immediately, the pharmacist understood, left, and in a minute returned with a small packet of pills. He showed my friend to eat a pill, and pointing at his watch, counted 1, 2 and then ran to the toilet! They both communicated, to the great enjoyment of themselves and everyone else in the store, perfectly! Not a word of Korean was needed. In fact, it's not very difficult to imagine that trying to use words would have really gotten in the way.
It seems to me that the point is this: They were able to easily communicate because they both were focused on communicating rather than focused on trying to use words or sentences. It's easy to confuse language with communication. But the key here is that communicating opens the door to everything we learn language for. Our tendency to focus on another person's language may be the very thing that stops us from being effective communicators.
Communication is not about the language…
I've been watching my two year old daughter. She has been exposed to Thai, English, Chinese and Khmer since she was born. She apparently never sees someone and thinks, what language should I use here. She simply communicates. And she's an effective communicator. The only people who have a difficult time are those adults who think that the key to understanding is in the words. While she talks (non-stop, in fact), she is always showing, pointing, giving expressions, and body language that say perfectly whatever it is she wishes to communicate. Tune in and it's easy. Focus on the sounds coming out of her mouth and it can be quite difficult at times!
We've seen the same thing with adults. When we focus on communication, we're able to communicate, even when we don't know others' languages. The ALG Crosstalk Project is designed to assist people to get back in touch with the tools of communication that work and help them to rediscover the fun in communicating with almost anyone – naturally.
Crosstalk gets language out of the way…
One of my first experiments using Crosstalk was with visitors to Thailand who were planning to spend one-to-three months here, working as volunteers with Thai people. Out of all those who came here, the most successful at developing relationships were those who got out and played football, or were somehow engaged with people in real activities where communication was necessary. Normally, the Thais didn't understand much English, and the foreigners understood no more than a few words of Thai. Context was the important thing, and as people got involved in their activities, communication at times became spontaneous and natural. Each person was 'speaking' in their own language, and what everyone was 'doing' made communication possible. One really great thing is that, in using Crosstalk, participants get the sort of language input they need to acquire the language naturally!
The ALG Crosstalk Project launched in October 2012 and is set up to enable people to do that very thing, only on purpose. It's natural and fun. The idea is simple. We are attracting people in Bangkok of different languages and cultures who want to 1) learn a new language or 2) connect with someone of another language. They are passed through a basic skills session and entered into the network. We then work to connect them with partners, much like a dating network.
It is a project designed to enable individuals to make friends, develop language ability, or deepen relationships, all without needing to know the other person's language. It includes the following components: members, a network, a website, training, and resources. The basic idea of this project is to develop and make available the means to empower individuals to create contexts whereby they will make new friends, acquire a second language, and develop relationships .
Crosstalk allows participants to engage in authentic conversation with speakers of another language immediately, without waiting to become fluent in their language. Crosstalk techniques can be used for storytelling to a group, interactive storytelling involving two or more participants, or as an addition to conversation to help understanding. Crosstalk uses communication strategies we are all familiar with and utilizes them in such a way that very high degrees of understanding, involvement, and interest are maintained.
It's free to be involved and to participate. If you're interested send the following information to: [email protected]
name (what you'd like us to call you)
email address
mobile phone number
native language
We will then notify you whenever there's an introduction session coming up.
ALG World: ALG Crosstalk
Like us on Facebook: ALG Crosstalk Project
YouTube: ALG Crosstalk Demonstration
David Long
AUA Thai | AUA Thai blog | YouTube: ALG World