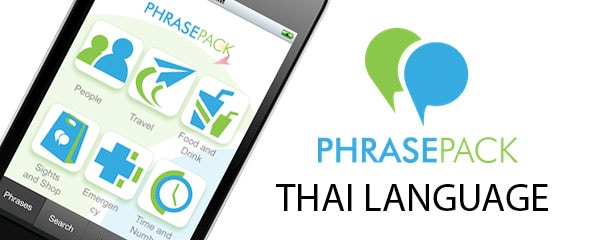 Smart Language Apps: PhrasePack for iOS and Android …
For a short time only the PhrasePack app for iOS and Android is now on sale for US$0.99. A bargain, as it's normally priced at $4.99!
The PhrasePack iPhone and Android app (created by the hardworking people from L-Lingo) operates on an interesting concept. In a nutshell, this beautifully designed app allows you to build sentences from a high frequency vocabulary list.
Highlights of the app: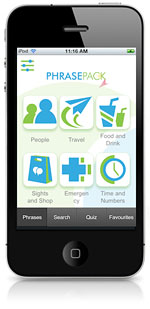 FREE Version already contains than 1800 phrases!
Upgrade to access 3500+ Thai phrases.
High quality recordings from native speakers.
Choose between male and female voices.
Switch between formal and informal language.
Add commonly used phrases to your favorites.
Select Thai script, transliteration or both.
Test yourself with a quiz (a plus!)
Search for specific words.
Settings: The app-wide settings are in the settings section (the icon on the top left of the home screen). Select male or female voice; your native language: English (UK), English (US), German, or Italian; and if you want to display Thai script, transliteration, or both. Clicking again on the settings icon takes you back to the home screen.
Inside any of the categories (the six icons on the main screen) click on the top right icon to select: formal setting, informal setting, target language, native language, and phonetics. If you can't read Thai, being able to switch from transliteration to Thai script comes in handy if you want to show a phrase to a Thai speaker (and it's too loud for them to hear the sound files).
Phrases: To build sentences tailor-made to your needs, select a category from the main screen, then a subject or conversation. Most phrases give you a choice of vocabulary to slot in, while others are complete.
Search: Once in search, the round icon to the top left lets you search for words in your target language (at this time it's Thai transliteration only) or your native language. Relevant phrases with sound files appear in the space below.
Quiz: In the quiz you are given the choice to view by transliteration or Thai script. This is a great option for those just learning how to read Thai – you can peek! At the moment the light green icon underneath the English phrase toggles between the two.
Favourites: This section is self-explanatory. As you work through the phrases select the star next to your favourites. Your favs can then be easily accessed from this section.
More about the PhrasePack iOS app…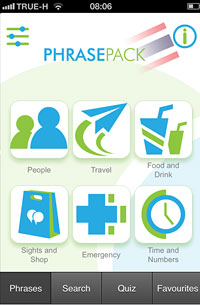 Price: $0.99 (regularly $4.99)
Free version: Yes
Author: Smart Language Apps Limited
Date: 19 Jun 2013
Version: 2.0.3
Internet connection required: No
Word count: Over 3500 Thai Words and Phrases
Thai script: Yes
Tone tips: Yes
Zoom: Not needed
Sound: Yes
Quiz: Yes
Improvements: Ability to select Thai script or transliteration
Compatible with: iPhone 3GS. This app is optimized for iPhone 5. Requires iOS 4.3 or later.
Designed for: iPhone 3GS, iPhone 4, iPhone 4S, iPhone 5, iPod touch (3rd generation), iPod touch (4th generation), iPod touch (5th generation) and iPad.
Here's where you can also purchase the Android app.
Note: PhrasePack is a new app so it's still being tweaked. Don't be shy, they'd love to get your input!