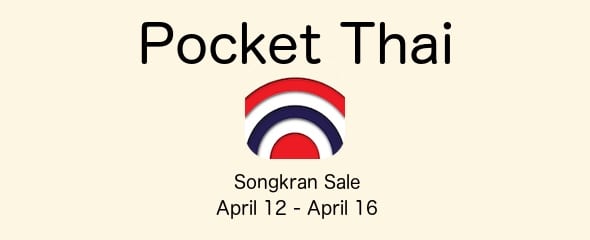 "*" indicates required fields
Introducing Pocket Thai…
Introducing Pocket Thai – WLT's latest sponsor (see more about sponsoring / donating here). Pocket Thai's Songkran sale runs from Thursday (April 12) to Monday (April 16), but first, here's a bit about the app from the sponsor.
Pocket Thai…
In a market full of vocab memorization apps, Pocket Thai tries to do something new: teach the language from the ground up.
Pocket Thai is a Thai language learning program and culture guide for iOS and Android that takes you from zero Thai language experience up to the conversational level. This program prepares you for life, work, and travel in Thailand with easily to follow explanations of Thai grammar and culture.
Pocket Thai is designed for beginners and teaches you how to read and speak Thai with culture lessons and travel advice mixed in along the way. You can learn at your own pace and study from anywhere since there's no internet connection required!
Quizzes at the end of the lessons are randomly generated so that you can repeat them and see new questions in a new order, which makes review much more interesting. Most importantly there are over 1200 audio files from both female and male native Thai speakers, which means that everyone that uses Pocket Thai will have a native speaker to model their speech after.
Pocket Thai's Songkran Sale…

From April 12 to April 16 you can unlock the full 38 lesson curriculum of Pocket Thai Master for only $6.99 (usually $9.99).
Or if you only want to learn how to read Thai you can unlock the full 12 lesson Pocket Thai Reading for only $2.99 (usually $4.99).
Testimonials…
You can try the first five lessons for free to see if Pocket Thai works for you before you unlock the full program but if you want to see what other people think before you take the time to install it here are a few recent reviews:
The conversational tone of the app and sequential nature has really accelerated the learning process for me, and the supplementary educational elements concerning Thai customs, history, and other points of context show that the developer really understands that learning a new language is really inseparable from encountering a complete culture.
-mmrrkk (iOS user)
Checked out many apps but this is the first app which really takes you through lessons step by step… easy to follow and easy to learn.
-Ralf (Android user)
This app is absolutely excellent. I speak 4 other languages aside from Thai, and thus far this has been one of the best overall language apps I have seen. It's extremely thorough and written in simple, non-technical language so even absolute beginners can make sense of a very difficult language. The quizzes at the end of each lesson are great too!
-Tokyo Teacher (iOS user)
Been in Thailand for 9 years. On and off learning Thai and this has been a great help. I feel it explained the rules to me very well and made it easier to read more!
-jr7diving (Android user)
Try it today…
To find links to the App Store and Google Play pages or learn more about Pocket Thai: Learn Thai.