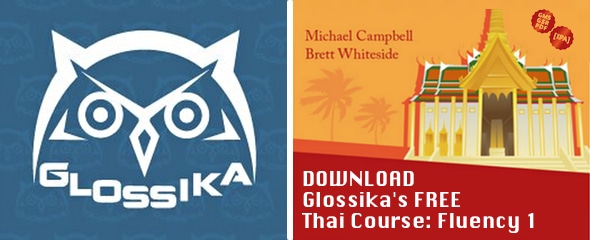 "*" indicates required fields
Glossika Thai Fluency 1 GMS and GSR on iTunes…
EDIT: These links no longer work and it doesn't look like they are going to fix them anytime soon. When/if they do, I'll relink.
If you'd like to try Glossika's new Thai course before you buy, download Glossika Thai Fluency 1 GMS (Glossika Mass Sentences) and GSR (Glossika Spaced Repetition).
iTunes: Glossika Thai Fluency 1: GMS
iTunes: Glossika Thai Fluency 1: GSR
Note: These are only the audio files. Buy the course to get the pdf's at their still reduced price.
Also available for free download are Italian, Russian, Korean, Taiwanese and Brazilian.
A bit more about Glossika: A Quest to Fluency: Thai and Italian. Italian?