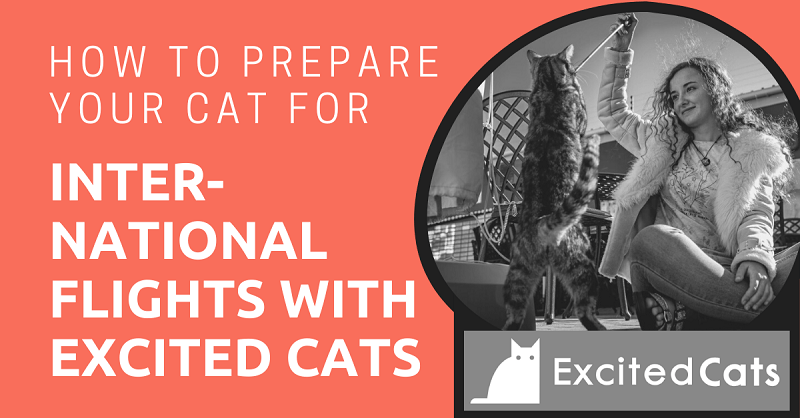 Excited Cats is a cat-focused website with a team of writers and expert veterinarians dedicated to answering all your feline-related questions.
They've got all the answers, reviews, and advice you need, from cat behavior guides to more serious, health-related topics, as well as hundreds of product reviews.
Having said that, we recently did a Q&A with Excited Cats Brand Coordinator, Marketing Director, and Avid Animal Advocate Isabel Ludick to find out the answers to some of the more important questions you might have when traveling internationally with your cat.
This article will take approximately 12 minutes to read. Don't have the time right now? No worries. You can email the ad-free version of the article to yourself and read it later!
What's the Best Type of Crate for International Pet Relocation?
International flights are usually very long, so the most important thing when it comes to international pet relocation is an appropriate carrier. Your pet will be spending the whole journey there so make sure it's nice and big. They must be able to sit, turn, and lay down comfortably.
Each airline has its own set of specifications when it comes to crates. You will need to call your airline of choice and ask for pet crate requirements. Most airlines don't accept the usual pet carriers. They insist on airline certified crates with heavy-duty locks, absorbent liners for accidents, and a secured water dish.
Make sure to review the IATA's guidelines for pet travel crates. Also, find out whether your pet is allowed to fly in the cabin or if they must travel in the cargo hold – this will also impact the best option for a travel carrier. If your pet is allowed in the cabin with you, under your seat, then some people might prefer a soft-sided crate. However, I still recommend hard-sided crates since they're more secure.
You'll also want to buy a carrier in advance so you can train your cat to get used to the crate by using positive reinforcement. Positive reinforcement is the act of training your pet with something positive like treats. While training your pet to get used to the crate, give them treats while they are inside of the carrier so they can associate the experience with something positive. Over time, this will teach them to enjoy being in the carrier.
How Much Should I Feed My Cat Before the Flight?
You should never feed your cat right before the flight. Give your cat their last meal before the journey, around six hours before the flight. Flying on an empty stomach is the best option. This minimizes the risk of accidents and nausea. You can give her a nice big meal once you've arrived at your destination.
Although, most cats won't show any interest in food while adjusting to their new environment. Try to get the cat to drink water.
Should I Buy a Big Create Right Away, so That I Don't Need to Buy a New One When My Cat Gets Bigger?
Sure, you'll certainly save some money. Kittens and teenage cats can travel in adult-sized cat carriers. They'll have some extra space which is always good.
If your cat is still very small, I would suggest adding extra blankets and bedding to make it feel cozier. I'd also recommend taking your cat to the vet to get an estimate of how big they'll be as a fully grown adult cat so that you can be sure to buy an appropriately sized carrier.
Are There any One-Size-Fits-All Type of Crates?
Most airline-approved carriers come in varying sizes. It's important to note that although your pet should have ample space in their carrier, having too much space could make them feel less secure. They shouldn't be able to run around and potentially hurt themselves.
It's fine for a teenage cat to travel in an adult-sized carrier since there will only be a tad more space than being in a smaller-sized carrier. But if you put a teenage cat in a Great Dane crate, that could end up being problematic for many reasons.
Also, crates should more or less correspond to the pet's weight and size so that the crew can make sure there is enough space and weight capacity for all the animals traveling on that plane.
It is best to stick to crates that agree with your pet's size and weight. There are several different options to choose from.

Since Moving to a New Country Can Stress My Cat Out, What Should I Do to Prevent That From Happening?
Flying with pets, especially for the first time, will be stressful for you and your pet. The sooner you accept that, the better. Some pets experience more stress than others. I'd recommend trying out a few different calming agents on your pet to see what they like and what works best for them. Do this a few weeks prior to traveling.
Once you've found a calming agent that works well, you should administer it often so your pet can get used to it. Make sure you know the correct dosage for your pet. Then you can give it to them before, during (if they're with you in the cabin), and after the flight to alleviate stress.
You can also opt for a pheromone product, a collar or spray for the travel crate and a diffuser in the new home. Make sure to start using the diffuser at the old home (around four weeks before travel) so your cat can get used to the scent. Having the same scent in the new home would help them to feel more comfortable in the new environment
It's also important to note that pets shouldn't be partially or completely sedated while flying. If something happens and they need to be awake to keep themselves stable, they can't be drowsy or unconscious. They could get seriously injured. 
My Cat Food Isn't Available in the Country I'm Moving to, What Should I Do About That?
You'll need to find a similar formulated cat food brand that your cat likes. Luckily, there are tons of cat food brands available. You'll maybe need to test a few different brands to see which one your cat enjoys the most. Here are some of our favorite brands: The 6 Best Dry Cat Foods (Vet-Recommended).
If you're struggling to find the brands you're looking for in your new country, you can visit their pet shops and see what is available. There will most likely be a few reviews that can be found online by looking up the brand followed by "reviews." You can also visit the local veterinarian and ask for recommendations.
What Should I Do to Help My Cat Adjust to a New Home in a New Country?
I made a dedicated video below about helping your cat settle into a new home peacefully.
In short, you must understand that they will need around two to four weeks to adjust to their new environment. Some cats will need less time and some might need more. It's important to give them space and let them adjust on their own terms, not yours. 
They need a quiet, safe room that isn't used often. Provide them with all the necessities (food, water, litter box, bed, etc.) Make sure any points of entry are closed shut. Although you'll be tempted to check in on them often, it will be better for them to be alone most of the time for the first week. You can check in once in the morning, afternoon, and evening to make sure they're okay.
It's okay if they hide and show little interest in food or affection – that's normal. You'll know they are settling in well and are ready to explore other rooms in the house if they approach you and stand by the door when you check on them.
If My Cat is Suddenly Sick, Should I Postpone the Flight?
That will depend on the type of sickness and the severity. If it's a mild case of sickness, they can still travel. Make sure to provide them with comfy blankets so they can sleep nice and cozy on the plane.
If it's serious, you'll need to consult with your veterinarian. In some cases, it won't be necessary to cancel the trip, but it could end up being very serious, in which case your cat won't be able to fly.
Should I Sedate My Cat Before the Flight?
Definitely not. As I mentioned previously, it's not recommended to partially or completely sedate cats for air travel. It can be dangerous if your cat isn't conscious enough to stabilize themselves in case of turbulence or an emergency.
They must be conscious for the duration of the flight. You may give them calming agents like CBD oil or treats, anxiety medication, or calming sprays and gels.
What's the Most Important Thing I Need to Know to Prepare My Cat for International Relocation?
Make sure you have done sufficient research about the airline you're using, the country you're moving to, and which documentation your pet will need to travel by air and enter the new country. Pets must have updated vaccinations and a health clearance from a veterinarian (in some cases). You can find out exactly what you'll need by contacting the airline that you'll be using.
Other than everything mentioned above, understanding that this process is going to be stressful and that there is never a 100 percent guarantee that everything will go smoothly is important too. But with sufficient and necessary preparations, you will improve the chances of everything going well.
Every animal is different and reacts differently to situations. You know your pet better than anyone else; you know what they need and how to make the journey as comfortable as possible for them.
About Isabel Ludick
Before she moved to Cape Town, Isabel Ludick shared a home with 9 cats and her sister, Nadia. They like to think that they operate an informal cat sanctuary. Although she has a strong passion for psychology and helping people discover themselves, her first love will always be animals.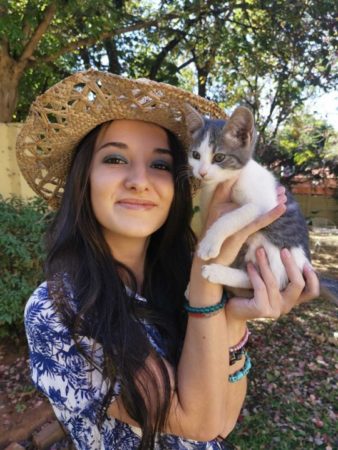 Isabel likes to make time to volunteer at animal shelters, attend wildlife programs and take long walks by the ocean in search of any beached animal in need of a helping hand.