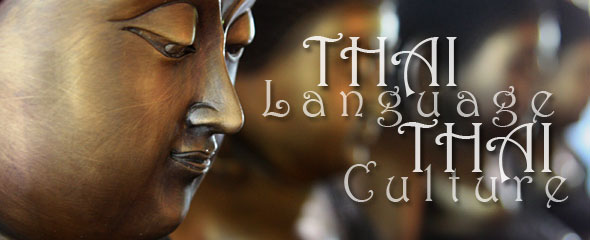 Medical vocabulary for men, and some women…
Some of you may know that besides contributing to Women Learn Thai I also write a blog on retiring to Thailand. My latest post is one about increasing awareness of a problem many older men have; problems with our prostate.
I wrote that post because I thought that awareness of this problem is quite important for men, and women who have men in their lives. This post on WLT is a companion piece to What We Men Don't Like to Think About. If you have time, take a look at my post. It is full of info and web links about this condition that most of us men find difficult to talk about even in our own native language.
Since I needed to go to the hospital for certain procedures I came into contact with lots of doctors and nurses. My doctors' English was usually quite good but the nurses' English was limited. Luckily I could ask and answer their questions in Thai. It made everything flow quite smoothly and I was treated very well. I am sure that my knowledge of Thai contributed to this positive experience.
Because many men may have to go through exactly what I did I thought maybe I might help with a listing of the Thai words I used during my hospital visit. Here are some useful Thai vocabulary words that may come in handy.
My Visit to the Hospital…
As many men in their 60s, I have been having trouble with my prostate.
Prostate: ต่อมลูกหมาก /dtòm-​lôok-​màak/
– ต่อม /dtòm/ gland
– ลูกหมาก /lôok-​màak/ betel nut, a walnut sized nut that used to be used throughout SE Asia staining the user's teeth red.

For many years I have been taking medication for an enlarged prostate.
Take Medication: กินยา /gin-​yaa/

Enlarged prostate: ต่อมลูกหมากโต /dtòm-​lôok-​màak dtoh/
– โต /dtoh/ large

I had been to the emergency room a number of times because of not being able to urinate (a symptom of an enlarged prostate).
Emergency Room (ER): ห้องฉุกเฉิน /hông chùk-chĕrn/
– ห้อง /hông/ room
– ฉุกเฉิน ​/chùk-chĕrn/ emergency

Urinate: ถ่ายปัสสาวะ /tàai bpàt-săa-wá/
– ปัสสาวะ /bpàt-săa-wá/ urine; This is the polite word used with doctors and nurses.

Symptom: อาการ /aa-​gaan/

I also had a number of infections in my urethra, called urinary tract infections or UTI.
Infection: อักเสบ /àk-​sàyp/

Urethra: ท่อปัสสาวะ /tôr bpàt-săa-wá/
– ท่อ /tôr/ tube

Urinary Tract: ทางเดินปัสสาวะ /taang dern bpàt-săa-wá/
– ทางเดิน /taang-​dern/ path

Urinary Tract Infection (UTI): อักเสบทางเดินปัสสาวะ /àk-sàyp taang dern bpàt-săa-wá/

We did a blood test to check my PSA levels.

Blood Test: การตรวจเลือด /gaan-​dtrùat-​lêuat/
– ตรวจ ​/dtrùat/ examine, test
– เลือด /lêuat/ blood

Since my PSA levels were quite high my doctor, a urologist, was concerned about cancer.
Urologist: แพทย์ที่เชี่ยวชาญด้านระบบปัสสาวะ /pâet têe chîeow-chaan dâan rá-bòp bpàt-săa-wá/
– แพทย์ /pâet/ doctor
– เชี่ยวชาญ /​​chîeow-​chaan/ expert
– ระบบ ​/rá~​bòp/ system

U-ro: We also use the English loan word หมอ U-ro /mŏr URO/

Cancer: มะเร็ง /má-reng/

First we did an ultrasound of the prostate.

Ultrasound: อุลตราซาวด์ /un-​dtrâa-​saao/ (English loanword)

Then my doctor recommended a biopsy.

Biopsy: การตัดเนื้อเยื่อไปตรวจ /gaan-​dtàt-​néua-​yêua-​bpai-​dtrùat/
– ตัด /dtàt/ cut
– เนื้อเยื่อ /néua-​yêua/ tissue)
– They also use the loanword "bi-op-sy"

Since I would be under general anesthesia, before the biopsy I needed to fast.
Anesthesia: ยาสลบ /yaa-​sà-lòp/
– ยา /yaa/ medicine
– สลบ /​sà-lòp/ unconscious

Fast: อดอาหาร /òt aa-hăan/
– อด /òt/ abstain from
– อาหาร ​/aa-hăan/ food

For the procedure I needed to have an IV inserted.

(IV) Intravenous: การฉีดเข้าเส้นเลือด /gaan-​chèet-​kâo-​sên-​lêuat/
– ฉีด ​/chèet/ inject medicine
– เส้นเลือด /sên-​lêuat/ blood vessel

Later I woke up in the recovery room.

Recovery Room: ห้องพักฟื้น /hông-​pák féun/
– ห้อง /hông/ room
– พัก /pák/ rest
– ฟื้น /féun/ regain consciousness

I'll have to take antibiotics for a few days.

Antibiotics: ยาฆ่าเชื้อ /yaa-​kâa-​chéua/
– ยา /yaa/ medicine
– ฆ่า /kâa/ kill
– เชื้อ /chéua/ germ

The doctor gave me the good news that I am cancer free.

Cancer free: ไร้มะเร็ง /rái má~​reng/
– ไร้ /rái/ without

May you all be healthy and happy during this holiday season.
Hugh Leong
Retire 2 Thailand
Retire 2 Thailand: Blog
eBooks in Thailand
Thai Vocabulary in the News