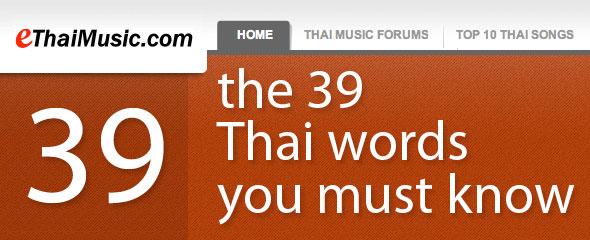 Top Thai words extracted from pop music…
Language lists can be wonderful things. Remember when you searched for the top ten Thai phrases to memorise? Or the four polite to down right eyebrow raising ways to say hello in Thai? Or what about the three words you must never ever say to your Thai mother-in-law?
And now I'm proposing yet another list: The top 39 Thai words you must know to get by in Thai.
But this is not my work. The vocabulary is from the academic paper, Thai Pop Music: Corpus Analysis and Second Language Learning (google for it). To make it so, authors Teddy Bofman and Paul Prez (Northeastern Illinois University) put 400 songs from e-Thaimusic.com (offline for now) under a linguists' microscope.
We had access to hundreds of songs, amounting to roughly 103,000 running words. The corpus provides authentic material using modern colloquial Thai.

To the best of our knowledge, there is still no frequency list of vocabulary for Thai comparable to the General Service List (GSL) that exists for English (West 1953). These lists provide a rank order of vocabulary in terms of usefulness and frequency of usage.

Our corpus comprises 4,931 types, or different words. Thirty-nine types make up 50.02% of the total running words. These thirty-nine words are basic vocabulary items and are likely to be learned in a first-year Thai class.

What is important here is the fact that fifty percent of the vocabulary in this corpus is likely to be covered very early on in a Thai class. This fact alone suggests that the corpus is highly suitable for a beginner's class, since the majority of its vocabulary consists of words that are of high frequency.
Those thirty-nine Thai words you must know…
To see if you are safely beyond the beginning stages of learning Thai, scan through the list below.
Note: A thanks goes to Chris and Benjawan for permission to use their new software dictionary, Thai-English English-Thai Talking Dictionary, for the transliteration and definitions. The words within brackets [] are from the paper.
1) เธอ /ter/
pron. she (use with friends); you (used with very familiar person or subordinate)
pron. I [informal]
2) ไม่ /mâi/
adv. no; not
aux. doesn't; do not (negation)
3) ฉัน /chǎn/
pron. I (female speaker); me (female speaker)
pron. I [informal]
4) ที่ /têe/
adv. on (by, at)
n. place (site, spot), land (property); property (land); real estate (land) 
prep. as (that, which); at (place); in (by, at); on (at); to (e.g. go to)
pron. which
5) ให้ /hâi/
vt. give; grant (give); let (allow, give); present (give); provide (make available); yield (e.g. fruit, labor)
[causative, to]
6) จะ /jà/
aux. shall; will; would
part. used in questions, to urge or suggest
7) ก็ /gôr/
adv. also; too (also)
[so]
8) รัก /rák/
v. love
9) ไป /bpai/
adv. away
vi. go; proceed (go)
10) ว่า /wâa/
conj. that
v. criticize (censure)
vt. say (state)
[direct or indirect quotation marker]
11) มี /mee/
v. have; there is
vi. exist (be)
12) คน /kon/
clf. for human, person
n. people (persons in general)
pron. somebody (as object)
verb. stir (blend)
13) ได้ /dâai/
aux. can (able to)
interj. okay!
vt. able to; get (take, receive); obtain (get, gain); realize (obtain)
14) เป็น /bpen/
adj. alive (living)
v. become, to know how to; be (something)
vi. exist (be)
15) ใจ /jai/
n. mind
[heart]
16) มา /maa/
vi. come (reach, arrive)
17) กัน /gan/
adv. one another
pron. each other
18) แต่ /dtàe/
conj. but; only (but)
19) รู้ /róo/
vi. know (have knowledge)
vt. realize (be or become aware of)
20) มัน /man/
pron. he (derogatory); her; him; it; she (derogatory)
21) นี้ /née/
adj. this
22) อยู่ /yòo/
v. be (somewhere); live (dwell)
vi. dwell (reside); reside; stay (remain)
23) อยาก /yàak/
adj. hungry (desirous)
vt. want to (do something)
24) ทำ /tam/
v. perform (act)
vt. commit (do); do; make (produce, create)
25) ๆ
(repetition character)
[etc.]
26) ใคร /krai/
pron. anybody (used in a question); who (which person); whom (question word)
27) แค่ /kâe/
adv. as far; as far as (just, only); as long; only (just)
prep. to the extent of; as long
28) วัน /wan/
n. day of the week; day
29) ดี /dee/
adj. fine (e.g. good, quality); good; nice (good)
30) ต้อง /dtông/
aux. must
vi. have to
31) ยัง /yang/
adv. still (yet); yet (still, thus far)
32) ความ /kwaam-/
pref. to form a noun from a verb or adjective
[-ness]
33) เรา /rao/
pron. us; we
34) นั้น /nán/
adj./pron. that
35) กับ /gàp/
conj. /prep. to (e.g. give to); versus; with (accompanying or against someone)
36) แล้ว /láew/
adj. ready (finished, done)
adv. already
[then, past tense marker]
39) บอก /bòk/
v. say (state); tell
41) ใน /nai/
prep at (place); in; inside
[and]
42) อย่าง /yàang/
n. kind (sort, type, category)
[like]
As you can see, the top 39 shown above do not exactly follow the 400 high frequency words listed in the paper. Number 38 (ไหม /mǎi/- question particle) is missing as is number 37, คง /kong/ (last; permanent). I was curious as to why, but no response has come back yet.
To see the words in action, either go to e-Thaimusic.com to check out their translations, or google Thai Pop Music: Corpus Analysis and Second Language Learning
More Thai high frequency lists…
You might not know this, but the hunt for the top Thai words one must know has been a slooooow and ongoing process. Some are still working on it while others have given up or are long dead.
Our findings provide guidance to language teachers in a number of ways. For example, they point out which vocabulary is high frequency and therefore essential to teach. They also indicate major collocational usage, essential knowledge for the language learner.
In the hopes of coming up with a Top Thai 500/1000/2000, I dropped vocabulary compiled from books, online courses, and other lists into an excel spreadsheet. I'm still in the collecting stage and will take note on how this 400 top frequency list looks next to each list.
In the 1940's George Bradley McFarland used thirty different sources to compile the top 1000+ Thai words in his Thai-English dictionary. With the help of Rikker, I was able to get McFarland's list via screens shots from Google Books, but you can see it at thai-language.com: Most Frequently used words in Thai.
Glenn (thai-language.com) also keeps his eye on his own personal list of Common Words of the Thai Language.
SEAlang Lab has a Thai Vocabulary List that is quite interesting because it brings in high frequency via web ranking (something like that). Some words in the list have a WebRank number, some not. More to come.