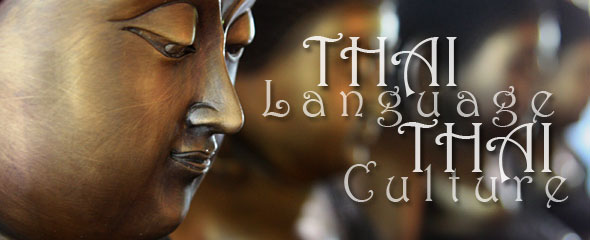 Dental Office Vocabulary…
We just went to see our dentist. Everything is good with me, but my wife needs lots of work (we blame it on those calcium-sucking children of ours she had to carry around for 9 months and who left her teeth a shambles).
Going to a dentist in Thailand is not a bad experience and since it is inexpensive (except for those English-speaking dentists that carter to the Expat trade and who charge foreign prices) it is a good idea to get checked up frequently. My article Shoeless and Painless Dentistry (no longer online) for Chiang Mai City Life magazine a few years ago describes a trip to the dentist's office.
Before going for your fun tip to the dentist you might want to brush up on some Dental-Office vocabulary words. Here are some typical tooth-centered words that might help. And below is a dialog that I hope you won't ever have to use, but as an exercise, it uses most of the vocabulary words in context.
Dentist's Office Vocabulary…
Tooth: ฟัน /fan/
Dentist: หมอฟัน /mǒr-fan/ (tooth doctor), also ทันตแพทย์ /tan-ta-pâet/, formal (ทันต์ /tan/, Pali for tooth, and แพทย์ /pâet/, Sanskrit for doctor)
Dental Checkup: ตรวจฟัน /dtrùat-fan/ (check, tooth)
X-rays: รังสีเอ็กซ์ /rang-sěe-ék/ (radiation, x), or the loan word เอ็กซ์เรย์ /ék-sà~ray/
Gum: เหงือก /ngèuak/
Root (of a tooth): ราก (ฟัน) /râak/ (/fan/)
Toothache: ปวดฟัน /bpùat-fan/ (ache, tooth)
(Gum) infection: (เหงือก)อักเสบ (/ngèuak/) /àk-sàyp/
Filling (tooth): อุดฟัน /ùt-fan/ (fill in a hole, tooth)
Pull (tooth): ถอนฟัน /tǒn-fan/ (pull or extract, tooth)
Root canal: รักษารากฟัน/rák-sǎa râak-fan/ (take care of, root, tooth)
Dentures (false teeth): ฟันปลอม /fan-bplom/ (tooth, false or counterfeit)
Crown: ครอบฟัน /krôp-fan/ (cover, tooth)
Bridge(work): (ทำ)สะพาน /tam-sà~paan/ (make, bridge)
Dental implant: รากเทียม /rák-tiam/ (root, artificial)
Plaque: คราบหินปูน /krâap-hǐn-bpuun/ (stain/blemish, limestone)
Cleaning (curitage): ขูดหินปูน /kùut hǐn-bpuun/ (scrape, limestome)
Gargle: บ้วนปาก /bûuan-bpàak/ (spit, mouth)
Samantha goes to the dentist…
Sam is going to the dentist. A friend recommends The Chiang Mai Dental Clinic.
Sam จะไปหาหมอฟัน เพื่อนแนะนำคลินิกทันตแพทย์เชียงใหม่
Sam jà bpai hǎa mǒr-fan • pêuan náe-nam klí-ník tan-ta-pâet Chiang Mai
Receptionist: Hello. How can I help you?
สวัสดีค่ะ จะให้รับใช้อะไรคะ
sà-wàt-dee kâ • jà hâi ráp-chái à~rai kâ
Sam: Hi, I have a toothache and need to see the dentist.
หวัดดีค่ะ ฉันปวดฟัน ต้องการพบหมอฟัน
wàt-dee kâ chǎn bpùat-fan • dtông-gaan póp mǒr-fan
Receptionist: Please wait a few minutes.
รอสักครู่ค่ะ
ror sàk kroo kâ
Dentist: What is the problem?
มีปัญหาอะไรค่ะ
mee bpan-hǎa à~rai kâ
Sam: I have a toothache. I might need a filling.
ฉันปวดฟันค่ะ อาจต้องอุดฟัน
chǎn bpùat-fan kâ àat dtông ùt-fan
Dentist: We'll take some x-rays first and then I'll take a look.
เราจะถ่ายเอ็กซ์เรย์ก่อน และ จะตรวจฟัน
rao jà tàai ék-sà~ray gôn • láe • dtrùat- fan
After a few minutes…
หลังจากไม่กี่นาที
lǎng-jàak • mâi gèe naa-tee
Dentist: You will need a root canal. You also have a gum infection.
คุณจะต้องรักษารากฟัน คุณก็มีเหงือกอักเสบด้วย
kun jà dtông rák-sǎa râak-fan • kun gôr mee ngèuak àk-sàyp
Sam: Please don't pull my tooth. I don't want to have any false teeth.
โปรดอย่าถอนฟัน ไม่อยากมีฟันปลอม
bpròht yàa tǒn-fan • mâi yàak mee fan-bplom/
Dentist: We can save your tooth. But you will need a crown.
เราสามารถเก็บฟันไว้ แต่คุณจะต้องทำครอบฟัน
rao sǎa-mâat gèp fan wái • dtàe kun dtông tam krôp-fan
Sam: Okay, let's do it.
ตกลงค่ะ เอาเลย
/dtòk-long kâ • ao loie
And may the odds of not needing a root canal be EVER in your favor (with apologies to "The Hunger Games").
Road Trip Observation…
We just took a nice short road trip to Nan Province. This is a beautiful, quite, and isolated province in the north of Thailand, up near the Laotian border and quite close to Luang Prabang as the crow flies. In my short time there no one spoke to me in Thai. Everyone we encountered, from the market ladies, to the hotel receptionist spoke the local dialect. They understood my Thai but answered in dialect, which gave me lots of trouble understanding them.
My wife Pikun speaks Northern Thai (I understand a bit but never attempt to speak it) and she says that the Nan dialect is quite different from the Northern Thai they speak in Chiang Mai.
This got me to thinking. For those living upcountry, away from the population centers (in the north, Issan, and the south), it must be really difficult to communicate with those using the local dialects. My hat is off to you if you can learn it. But don't try using it in Bangkok, or in another part of Thailand. No one will understand you. If you learn Central Thai people will be able to understand you but you might not be able to understand them. Good luck.
Hugh Leong
Retire 2 Thailand
Retire 2 Thailand: Blog
eBooks in Thailand