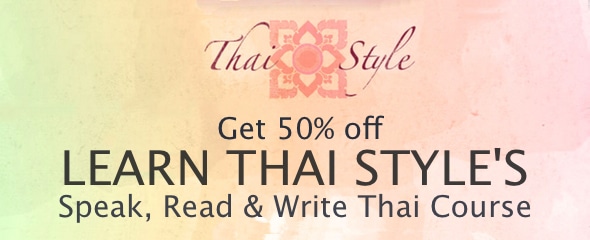 Discount: Learn Thai Style…
Before Xmas, Tom Lane from Learn Thai Style and I got into a discussion about LTS offering specials to the Farang Can Learn Thai Facebook group and readers of WLT.
The below offer is just one of several to come. Enjoy!
Get 50% off the Speak, Read & Write Thai Course at Learn Thai Style. You'll receive lifetime access to over 700 trained teachers, structured, written, audio, video and self study learning materials and learner support.

To get the discount, use this promo code: I will learn thai 2015
Web: Learn Thai Style
YouTube: Learn Thai Style
Twitter: @LearnThaiStyle
If you are looking for a good resource to learn Thai online, check out Learn Thai from a White Guy. Upon entering your email, you'll get five free lessons to help you start learning to read Thai.

Advertisement