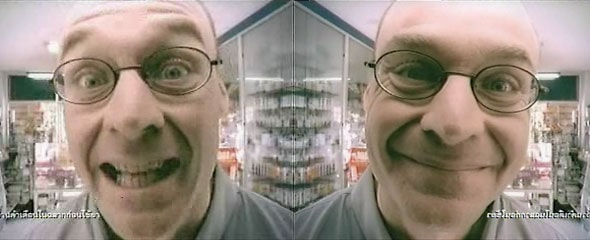 YouTube: Thai Tylenol Ad…
While I am waiting for the Myke Hawke's Quick and Dirty Guide to Learning Languages Fast files to be checked over, I thought that I would share a hilarious Tylenol ad that touches on tones.
The importance of tones…
Some of us (most of us?) who are learning Thai are afraid of saying the wrong word. It's a tonal thing.
Many a time, when taking a stab at a word, I've made a sweet Thai's face and neck burn absolutely red. And when I ask, they never tell me exactly what I've said!
If you are looking for a good resource to learn Thai online, check out Learn Thai from a White Guy. Upon entering your email, you'll get five free lessons to help you start learning to read Thai.
It must have been bad.
Thai Tylenol ad on adintrend.com…
When the subject of tones and YouTube came up during class, My Thai teacher mentioned a commercial. I twittered, received an answer, and there it was. On ADintrend. And when I tried to submit it to YouTube, the video got kicked out of the system. Meaning, I'm not too sure of the legalities of embedding it here so if you do want to watch it, you'll have to watch it over there (edit: only it's not there any longer – tedious).
And to do that, you'll need to click on your button of choice: Low Speed 56k or High Speed 512k. Low speed worked for me.
What he said…
ขอ ยาแก้ปวดลดๆๆไข่เป้งหนึงครับนี่มันไม่ใช่ Tylenol นะ
kŏr yaa gâe bpùat lót lót lót kài bpêng nĕung kráp. nêe man mâi châi Tylenol ná
May I have a pain release medicine to reduce reduce reduce egg? This is not Tylenol, yes?
What he should have said…
ขอยาเเก้ปวดลดไข้เเผงหนึ่งครับนี่มันไม่ใช่ Tylenol นะ
kŏr yaa gâe bpùat lót kâi păeng nèung kráp. nêe man mâi châi Tylenol ná
May I have a pack of medicine to reduce fever and pain? This is not Tylenol, yes?
The ending…
อยาก ได้ Tylenol, นะ
yàak dâai Tylenol, ná
I want Tylenol, ok?
Why the wrong tones are just… wrong…
From what I was told… in Thai-style, ลดไข่ (reduce egg) is slang for reducing a man's endowment. So although the expat meant to ask for medicine to reduce pain and fever, by using the wrong tones, he ended up asking for a reduction in his endowment.
And if that is so, then I feel for him.

Advertisement