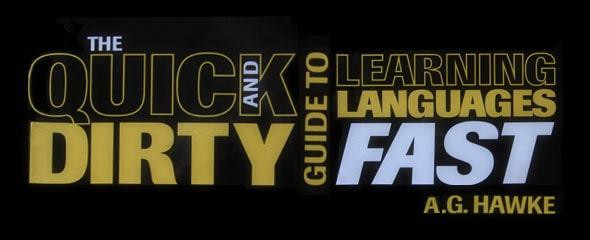 The Quick and Dirty Guide to Learning Languages Fast…
A little over a week after launching Women Learn Thai, I wrote my first book review: The Quick and Dirty Guide to Learning Languages Fast.
But I didn't just review A. G. Hawke's book, I followed his instructions (up to a point).
Getting help from my Thai teacher and Thai friends, I spent hours collecting top verbs, nouns, adjectives, adverbs, numbers, word phrases, past, present and future tenses.
As you can imagine, it was a lot of work.
With it partly complete, I decided to share my efforts here at Women Learning Thai.
And as I needed permission from the author, I did what I always do: I googled.
Nothing solid came of my search, so I shelved the idea.
Then yesterday, getting a wildhair (as I'm known to do), I googled again and bingo, A. G. Hawke on Wikipidia.
Only, he isn't really A. G. Hawke; he is Myke Hawke (now corrected in my review).
And he is gorgeous.
Myke Hawke makes women happy on YouTube…
And while Myke is all over YouTube with Paris Hilton and others of note, the video below is a good introduction to a part of what he does. Suggestion: If you are in a hurry, skip the condoms and go straight to the gals.
Myke Hawke: TV personality, professional soldier, linguist and author…
I found it difficult to extract brief notes on a busy man's life, so Myke, apologies if I've missed a few.
TV personality: Featured on two of the final episodes of E's THE SIMPLE LIFE with Paris Hilton and Nicole Richie. Appeared in the BBC's CASTAWAY EXPOSED and the Living Channel's LIVING WITH KIMBERLEY. In the DISCOVERY CHANNEL'S acclaimed series SCIENCE OF SURVIVAL, I SHOULDN'T BE ALIVE, Hawke taught survival in the Amazon jungle. Hawke also appeared as himself in the movie DIRTY SANCHEZ. Prior media projects included MTV's ROAD RULES, Fox TV's FOREVER EDEN, LOVE CRUISE and BOOT CAMP, ABC TV's THE DATING EXPERIMENT, NBC's FEAR FACTOR, The History Channel's Tactical to Practical, and Britain's Worst Boss. In addition to appearances, hosting and acting roles, he has worked as consultant, expert advisor, writer, and producer.
Professional soldier: Myke Hawke is an experienced survival instructor in jungle, desert, arctic, sea, and urban environments. Hawke has over 20 years of combined military, civilian, and government experience. He has served as a senior enlisted member of the U.S. Army's Special Forces, and as a Commissioned Officer and Team Commander. He has been a U.S. Government Contractor and Country Project Manager abroad. Hawke has training and experience in telecommunications, intelligence operations, remote medical management, combat search and rescue, guerrilla warfare, counter terrorism, security tactics and languages. He has deployed to hotspots throughout Eastern Europe, the Middle East, Latin America, South America, South East Asia and Africa.
Author: The Quick and Dirty Guide to Learning Languages Fast, Myke Hawke's Green Beret Survival Manual and In the Dark of the Sun.
Languages: Russian, Spanish, French, Italian, Serbo-Croation, Turkish, Thai, Arabic, and others.
Yes, there really is a reason for this post…
When I finally made contact with Myke, he said 'yes'.
'Yes' to my request to share the Thai compiled from his book.
Or rather, in true Myke speak: 'info request granted!'
So stay tuned for the series: Quick & Dirty Thai Language Learning with Myke Hawke.
If you aim to follow the series, be sure to purchase The Quick and Dirty Guide to Learning Languages Fast at amazon.com, amazon.co.uk, or your favourite book store.