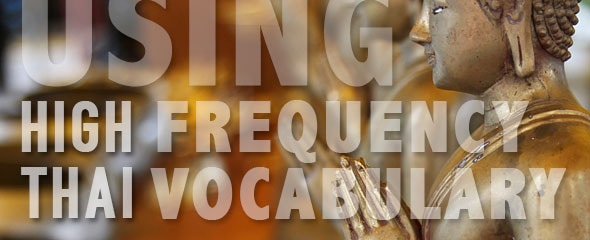 Introduction: Using High Frequency Thai Vocabulary…
I'm proud to announce the High Frequency Thai Vocabulary series!
In a nutshell, whenever we get around to it, using a Top 3000 Thai Vocabulary List we'll share patterns created via category. Hugh Leong (retirement blogger and Thai phrasemaker extraordinaire) will tackle the more complicated Thai patterns.
Note: There will be no transliteration included in this series. If you do desire transliteration, feel free to add the transliteration of your choice to the free pdf downloads offered in each post.
A recap on the top 3000+ Thai vocabulary list…
As explained previously, to create the list I started with Thai Frequency Lists.
Combining choice lists in a spreadsheet, I handed it over to programmer Mark Hollow, who then collated 17,000++ words down to 6000 (give or take). After adding the vocabulary from Essential Thai as a quality marker (thanks Jim!) a Thai teacher and I trimmed the list down to 3000 and a bit.
You can download the spreadsheet here: High Frequency Thai Vocabulary list
Note: As we work through the series the Thai vocabulary list will be tweaked – words added and deleted, categories refined – so expect updates in each new post.
Curious about how others gathered vocabulary used in their Thai courses, I went to Jim Higbie (Essential Thai) and Benjawan Becker (Paiboon Publishing).
James (Jim) Higbie: When I chose the basic vocabulary for the first part of Essential Thai I took an "organic" approach, that is I took words that Thais used in basic conversation – the words you would most often hear Thais saying. This is a good way to approach Thai because the language is very much attached to Thai culture and their discourse.
Benjawan Becker: I design the subject for each lesson first and then come up with vocabulary and sentences.
Good to hear! Just like Jim, we chose the most common words out of the tens of thousands found in the Thai frequency lists. And similar to Benjawan, each post will focus on an individual subject.
Please stay tuned for Hugh's first post: The Thai Double อยู่.