I have been using a Royal Orchid Plus Select credit card from Citibank for more than 5 years and have been pretty happy with it. If you're curious, I can ask one of their reps to get in touch with you. However, let's take a look at the actual card and its main benefits first: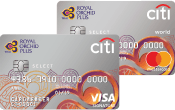 The card is particularly good if you're looking to get free flights or business class upgrades and don't want to pay any foreign exchange rate fees when you spend in Thai Baht. Here are the main reasons I signed up for it
1 mile for every THB 20 I spend – one of the highest rates you can get in Thailand, especially since you can pay so many expenses by credit card.
Rewards points don't expire (this is really big, so you don't have to worry about losing your points and only convert them to Thai Airways miles once you have enough to get a ticket).
You can use the Thai Airways loungeat Suvarnabhumi twice a year free of charge (as long as you have a Thai Airways flight). I really like their lounge, so this is a nice goodie.
If you use the card extensively (which you should, to maximize your miles), you can get the yearly fee waived.
Travel accident insurance, flight / luggage delay coverage, lost luggage coverage, purchase protection insurance … never had to use any of those and I assume there is a lot of fine print, but it's a nice to have
The card has a minimum salary requirement, but there are some workarounds: You can set up an account with them where you deposit some money (good option if you're retired and don't work in Thailand). Another option, especially if you're married, is to have your spouse get a credit card and you can then get a supplementary card, allowing you to collect miles together.
How to get the card? Fill in the details below and I'll put you in touch with one of their representatives. You'll also be helping me a bit as they credit me some extra miles for everyone who gets a card and actually uses it.