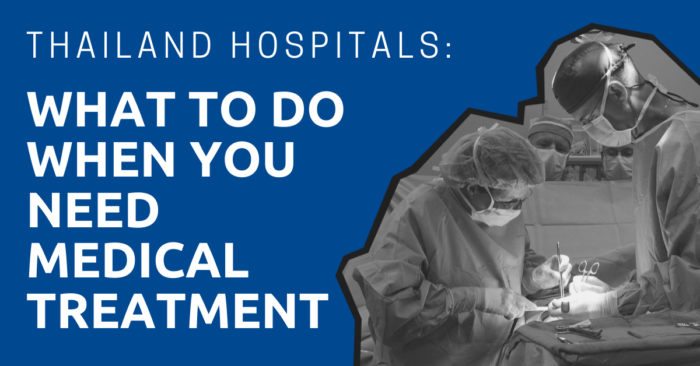 Sooner or later you're going to have to visit a hospital in Thailand. Maybe you'll come down with the flu. Maybe you'll have an accident. Or, maybe you'll need a place to deliver your baby. If you stay in Thailand long-term, you're bound to visit a hospital.
Although it might sound like a bummer to get sick in Thailand, there is good news. Hospitals in Thailand are just as good, if not better, than hospitals in the West. And they're a lot cheaper too.
People from many countries come to Thailand just to get medical treatment at a cheaper cost and with better service than in their home countries.
Here's what you need to consider when getting medical treatment for yourself and your loved ones.
"*" indicates required fields
Types of Hospitals in Thailand
Hospitals in Thailand are separated into two major categories: government hospitals and private hospitals. There are also premium clinics and religious partially private and partly government funded hospitals. While all can help treat your ailments, the experience will be different.
Some big government hospitals offer an upgraded service available in their premium clinics or sections, where you can get medical treatment with shorter queue times and better service than in the regular departments.
Expat families, especially those with young children and babies, will prefer private hospitals for the simplicity of the trip.
If you are an individual, with more free time and a limited budget, government hospitals are a very good option.
Government Hospitals
Most government hospitals in Thailand are operated under the Ministry of Public Health. They are divided into different categories, from general hospitals which are located on the province level to community hospitals on the district level.
Doctors' expertise and medical equipment in big government hospitals and medical schools will be very similar to private hospitals.
Some of these hospitals can be linked to a medical school. Some hospitals run by medical schools such as Siriraj Hospital, Chulalongkorn Hospital, and Ramathibodi Hospital can even have better equipment than private hospitals. When dealing with illnesses that need specific medical equipment or expertise, private hospitals may even refer and send patients to these major government hospitals instead.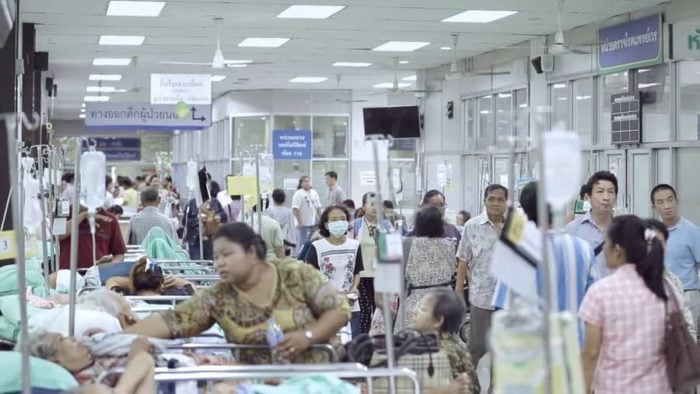 For emergency care, a stop at any nearby medical service in Thailand is a good option. Smaller facilities will be able to address urgent needs then possibly refer you to a better equipped hospital for further treatment.
For instance, for a broken ankle, they will be able to proceed with an x-ray and immobilizing of the ankle, but will recommend further analysis to evaluate the potential need for surgery.
Affordable prices, cheaper medication costs, and good treatment are advantages of government hospitals. However, they are always crowded. You are usually required to go there early in the morning – like 6am – to queue up for medical treatment. Some people may get there even earlier than that.
For this reason, good customer service may not be your doctors and nurses first priority because of the significant number of patients they need to deal with each day. However, this is a generality and you can always find very caring and friendly doctors – many even speak English.
Due to the number of patients at government hospitals, you will always need to wait some time before any surgery appointment unless it's urgent. Waiting times can be several months.
Related article: How to Lower Your Hospital Expenses with Government Hospitals
Private Hospitals
Private hospitals will normally be an expats go-to option – especially if you have good health insurance – they are simply faster and easier to navigate.
Private hospitals are also fancier than government ones, with large spaces, soft background music, and elegant furnishings. While purely superficial, these things can be reassuring as a sick foreigner in a new country.
These hospitals cater to an expat market, meet international standards, and boast friendly customer service. They often have state-of-the-art equipment and technology.
The standards of care and cleanliness are excellent, reception staff are well trained, friendly, and helpful. Doctors are reassuring, attentive and speak fluent English.
Everyone is willing to help you have a smooth visit and will not leave you confused about what to do and where to go next. You will also have a lot of time to discuss issues with doctors and ask questions, which is less likely to happen at government hospitals.
But all of the advantages of private hospitals come with a price. You can expect to pay at least a thousand baht or two, for example, just for an appointment or quick check-up. Private hospitals are well known to inflate medication prices, and you will end up paying twice the price you would pay for your prescription in regular drug stores or government hospitals.
Doctors can also have a tendency to prescribe more medication than what might be strictly needed. Do not hesitate to inquire on the usefulness of each medicine and ask if all of them are necessary. Also look out for over-the-counter medications like paracetamol being prescribed at exorbitant prices.
All in all, although private hospitals are more expensive than government hospitals in Thailand, the treatment costs can still be much cheaper than in the West, especially places like the USA.
For instance, elective Lasik eye surgery is very affordable in Thailand – About 100,000 THB at a private hospital – and people from all countries fly here to get treatment.
In Bangkok, you have a large choice of hospitals, located in different parts of the city. Due to long commuting time, it might be wise to pick a location close to your home or hotel.
For more information, please find below a detailed list of private hospitals in Bangkok and Thailand.
Related articles:
Premium Clinics
Some government hospitals have special sections called "premium clinics". They are an upgraded separate part of a government hospital with medical services available outside of working hours, with shorter waiting times, and sometimes more experienced doctors.
In some cases, the income that premium clinics collect will be used to support vulnerable patients who need intensive treatments but cannot afford medical bills.
While expats often favor private hospitals for serious medical care such as surgery, which can be very expensive, Thai people usually recommend these premium clinics as an excellent alternative, with a good level of care, trustworthy doctors, and far cheaper costs.
Premium clinics do not necessarily guarantee easier communication though. Doctors, nurses, and staff can communicate in basic English. But you may want to bring a translator or Thai friend to help you.
While you can't expect service quite as good as in private hospitals, premium clinics will be more reassuring than the general section of public hospitals.
Doctors, nurses, and staff can still be very busy, which can lead to having less time to spend with them explaining your problems. While they are a great in-between option, they can come with a longer waiting time than in private hospitals.
Find out more: Getting the Quality Treatment at Affordable Price with Premium Clinics in Thailand
Religious Hospitals
There is another type of hospital in Thailand. Religious hospitals are partially government funded and partially private organizations usually funded by the church.
If you want more affordable options, these are a great choice. In Bangkok, for example, you can visit Bangkok Christian Hospital, Saint Louis Hospital, or Camillian Hospital.
While these hospitals can be a bit old with outdated facilities, the quality of treatment is good.
Fees are almost as low as other public hospitals and service and conditions are usually slightly higher. They are a great middle ground.
The only warning for religious facilities is that they hold a conservative view on anything to do with birth control.
Types of Doctors in Thailand
There are different types of doctors who you will meet at government and private hospitals. At government hospitals, you may meet three types of doctors:
Resident doctors who are licensed to practice medicine but are learning a specialty.
Fellow doctors who have completed their residency and are doing additional specific training.
Attending doctors who are experts in their specialty and have their own healthcare team.
While visiting government hospitals and especially medical schools, you may become a case study for intern doctors and medical students.
In contrast, in private hospitals, most doctors are fellow doctors and attending doctors. This is because Thai private hospitals, especially ones that have good reputations, want patients to see only the best doctors.
Similarly, at premium clinics all doctors who you meet will be fellow doctors and attending doctors from medical university hospitals.
Learn More: How to Pick the Best Hospital for Medical Tourism in Thailand
Waiting Times
The waiting time for government hospitals is much longer than private hospitals. If you don't have a medical emergency you'll need to get a queue number.
For popular government hospitals the queue closes at 7am or 8am. If you don't receive a number by then, you'll need to return the next day.
If you already have an appointment, the waiting time is not that different from normal private hospitals. It's also possible to book an appointment with a government hospital in advance.
However, appointments are usually only available for patients who require follow-ups.
If you need to do further medical checkups, scans, or surgery, for non-emergency cases, expect to wait a few months. And in government hospitals, you might have to wait for a few weeks before receiving the results of blood tests and medical checkups.
Private hospitals are better in regards to time. You can go to the hospital at any time. Even if you go late in the day, you will see doctors who are standing by for emergency cases. Blood test and checkup results will also be ready within the same day or the day after.
Learn More: Bangkok Health Checkups: Costs, Packages, and Hospitals
Hospital Costs
It can be difficult to give an estimate on how much you need to pay when visiting a hospital in Thailand, since it depends on which hospital you go to and which illness you are treating.
To give you a general idea, if you have a common illness, you should expect to pay around 300 to 500 baht per out-patient visit when going to a government hospital in Thailand.
If you go to a general private hospital, it will be around 1,500 to 2,000 baht. If it's a premium private hospital such as Bumrungrad, you can expect to pay 2,000 to 3,000 baht for your first visit.
When hospitalized overnight, you can expect to pay 20,000 baht to 30,000 baht per night at a private hospital but in critical cases, you might end up paying over 100,000 baht for a single night.
In public hospitals, overnight costs are fairly low, starting at just 2000 baht for a shared room.
This is why it is a good idea that you get private health insurance in Thailand.
Best Hospitals in Thailand
Here's a list of recommended hospitals in Bangkok and in Thailand. Keep in mind that they are all reputable hospitals that can handle all of your medical needs.
Private hospitals in this list Thailand offer international standards. They are popular for medical tourism with patients from all over the world because of their prices and quality of treatment.
Many private hospitals in Thailand are under Bangkok Dusit Medical Services (BDMS), which is the biggest healthcare network in the country.
If you want to save some money, there are affordable private hospitals available too.
Bangkok
The biggest public and private hospital market is obviously Bangkok. They all boast high standards and highly trained doctors and nurses.
The main choice factor should be your geographic proximity.
Siriraj Piyamanarajkarun Hospital
Siriraj Piyamanarajkarun Hospital is known as the best hospital in Thailand. Thai people have a really good opinion of this hospital and always recommend it.
Siriraj is also the hospital that has treated many members of the royal family in Thailand, including the late King Bhumibol Adulyadej. Siriraj Hospital is a medical school for Mahidol University, which is known for its medical studies in Thailand.
Therefore, if you want to get the best treatment available in Thailand, we recommend Siriraj Hospital. The cost of treatment is also much lower than at private hospitals.
However, because Siriraj Hospital is very popular, you can expect long waiting times.
Address: 2 Prannok Road Siriraj, Bangkoknoi, Bangkok
Tel: 02 419 1474
Email: [email protected]
King Chulalongkorn Memorial Hospital
King Chulalongkorn Memorial Hospital, known simply as Chula Hospital, is another well-known public hospital in Thailand. Chula Hospital is also a medical school for Chulalongkorn University, which is considered one of the best universities in Thailand.
Treatment quality at Chula Hospital is equal to Siriraj Hospital. Chula Hospital has also built a new hospital building to support more patients.
Chula Hospital is conveniently located right next to the MRT Silom Station, making it easily accessible for expats who live around the Sukhumvit or Silom areas.
Address: 1873 Rama 4 Road, Pathum Wan, Bangkok 10330
Tel: 02 256 4000
Email: [email protected]
Ramathibodi Hospital
Ramathibodi Hospital, or Rama Hospital for short, is especially known for maternity clinics. The hospital has one of the best neonatal intensive care units (NICU) in Thailand and is very popular with locals and expats for giving birth.
Similar to Siriraj Hospital, Rama Hospital is also a medical school for Mahidol University.
The location is pretty convenient, as Rama Hospital is located near Victory Monument.
Address: 270 Rama 6 Road, Thung Phayathai Subdistrict, Ratchathewi District, Bangkok
Tel: 02 201 1000
Email: [email protected]
Rajavithi Hospital
Rajavithi Hospital is another good government hospital in Bangkok. Although the hospital's size is smaller than the three aforementioned hospitals, the quality of treatment and medical facilities are great.
However, Rajavithi Hospital can be very crowded. Many locals who live near Bangkok seek treatment there, making it a challenge for expats to visit this hospital. Because of this, people generally arrive at 5:00 AM.
Rajavithi Hospital is conveniently located near Victory Monument.
Address: 2, Phayathai Road, Ratchathewi District, Bangkok 10400, Thailand
Tel: 02 354 8108 9
Email: [email protected]
Bumrungrad International Hospital
Bumrungrad International Hospital is probably the most well-known hospital in Thailand. Locals and expats often perceive it as the best (and most expensive) hospital in the country.
This hospital is prohibitively expensive unless you have high-cost provider insurance coverage.
Bumrungrad International Hospital has a strict process in hiring medical professionals with competitive salaries to make sure that they employ the most skilled best possible doctors.
If glitz and glam is important to you in a hospital, then the 5-star hotel vibes from Bumrungrad will make you happy. They have modern medical facilities, along with lots of restaurants and peaceful communal spaces. They also have a teleconsultation service.
Bumrungrad International Hospital is located near BTS Chidlom, which is right in the heart of Bangkok.
Address: 33 Sukhumvit 3 (Soi Nana Nua), Wattana
Tel: 02 066 8888
Email: [email protected]
Bangkok Hospital
Bangkok Hospital is the leading hospital under the BDMS network. Treatment quality, medical facilities, and technologies are world-class. The prices are maybe slightly lower, but similar to those at Bumrungrad International Hospital.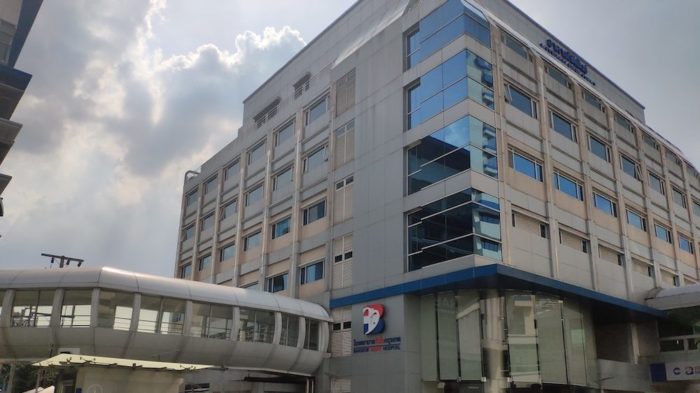 Bangkok Hospital website is intuitively navigable and is available in Thai and English. You will easily find information related to room costs, doctor specialties, and biographies. You can also make an online appointment.
Bangkok Hospital also has many hospitals in its network throughout Thailand and nearby countries: Phuket, Chiang Mai, Hua Hin, and Cambodia just to name a few.
Address: 2 Soi Soonvijai 7, New Petchburi Road, Huaykwang
Tel: 02 310 3000
Email: [email protected]
Samitivej Hospital
Samitivej Hospital is another popular private hospital in Thailand under the BDMS network.
They have been expanding branches in Bangkok and other nearby provinces. The two main branches are located in Sukhumvit and Srinakarin but they also have branches in Thonburi and Sriracha (Chonburi). They also have a clinic in Yangon, Myanmar.
For Japanese expats, you might appreciate that BDMS partnered with two Japanese hospitals to open the Japanese Hospital by Samitivej next to their Sukhumvit branch on Soi 49. They offer Japanese doctors, nurses, and medical equipment.
While Samitivej Hospital is known for its maternity clinic and pediatrics, it is also good at other types of treatments with well trained doctors and expert surgeons. Prices are only slightly lower than those of Bumrungrad and Bangkok Hospitals.
Address: 133 Sukhumvit 49, Klongtan Nua, Vadhana
Tel: 02 022 2222
Email: [email protected]
Phyathai Hospital
Phyathai Hospital is another private hospital under the BDMS network. There are three branches in Bangkok, including Phyathai Hospital 1, Phyathai Hospital 2, and Phyathai Hospital 3.
Despite the name, only Phyathai Hospital 2 is located on Phaya Thai Road, another on Si Ayutthaya Road, and the third in Thonburi near BTS Bang Wa Station.
Phyathai Hospitals are more affordable than the three aforementioned private hospitals. But facilities may also not be on par with those hospitals. The website just for starters is a bit older, and less easy to navigate.
The general aesthetics of the hospitals are less fancy than other private facilities. However, the standard of care is still extremely high.
Phyathai Hospital 1
Address: 364/1 Thanon Si Ayutthaya, Thanon Phaya Thai, Ratchathewi
Tel: 02 201 4600
Phyathai Hospital 2
Address: 943 Phahonyothin Rd, แขวง พญาไท Phaya Thai
Tel: 02 271 6700
Phyathai Hospital 3
Address: 111 Phet Kasem Rd, Pak Khlong Phasi Charoen, Phasi Charoen
Tel: 02 467 1111
Email: [email protected]
MedPark Hospital
MedPark Hospital is a luxury private hospital located in Rama IV Road. Recently opened, they hire only experienced medical professionals who have been working with other leading private hospitals in Thailand.
Featuring modern medical facilities, MedPark Hospital stands on the same level as Bumrungrad International Hospital and Bangkok Hospital but prices are slightly more affordable.
Address: 3333 Rama IV Road, Khlong Toei
Tel: 02 023 3333
Email: [email protected]
Other
There are also other good government hospitals in Bangkok, you can check out Vajira Hospital and Phramongkutklao Hospital.
Chiang Mai
If you live outside of Bangkok, while your options are more limited, there is always at least one major governmental hospital in every province.
Chiang Mai has good options as it is a popular spot for retirement in Thailand.
Lanna Hospital
Lanna Hospital is one of the best government hospitals in Chiang Mai and generally recommended by Thai locals.
They have English-speaking staff. While this hospital especially advertises its cardiology ward, they provide good treatment for outpatients in need of easy and simple care.
As for most government facilities, expect Lanna Hospital to be very crowded and with long waiting times.
Address: 1 Sookasam Road, Chang Phueak, Chiang Mai
Tel: 052 134 777
Email: [email protected]
Maharaj Nakorn Chiang Mai Hospital (Suan Dok Hospital)
Maharaj Nakorn Chiang Mai Hospital is a well known hospital and medical school in Northern Thailand, and able to provide high quality tertiary care. Generally speaking, doctors and nurses working in this hospital have also studied abroad. It's a very reliable hospital, but also very crowded.
Address: 110 Inthawarorot Road, Sri Phum, Chiang Mai
Tel: 053 936 150
Email: [email protected]
Bangkok Hospital Chiang Mai
Bangkok Hospital Chiang Mai is operated by BDMS. Chiang Mai locals consider it the best and also the most expensive private hospital in Chiang Mai.
The hospital only employs experienced doctors and is equipped with modern medical facilities. It should be your go-to hospital if you have private health insurance.
Bangkok Hospital Chiang Mai is located slightly outside the city area at Superhighway Chiangmai-Lampang Road.
Address: 88/8-9 Superhighway Chiangmai-Lampang Road, Tambon Nong Pa Khrang, Mueang Chiang Mai District
Tel: 052 089 888
Email: [email protected]
Chiang Mai Ram Hospital
Chiang Mai Ram Hospital is part of the Ramkhamhaeng Group, another large hospital group in Thailand.
It's the oldest international hospital in Chiang Mai, so facilities in certain areas can be quite old. However, prices are a little more reasonable than Bangkok Hospital.
Chiang Mai Ram Hospital is located right at the moat area.
Address: 8 Bunrueang Rit Rd, Tambon Su Thep, Mueang Chiang Mai District
Tel: 053 920 300
Email: [email protected]
McCormick Hospital Chiang Mai
McCormick hospital was the very first hospital in Chiang Mai. It was founded by a group of missionaries in 1888. It's a medium-sized hospital and provides various types of treatments.
Being a religious hospital, they are more affordable than other private hospitals. They also have their own nursing school operated under Payap University.
Address: 133 Kaeonawarat Rd Wat Ket Mueang Chiang Mai District
Tel: 053-921777 Email: [email protected]
Phuket
The large population of the island of Phuket means there are a good selection of hospitals, including a couple of public offerings and private care as well.
Vachira Phuket Hospital
Vachira Hospital is the highest-rated public hospital in Phuket and a go-to option for most locals.
They can meet any need from emergencies, in-patient surgeries, dental, orthopedic, cardiac specialists, even a cosmetic surgery wing.
They are renowned for qualified and experienced doctors and state-of-the-art equipment. As with others on this list, go early as you will face queues at every stage of treatment at this popular and affordable local hospital.
Address: 353 Yaowarat Road, Taladyai, Muang, Phuket, 83000
Tel: +66 (0)76 361 234
Email: [email protected]
Phuket Provincial Administrative Organization Hospital
Phuket Provincial Hospital is called Aor Bor Jor by locals. This big facility is another great option for emergencies or any kind of care you need.
With an orthopedic center as well as very modern surgery facilities, pediatrics, OBGYN, dental, ENT, physiotherapy, and imaging equipment for X-Ray and CT Scans, you are getting great care at a very low price in this public hospital.
Address: 18 – 20 Anuphas Phuket Karn Road, Talard Yai, Muang, Phuket, 83000
Tel: +66 (0)76 358 888
Email: [email protected]
Bangkok Hospital Phuket
There are two branches of Bangkok Hospital here, which are Bangkok Hospital Phuket and Bangkok Hospital Siriroj.
They are the two main international hospitals on this island and both of them are located inside the city area.
Since there is a large expat population in Phuket, the waiting time for these two hospitals can be longer than their main branch in Bangkok. Parking spaces can be limited as well.
Prices are among the highest in Phuket, but you get access to quality care.
Bangkok Hospital Phuket
Address: 2/1 Hongyok Utis Road, Muang District
Tel: 076 254 425
Email: [email protected]
Bangkok Hospital Siriroj
Address: 44 Chalermprakiat Ror 9 Rd, Muang District
Tel: 076 361 88
Email: [email protected]
Dibuk Hospital
Another popular private hospital in Phuket is Dibuk Hospital, which is also under the BDMS family.
The hospital is smaller and has limited facilities than those two Bangkok Hospitals but it's also cheaper. Since Dibuk Hospital has recently accepted social security patients, the waiting time can be longer than usual.
Dibuk Hospital is known for Chinese medicine, especially for Chinese acupuncture for treating office syndrome.
Address: 89 / 8-9 Moo 2 Chaofa Rd Wichit, Mueang Phuket District
Tel: 076 298 298Email: [email protected]
Pattaya
Once a small fishing village, Pattaya has become one of the most famous destinations for retirees. You get access to the beach, vibrant nightlife, and good healthcare at the same time.
While there are many hospitals in Pattaya, when it comes to major surgery or treating serious disease, it's still a good idea to take a trip to Bangkok instead.
Bang Lamung Hospital
Bang Lamung Hospital is the most popular public hospital in Pattaya. It's also the biggest public hospital here.
This is a go-to hospital for locals, especially for those who have universal health coverage or social security.
Bang Lamung Hospital is located in the north part of Pattaya, While the hospital itself is not really much to look at from the outside, it provides a wide range of treatments and good care. However, you can expect long wait times here.
Address: 669 Moo 5 Muang Pattaya, Bang Lamung District,
Tel: 038 429 244
Email: [email protected]
Pattaya City Hospital
Pattaya City Hospital is a public hospital located in the center of Pattaya, near Walking Street.
While it may look small, the hospital provides a wide range of treatments from emergency injuries to providing bypass surgery.
If you happen to have an accident in Pattaya and don't have insurance, you are likely to be sent here.
Because of this, the emergency department of Pattaya City Hospital tends to be busy all the time, especially at night.
Please note that Pattaya City Hospital has a dual pricing system for foreigners and locals.
Address: 261/40 Soi Bua Khaow Nongprue, Banglamung
Tel: 038 103 900
Email: [email protected]
Bangkok Hospital Pattaya
Bangkok Hospital Pattaya is the most comprehensive hospital in Pattaya.
Some people even consider it the best hospital (and also the most expensive hospital) in Eastern Thailand. The hospital belongs to Bangkok Hospital Group, the leading private hospital group in Thailand.
Treatment quality, services, and facilities are comparable to leading private hospitals in Bangkok.
Address: 301 Moo 6 Sukhumvit Road, Km. 143, Banglamung
Tel: 038 259 986
Email: [email protected]
Pattaya International Hospital
Pattaya International Hospital is a medium-sized hospital located in Soi Pattaya 4.
While many people believe that it's a public hospital, it's actually a private hospital managed by Pattaya International Hospital Company Limited.
Address: 255/4 Moo 9 Soi Pattaya 4 Pattaya 2nd Road Nongprue Banglamung
Tel: 038 428 8374
Email: [email protected]
Jomtien Hospital
Jomtien Hospital is a modern private hospital located in South Pattaya. It's the newest private hospital in Pattaya, just opened in 2020.
Since it's managed by BDMS, the hospital is well-equipped with facilities and medical staff. Jomtien Hospital is becoming more popular among expats and locals in Pattaya.
Address: 234/1 Moo 11 Nongprue, Bang Lamung
Tel: 033 125 999
Email: [email protected]
Hua Hin
Hua Hin is a small resort beach town, which is basically a quieter version of Pattaya. There aren't many options for hospitals in Hua Hin, with one main public hospital and two private hospitals.
Hua Hin Hospital
Hua Hin Hospital is the go-to public hospital in Hua Hin. It's also only your public hospital option here.
While there are four other branches of Hua Hin Hospital (Hua Hin Hospitals 2, 3, 4, and 5) they mainly provide primary care.
Address: 30 2 Petchkasem Rd, Hua Hin, Hua Hin District
Tel: 032 523 000
Bangkok Hospital Hua Hin
Bangkok Hospital has branches throughout big cities in Thailand, including Hua Hin. While Bangkok Hospital Hua Hin is smaller than other branches, it's known as the best private hospital in Hua Hin.
It's also conveniently located in the tourist area, next to Market Village Hua Hin.
Address: 888 Petchkasem Rd., Hua Hin
Tel: 032 616 800
Email: [email protected]
San Paolo Hospital
If you want a more affordable option for private hospitals in Hua Hin, check out San Paolo Hospital. It's the oldest private hospital in Hua Hin that has been providing medical care since 1997.
San Paolo Hospital location is next to Villa Market Hua Hin, near Hua Hin train station.
Address: 222 Phetchakasem Road, Hua Hin
Tel: 032 532 576
Email: [email protected]
Khon Khaen
Being one of the biggest provinces in Northeast Thailand and home to Khon Khaen medical school, there are many great hospitals in Khon Khaen.
Many popular hospitals are also located in the same area, near Khon Khaen university.
Khon Kaen Hospital
Khon Kaen Hospital is the main public hospital in Khon Kaen. It's a 1,000-bed regional hospital and one of the biggest hospitals in the whole Isan area (Northeast Thailand).
The hospital is affiliated with a medical school from Khon Kaen university, which is the top university in Northeast Thailand.
You can find modern medical facilities and experienced doctors here. It's also one of the best hospitals in Thailand outside of Bangkok.
Address: 54 Sri Chant Rd, Tambon Nai Mueang, Mueang Khon Kaen District
Tel: 043 009 900
Email: [email protected]
Srinagarind Hospital Khon Kaen
While the name is similar, note that this is not linked to Srinakarin hospitals in Bangkok.
Srinagarind Hospital Khon Kaen is another public hospital in Khon Khen which is directly managed by Khon Kaen university medical school. Treatment quality is comparable to Khon Khaen Hospital.
In the near future, it's going to be the biggest medical hub in Thailand – and the entire ASEAN region – as Khon Kaen University has started to invest over 20 billion baht to make it a 5000-bed hospital.
Address: 123 Mittraphap Road Nai Mueang, Mueang Khon Kaen District
Tel: 043 202 000
Bangkok Hospital Khon Kaen
It's another branch of Bangkok Hospital. You can conveniently get any type of treatment here but the price will be more expensive than other hospitals in Khon Kaen.
The hospital is located on the other side of the massive Khon Kaen university campus.
Address: 888 Village No.16, Nai Mueang Subdistrict, Mueang Khon Kaen District
Tel: 043 042 888
Email: [email protected]
Ratchaphruek Hospital Khon Kaen
Ratchaphruek Hospital Khon Kaen is the very first private hospital in this province. The hospital is known as a "healing environment hospital" that emphasizes a relaxing atmosphere.
The hospital gives you a feeling of staying in a big spa rather than a hospital.
You will easily spot Ratchaphruek Hospital Khon Kaen on Mittraphap Road as it's grand facade looks like a 5-star hotel.
Address: 456 Moo 14, Mittraphap Rd., Mueang
Tel: 043 333 555Email: [email protected]
Other
There are some acceptable options for hospitals in other cities around Thailand as well. Do note that the smaller the city, the fewer English speakers you are likely to find, and the standards of service and aesthetics might be a bit lower than you are used to.
If you are in a more rural area, you might need to travel for a good hospital.
You will avoid headaches if you have a good Thai friend to accompany you if you choose to visit a hospital in a rural area too.
Some good public hospitals with quality care such as Songklanagarind Hospital in Song Kla.
When it comes to private hospital, the best hospitals are chains of the ones mentioned above.
COVID-19 Vaccines
At the beginning of the pandemic it was hard to get vaccines, but things have changed. Moderna and Pfizer vaccines are easily available, as well as Sinovac and Astrazeneca.
Most Thai locals and expats have received two to four doses. Some facilities still provide vaccinations free of charge to foreigners, including Bangrak Vaccination and Health Center.
Regulations change on a regular basis, so it is best to check out the latest news to stay up-to-date.
COVID-19 Testing
You can buy ATK tests in any pharmacy and convenience store all around Thailand. Prices range from 40 THB to 100 THB.
If you need a medical certificate, hospitals and local clinics offer ATK test services including certificates for 700 THB to 1,200 THB. Message your chosen clinic to make an appointment.
If you need a PCR test for travel purposes or to check if you have COVID-19, a lot of hospitals (both private and public) and clinics around Thailand provide this service. They cost 3,000 THB to 5,000 THB and can provide same-day or next-day results.
In Bangkok, you can go to Samitivej Hospital for example. And in Chiang Mai, the local clinic CM Mediclinic offers great professionalism and delivers results very quickly. Message your chosen clinic or hospital to ask if they have the service and make an appointment.
Hospital Visit Procedure
Whether visiting a government hospital, premium clinic, or private hospital, the process is generally the same.
The main procedural difference will be around language barriers. Do take a Thai friend or translator if you are in a remote area or visit a public hospital if you are worried about communication. You might find doctors and nurses who speak fluent English, but you might not.
Searching For Your Hospital
The internet is the best way to find information about the hospital you want to visit. Just keep in mind that most searches for Thailand hospitals show results for private hospitals.
Hospital websites often provide information in Thai and English. Private hospitals have well-made, intuitive sites. Other languages, such as Chinese and Japanese, can sometimes be featured as well.
The biggest government and private hospitals have dedicated pages detailing the biography of each of their doctors, which turns out to be very helpful when looking for a specialist.
Facebook groups can be useful sources of information.
You can find fantastic communities for women only in the Bangkok Women's Collective or the Phuket Women's Collective Facebook groups. You can also join Bangkok Expats for general advice.
Making an Appointment
An appointment at any clinic or hospital in Thailand is often not necessay. A walk-in is an easy option. Just expect long wait times if you go to a government hospital. Private hospitals might have time for you on the spot, but might offer you an appointment date at another time if they are too busy.
At government hospitals, walking in for the first visit is usually a requirement. But arrive before opening time. Often appointments won't be given over the phone or online, only by doctors after the initial consultation.
For private hospitals, booking in advance will allow you to pick the doctor of your choice and avoid a wait. After making the appointment either by phone, Line, email, or directly on the website, the hospital may contact you again the day before to confirm.
Getting to Your Appointment
Commuting in Bangkok can be difficult, time-consuming and stressful. Make sure you plan your trip ahead.
Mass transportation such as the BTS or MRT are recommended during busy hours to help you get to a hospital on time. It is essential to arrive at the hospital 15-30 minutes early if you already have an appointment.
For first appointments, It takes longer to register and have a nurse do a check-up (temperature, blood pressure, weight and height).
If it is your first visit to government hospitals, be sure to arrive as early as possible in the morning, around 6am, to fill in your registration forms, get a queue number, and see a doctor.
Registering as a Patient
If it is your first visit to a hospital, you will need to register.
The primary document you need when registering for hospitals is your passport. Even if you've already made an appointment via online application, be sure to take your passport when you visit.
In addition, always take your medical insurance card with you – if you only have an online version of the card, you can always send them by email if they ask for it.
If you decide to walk-in, you will experience quick registration at most private hospitals. At the registration desk, which is usually located on the first floor of each hospital, admissions staff will take some information about you (food and medication allergies, age, emergency contact, health insurance, etc) and fill in your application form.
Some hospitals will give you a hospital card, with your hospital number. In the future, you might need this number when making new appointments or when contacting the hospital. If you cannot find your number or card, staff will use your name and birth date.
At premium clinics, you can plan a trip to the admissions department to register for a hospital card and then make an appointment over the phone when you get sick. Registering in advance will save you lots of time.
Seeing a Doctor or Specialist
After registering, nurses will show you the way to the relevant department if the problem is clear (ie. orthopedics for a broken bone). If you know what kind of doctor you need, you can request to see a specialist on your first visit.
If your problem is less obvious, they will recommend you to visit a general practitioner first for a diagnosis and referral to the right department or specialist.
Before the GP sees you, nurses will check your name and proceed with a quick screening of your blood pressure, temperature, weight and height. They may ask you questions about your symptoms.
If you want to see a doctor at Bangkok Hospital, fill in their online contact form and note which specialist you wish to see.
Getting Admitted
If you need to be admitted to a hospital overnight, nurses will present you with a list of available rooms. You can choose to stay in a private room or in a shared room with 2, 4, 5, or even more than 10 beds.
Private hospitals offer VIP rooms and suites. Each hospital also offers different amenities depending on the type of room you choose. Most private hospitals list their prices online.
Depending on your medical insurance, they may fully refund specific types of room. Check with your insurance in advance or in case of emergency, the hospital – often the case with private hospitals – can directly contact them.
Prices for each room vary depending on which department and ward you will be staying in.
Your options are more limited with government hospitals due to the amount of patients they need to treat. Sometimes they don't have any rooms available.
In this case, they add extra beds to already crowded rooms.
Paying Bills
Paying medical bills at most hospitals involves a few easy steps:
drop off your prescription at the pharmacy and get your queue number
wait until your number and name are shown on a cashier's screen
pay your medical bill
pick up your medication
Thai Hospital cashiers accept cash, credit, or debit card as well as payment by QR code, using your Thai bank account.
Paying with Health Insurance
In some countries, if you don't have health insurance, you can apply for a payment plan if you need extra time to pay your medical bills.
In most Thai hospitals, patients will have to pay out of pocket their full medical bill after their treatment is done.
If you do have health insurance, depending on your contract, you might have to first pay and then get a refund. In this case, you will have to keep all medical receipts.
However, if your insurance company is a partner of the hospital you're visiting, all you need to do is sign some documents prepared by the hospital and you won't have to pay anything if expenses are within your healthcare coverage package.
The procedure is the same for a Thai social security card holder.
Now, on to You
For common medical problems, you might not need to go to a hospital. Neighborhood clinics are prolific and great for basic health checkups and blood tests or simple treatments.
In Thailand, while some medication is prescription-only, you are able to buy many medications without prescriptions. Go to any pharmacy and tell them what bothers you, and they will recommend some medication options.
Make sure you don't run the risk of not finding out whether your symptoms are a cause of something more serious and don't accept antibiotics before talking to a doctor.
It's always best to visit a doctor if in doubt. Your health needs to come first!