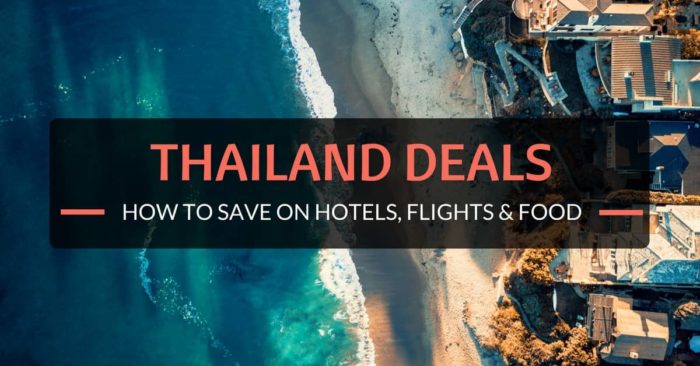 This is a short collection of discounts, deals and coupons I've come across for people visiting and living in Thailand. If you come across similar savings, notice any errors or have other feedback, please send me a message.
Flights
I recently flew from Thailand to Germany for a bachelor party: One comparison website I checked listed a flight from Bangkok to Frankfurt for USD 480 – that was the return price and included all fees and taxes! It was more than 30% less than the next best offer with only a brief stop-over both ways. Pretty much unbeatable. The catch? The deal was listed as 'only available at travel agents'. However, no travel agent I contacted was aware of that deal.
It took me two hours of searching, but I finally figured it out: 'travel agent' in this case means Expedia. As it turns out, Expedia is trying to gain more market share by offering discounts of up to 30% on flights to and from Thailand as well as Thai domestic flights. Other flight comparison websites don't list the Expedia fares (or mark them as 'travel agent' deal with no further details) in order to avoid sending business to their competitor. These discounts are not only available for traditional airlines, but also low-cost options like Air Asia (that's because Expedia Thailand is partially owned by Air Asia).
Hotels
When my brother planned a trip for his family to Bangkok, they were seriously struggling to find a place that fit his entire family with young kids into a single suite. Most hotels catering to larger families are very upscale and even at Bangkok prices that can add up very quickly. My advice for large groups coming to Bangkok? Airbnb.
Airbnb offers vacation rentals of private rooms or entire apartments for as little as 10 USD per night (though you can also find duplex penthouses with prices to match). As a sign-up bonus, they'll even give you a discount of 15 USD to 25 USD on your first trip. Airbnb is particularly great if you want something with a bit more atmosphere, are on a budget or need something other than a standard hotel room.
If all Airbnb options are booked already, you can also find home stays and vacation rentals at HomeAway (owned by Expedia). While they don't offer a sign-up bonus, the savings over hotels (and potentially lower rates than Airbnb) may make it worthwhile checking them out.
Food
Thailand has some great food options – ranging from fine dining to home cooked meals. For a lot of them there are great discounts available that the average tourist probably never hears about.
Restaurants
The biggest saver in the restaurant space right now in Thailand is eatigo. It's a website allowing you to place reservations at restaurants and receive discounts of up to 50% if you eat at off-peak hours. All you need to do is book it before you physically walk into the restaurant. It's usually worthwhile checking the site if you have a specific place in mind and are a bit flexible on time. One of my favorites is The Coffee Club, which, despite the name, actually has amazing food. Their coffee is excellent as well – though eatigo discounts are only valid for food items.
Home Cooked, Classes and Tours
Prefer something more local? BonAppetour is the Airbnb for home cooking. A lot of the stuff is standard tourist fair (Pad Thai, Curry, …), but there are some extraordinary chefs in Bangkok, like this food blogger who does some really new and exotic dishes. Recently they started focusing more on food events, tours and classes that you can look up in their calendar. Use this link to get THB 515 off your first meal.
Groceries
Big savings are not only available when eating out, but also when having groceries brought to your door step. Just like Uber and Grab are battling it out with discounts, so are HappyFresh and honestbee: HappyFresh has the occasional special and often does free deliveries on Thursdays. honestbee on the other side is new and thus tries to attract customers with discounts of up to 70%: Recently they offered a THB 300 discount on any order of THB 400 and more.
Taxis
Usually the fastest way to get around Bangkok is the Skytrain and the Subway. If you want to go with taxis instead, there's a great alternative: Grab is Uber's biggest competitor in Southeast Asia. These ride sharing apps are having a massive fight over market share, resulting in major discounts for passengers (not uncommon to see 50% discounts on the already cheap Bangkok taxi fares). Plus, the app interface of both companies is a significant improvement over having to explain destinations and directions to taxi drivers who barely speak English.
Cashback
Nearly every country has a 'cashback website'. In essence it means you receive a cash refund for any purchase you make. These sites require a few extra mouse clicks when making a purchase, but result in decent discount: On average they save you 5% to 8% on every online hotel booking.
A lot of these cashback sites give you an extra bonus just for signing up. In Thailand for example there is DeeDee Cashback, which will is pretty much guaranteed to save you 5% to 8% on every online hotel booking. If you use the coupon code CHERRYONTOP to get an extra THB 120 when signing up.
Here's how it works: Let's assume you want to book a hotel with Agoda. Instead of going directly to Agoda, you go to the Agoda page on the DeeDee Cashback Website first, then you click on the 'Go to Store and Earn Cashback' link. That's it: The rest happens automatically and a few weeks after your vacation you'll get a cashback worth 8% of the amount you spent with Agoda.
Seen Any Other Discount?
The above list is an ongoing effort. While I try to keep everything up to date and add offers as I find them, I'd appreciate any input you can provide. If you come across any other genuine discounts that offer significant savings over the commonly available price, please do send me a message!