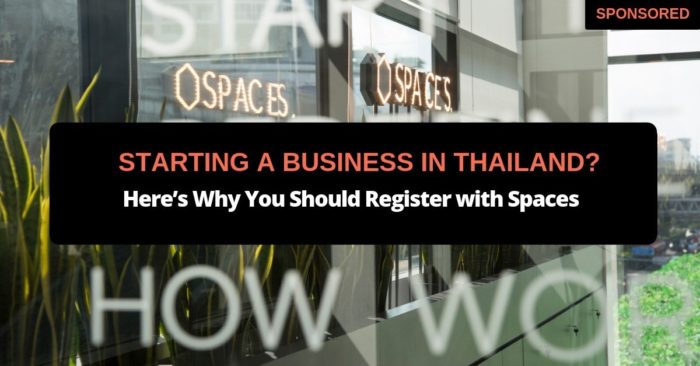 Motivated by flexible contract terms, reduced office setup time, and maintenance costs, more and more entrepreneurs in Bangkok are registering their businesses using serviced offices instead of traditional offices.
The rising demand for more inspiring, flexible and collaborative work spaces has also given rise to a large number of serviced office providers in Thailand, making it hard to choose where you would like to call home for your business home.
One provider that truly separates itself from the crowd is Spaces.
In this guide, you are going to find out how to register your business in Thailand with Spaces, why you should register your business with Spaces, the costs involved and documents required.
The Rise of Serviced Offices in Bangkok
Because of Bangkok's thriving startup ecosystem, low cost of doing business, and location in Southeast Asia, the city is often called ASEAN's next Silicon Valley.
Many multinational corporations, startups, and digital nomads come to Bangkok to launch or move their businesses here. This is what fueled the rise of Bangkok serviced offices.
Since Bangkok's first coworking space opened in 2012, Bangkok has experienced a boom in coworking spaces and serviced offices in the last six years, and today, the city has everything from boutique-style serviced offices to more traditional corporate serviced offices.
Why Use a Serviced Office?
Wondering why you'd need a serviced office in Bangkok? Here are three important reasons:
you can register your company with a business address

you can save money

you can focus on running your business
When you do business in Thailand you must have a company address to register your company with the Thai government. Renting a serviced office gives your business a legit address.
When you rent a serviced office you'll save money on the expenses that usually come with renting a traditional office: monthly utilities, office desks and chairs, coffee machines, snacks, repairs, and so on.
You can also focus on running your business because if anything goes wrong in a serviced office the property managers are responsible, not you.
But because there are so many serviced offices available in Bangkok, you might find it challenging and time consuming to narrow them down to just one.
And on top of that, not all serviced office providers help you register your company using their office.
This is where Spaces comes in.
Spaces has two locations in Bangkok: one on the top floor of Phra Khanong's Summer Hill and another at Chamchuri Square.
Spaces in Chamchuri Square is right above the office of Thailand's Board of Investment and One-Stop Service Center for Visas and Work Permits, making it a great choice if you want to register your company with the BOI.
What Makes Spaces Different?
With Spaces, you have several different serviced offices to choose from, whether you run a large corporation or small startup.
And while most serviced offices are confined to partitioned walls under drab fluorescent lighting, this isn't the case with Spaces.
Spaces offers serviced offices that feature glass fronts, which let natural light come in during the day and make even the smallest office feel spacious yet private.
When you rent a serviced office at Spaces you also get everything you need, such as copy machines, wifi, desks, and more. This means you can start working the very first day you move in.
Benefits of Using Spaces Serviced Offices
The biggest advantages that come with using Spaces serviced offices can be summed up in three words:
Focus
You'll be more focused in a serviced office since you won't have to worry about hiring cleaners, budgeting for office expenses, and setting up phone and internet accounts. This lets you focus on what matters most–running your business.
Scalability
Spaces offers custom and flexible rental agreements, giving you more flexibility and scalability than a restrictive, traditional long-term office lease. Spaces serviced office agreements are tailored to meet the needs of your business.
Cost
Using Spaces serviced offices helps you save costs on office maintenance, internet and phone line installation, office furniture, coffee machines, and utilities. Spaces provides everything you need to start operating your business, under one roof, all for one competitive monthly price.
But you'll also get access to a few more perks.
Spaces Business Club
When you join Spaces you get access to all Spaces Business Clubs around the world, where you can work, meet with clients, network with other entrepreneurs, or enjoy a cup of coffee.
Spaces Business Clubs come equipped with inspiring open work environments, which include cafes and aesthetically designed open lounges.
Business Programs and After-work Events
Spaces offers more than serviced offices. Through its community-focused approach, their business programs and after-work events let you collaborate and network with other entrepreneurs.
Multilingual and Professional Support
When you join Spaces, you get professional support from their staff of multilingual receptionists who can welcome your clients and collect your mail or deliveries.
Receptionists also make sure your space is always clean, maintained, and ready for work.
What do all of these benefits mean for you? Less work on the menial tasks and increased productivity on the things that matter.
Company Registration Process
Once you sign an agreement with Spaces and pay your deposit and first month's rent, you have to submit these documents to their receptionist to start your company registration process:
company affidavit

copy of passport

letter of consent request form
Spaces then helps you register your company with the Department of Business Development.
They take care of getting your approval from the landlord to use his house or building number to register your business at Spaces.
They also give you the supporting documents, which includes two consent letters: one from Spaces and one from the landlord.
You can pick up the documents from Spaces or they can send them to you.
Spaces Chamchuri Square has also business registration booths where you can register your company and VAT.
Office Sizes for all Companies
Spaces offers different sized offices for different sized companies, whether you run a one-person startup or four hundred-person corporation.
Spaces has several serviced office plans with flexible contract terms, designed to meet your specific budget and organizational needs.
Prices differ based on location and size, but here are the starting prices for serviced offices that you can use to register your company at Spaces Summer Hill.
| | |
| --- | --- |
| Type | Starting Price / Month |
| Private Office | 7,590 baht |
| Dedicated Co-Working Desk | 7,290 baht |
| Membership all locations | 2,390 baht |
Spaces also offers private offices for teams of either one to four hundred people.
Locations in Bangkok
Spaces currently has two locations in Bangkok:
Spaces Summer Hill

Spaces Chamchuri Square
Spaces Summer Hill
Located on the third floor of the new Summer Hill Mall next to BTS Phra Khanong, Spaces Summer Hill is the biggest coworking space in Bangkok.
Spaces Summer Hill has 1,260 square meters of office space, three meeting rooms, 334 dedicated desks, and a lounge where you can hold meetings and network with entrepreneurs.
Summer Hill is also near Onnut and Ekamai, which means you'll never have trouble finding great food, reasonably-priced condos, and other expats.
Spaces Chamchuri Square
Spaces second location is on the twenty-fourth floor of Chamchuri Square, an office building on Rama IV Road. It's right above the One-Stop Service Center for Visas and Work Permits, which offers services to BOI promoted companies and smart visa holders.
Spaces Chamchuri squares features 3,281 square meters of office space, two meeting rooms, 143 coworking desks, and a 524 square-meter business club.
You can get to Chamchuri Square by taking the MRT to Sam Yan station. Chamchuri Square is also connected to a mall and the area has no shortage of restaurants and coffee shops.
New Spaces Locations Coming Soon
Spaces is continuing their expansion in Bangkok with three new upcoming locations:
Spaces Empire Tower (BTS Chong Nonsi)

Spaces Metropolis Samrong (BTS Samrong)

Spaces M9-Ratchada (MRT Huay Kwang)
Now, on to You
If you're looking to rent a serviced office in Bangkok, check out Spaces. Spaces offers inspiring work environments in Bangkok through their flexible rental agreements that favor the needs of your company. You can reach Spaces through their website or by calling 02-026-0635