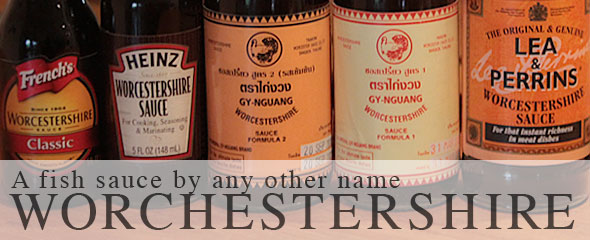 Worchestershire Sauce, fish sauce and Villa Market…
After not sleeping for days, and with no food in the house, I headed to Villa to stock up. Now, when I'm that tired the little things in life often strike me as hilariously funny. Do you suffer from the same?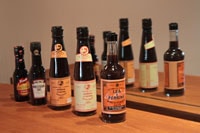 So there I was in the condiments aisle at Villa Market, facing a row of Worchestershire Sauce, Formula 1 and Formula 2, made in Thailand.
They cracked me up. Totally.
So I grabbed ALL of the versions of Worchestershire Sauce (five bottles) with a vague thought of writing a post about the coming American holiday, Thanksgiving. Just like I did last year.
Why Thanksgiving? Stick around and you'll soon see just how thin that connection is.
Except for liking the taste, I didn't know a lot about Worchestershire Sauce. So to write this post I first needed to google. And surprise! Worchestershire Sauce is made with fermented anchovies. So Worchestershire is a fish sauce. How strange.
If you don't know already, fish sauce, called น้ำปลา /náam bplaa/ (water fish) in Thailand, is a constant in the Thai diet. And for good reason. Take away the fish sauce and you take away a big part of what makes Thai food great. I know, because after imagining how fish sauce was made (gross – and I was wrong) I tried doing away with it in Thai cooking. It was a bad move. A bland move. So I added fish sauce back again.
So ok. Fair enough. Worchestershire is a fish sauce. But now that I'm sitting here with five bottles of the stuff, I also needed to find out where the original Worchestershire came from.
wikipeidia: Worcestershire sauce (pronounced /ˈwʊstərʃərsɔːs/ WOOS-tər-shər-saws), or Worcester sauce (/ˈwʊstərsɔːs/ WOOS-tər-saws) is a fermented liquid condiment, primarily used to flavour meat and fish dishes.
A fermented fish sauce called garum was a staple of Greco-Roman cuisine and of the Mediterranean economy of the Roman Empire, and the use of some similar fermented anchovy sauces in Europe, can be traced back to the 17th century. The Worcestershire variety became popular in the 1840s and is a legacy of the British rule of the Indian sub-continent. Theories vary concerning its discovery or invention.
According to historian and Herald for Wales, Major Francis Jones, 1908–1993, the introduction of the recipe can be attributed to Captain Henry Lewis Edwardes 1788-1866. Edwardes, originally of Rhyd-y-gors, Carmarthenshire, was a veteran of the Napoleonic wars and held the position of Deputy-Lieutenant of Carmarthenshire. He is believed to have brought the recipe home after travels in India.
The rest of the wiki article goes on to say that Thailand also has a Lea & Perrins Original Worcestershire Sauce, imported from England. But that is not so. There is no Lea & Perrins on the label and the sauce is produced in Thailand, not England. And really, WHY would Thailand have their own version of fish sauce produced in the UK? That's like taking coals to Newcastle. Something like that.
More fun Worchestershire facts: In 1981 the U. S. Department of the Army spent $6000 to prepare a 17-page manual on how to buy Worcestershire sauce.
Anyway… on the Thai bottle of Worchestershire it states 'Original Gy-Nguang Brand'. In Thai that translates to 'Original Turkey Brand', not 'Original Lea & Perrins'. Yes. Turkey. So now do you see how nicely this post is tying in with Thanksgiving?
Translating the Thai script:
วูสเตอร์ซอส /wôot-dtêr sót/ wootdter sauce
ซอสเปรี้ยว /sót bprîeow/ sauce sour
ตราไก่งวง /dtraa gài nguang/ brand turkey
When I turned the bottle around, I found that the Thai Worcestershire company has a website: www.gy-nguang.com
I also found so much more…
About GY-NGUANG Worcester Sauce: Worcester Sauce "Gy-Nguang" brand has begun to be manufactured and distributed in Thailand since 1917 by M.L. Ngeab Dinakara who is the formula owner. At the beginning, M.L. Ngeab has served as a royal servant in Bang Khunprom Palace of Somdej Chao Fa Boripathsukhumpan, Krom Phranakorn Swanworapinit.
Questions. I now had even more questions…
Q: How is the difference of ingredients between Gy-Nguang Worcester Sauce & another famous imported Worcestershire Sauce?

A: Gy-Nguang Worcester Sauce doesn't be put any Anchovy fish as one of its ingredient.
What? No fish?
Gy-Nguang Worcester Sauce is made of Fermented vinegar, Dark Sticky Soy Sauce, Brown Sugar, Salt, Dry Chili and Spices (Mace, Cayenne Pepper, Ginger, Nutmeg, Black pepper, Licorice, Cloves, Parsley, Cinnamon, Lemon peel and Garlic).
I guess not.
Q: Why don't some people (especially foreigners who live in Thailand) dare to buy Gy-Nguang Worcester Sauce to use for their cooking at homes or restaurants when they first find it in the supermarket?

A: It is because most of foreigners always think that the best quality and taste of Worcestershire Sauce's real taste should be only the brand as be imported from the big country only and they are not sure for Thai product quality before they try to buy it for their first tasting. That means they are missing the good product from Thailand, and also, they don't know they are missing for their cost saving a lot. Thai product as Gy-Nguang Worcester Sauce as cheap in cost and good for tasting!
Gy-Nguang Worcester Sauce does cost less than western brands. At Villa Market, Gy-Nguang's Formula 1 costs 63 baht and Formula 2 is 52 baht. Compared to Lea & Perrins, at 130 baht. But as for the taste… well… let's see.
The Worchestershire / Wootdter taste test…
Sunday morning, when tidying up this post, I realised that I hadn't even cracked open the five bottles for a comparison lick. So I did. And whooh. Yeah. Whooh. Two of the sauces were fabulous. One was bland. And after tasting the final two I had to wash my mouth out with chocolate.
Gy-Nguang Worcester Sauce Formula 1: Bangkok, Thailand
Curious about the comments re: foreigners, I started with Gy-Nguang's Formula 1. Nice. Very. This sauce has a rich balance of flavours. I like.
Lea & Perrins Worcestershire Sauce: Worcester, England
This was the second sauce in the trial. Again, the flavours are nicely balanced.
Gy-Nguang Worcester Sauce Formula 2 Bangkok, Thailand
This sauce was a bit of a disappointment as the flavours were watered down. The taste was pleasant, but it was just not as rich as the first two. I'd definitely use this sauce for a light fish dish instead of a heavy meat meal.
Heinz Worcestershire Sauce: Pennsylvania, USA
Blech. How horrible. The taste is overly acidic, without a range of flavours (a blessing, as I can't imagine what a full range of horrible would taste like). This sauce was a shocker as the H.J. Heinz Company bought Lea & Perrins. So, why?
French's Worcestershire Sauce: Somewhere, USA
Once again, blech. Just like the Heinz version, this sauce is absolutely horrible. Acidic. The only difference between the two is an overabundance of cloves.
I also found an Australian version that wasn't included in the taste test (sorry guys – maybe later): Holbrooks Worcestershire Sauce.
Historical pond-swapping: Lea & Perrins (British) was first bought out by HP Foods (British), and then by Heinz (American). In 1926 French's (American) was bought by Coleman (British). In 1938 Colman merged with Reckitt & Sons (British). Then, in 2000, Reckitt & Colman merged with Benckiser to become Reckitt Benckiser, located in Slough, Berkshire (UK). Btw: It's pronounced Slough as in plough, not as in cough – and Berkshire is pronounced Barkshur. And what a load of pond-swapping that is.
If you made it all the way to here you might be wondering which Worchestershire Sauce won out in the end. Correct?
Well, my first choice is Gy-Nguang's Worcester Sauce Formula 1. Why? Because as mentioned on their site, it really is a tasty product. Well done Thailand 🙂
And as for Heinz and French's, my mouth has really nasty things to say in their direction.