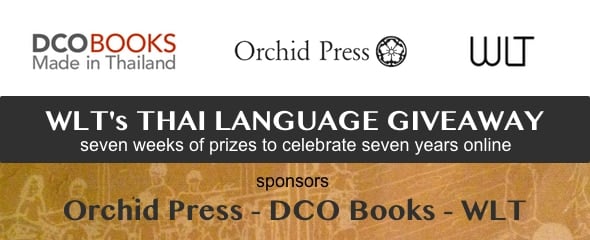 WLT's Thai Language Giveaway…
Welcome to week two of WLT's seven weeks of Thai language giveaways by top movers and shakers in the learning Thai industry.
If you are just hearing about the giveaway do read Please Vote THAI and WIN! 2015: Top 100 Language Lovers Competition to find out about the $4,500+ in prizes being given away.
Thai Reference Grammar, Essential Thai, Thai: An Essential Grammar, and Thai Without Tears…
This week Orchid Press, DCO Books, and WLT (that's me) have banded together to sponsor some of my favourite books for learning Thai: James Higbies' Essential Thai and Thai Reference Grammar (two each), David Smyth's Essential Grammar, and the classic Segaller's Thai Without Tears.
And to make it even more fun, James Higbie signed all four copies of Essential Thai and Thai Reference Grammar. Lucky winners. I'd love signed copies too!

During the last Essential Thai giveaway James Higbie and I lounged around at the Churchill Bar at British Club in Bangkok, sipping beers while Jim selected winners out of an empty beer mug. But for this giveaway, as Jim is in Bangkok and I'm in Chiang mai, he'll do the honours without me. There might still be beer though (we'll see).
And here's a bit about the sponsors…
Orchid Press has been around since 1981. The majority of the books are related to the Asian region, covering general interest, scholarly, fiction, and poetry. They previously sold books out of a bookstore on Silom but now do internet sales and sales to other bookstores.
DCO Books came online in 1995. Their specialty is English language books published in Thailand. DCO is my go-to bookstore for books on the Thai language, culture and history (out of print or not). Whenever I find a book I just have to have, I'd contact Danny, who sources it for me (he knows where boxes are stashed).
Higbie: Essential Thai…
Jim's Essential Thai has a bit of lore attached to it. Years out of print, fans would cherish copies of copies until they fell to bits. Finally, in 2010, Orchid Press brought it back to life.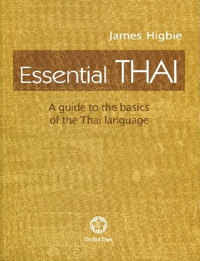 Essential Thai
Author: James Higbie
Price: US$29.95 / 895 baht
Paperback + CD: 234 pages
Size: 190 x 250 mm
Published: 2011, Orchid Press
If you don't win this time round, you can order Essential Thai online from Orchid Press.
Orchid Press: Essential Thai is a complete learning package for those who want to acquire basic working skills in the Thai language, quickly and efficiently. Freshly updated and back by popular demand, Essential Thai includes a CD ROM with MP-3 audio files to introduce the student to Thai pronunciation and beginning phrases.
It's no secret that I'm a huge fan of Essential Thai. Jim's writing is clear and concise, and with the layout being straightforward, the concepts are easy to understand and absorb. It's so good, I even penned a post on Using the Assimil Method with Essential Thai. Essential Thai is also a prime candidate for using Luca Lampariello's method outlined in An Easy Way to Learn Foreign Languages Part One and Part Two.
Higbie: Thai Reference Grammar…
Again, it's Jim's clear way of explaining concepts that draws me back to Thai Reference Grammar. It's my go-to resource for those niggling grammar questions, or just for the pleasure of a good read.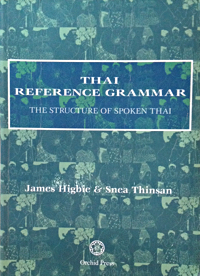 Thai Reference Grammar
Author: James Higbie
Price: US$29.95 / 895 baht
Paperback: 234 pages
Size: 190 x 250 mm
Published: 2003
As before, if you don't win this time round, you can order Thai Reference Grammar online from Orchid Press.
DCO Books: There are many phrasebooks and course books for beginning-level Thai but until now there has been no book that explains higher-level Thai sentence structure and functional vocabulary.

Many students of the Thai language find that basic-level Thai is easy to pick up, but that the language becomes more difficult at higher levels. (For example, there are four ways to say 'because' and eleven ways to say 'only').

Thai Reference Grammar fills the need for a work that explains high-level Thai sentence structure and vocabulary. The book presents clear explanations of advanced Thai structure, illustrated with examples of typical Thai speech.
On a sidenote: Jim gifted me with the extra materials intended for the follow up of Thai Reference Grammar, so do stay tuned as I feed them through WLT bit by bit.
On a personal note: Jim's latest project (not about Thai) is Sierra Leone: Inside the War. If it's written anything like his other books it'll be a fabulous read.
Smyth: Thai: An Essential Grammar…
Thai Reference Grammar and An Essential Grammar are the most popular grammar books for students of Thai. And if you are a fan of Mary Haas's style (remember her Green Brick) and Benjawan's Thai for Beginners, then you are already intune with David's Essential Grammar. With the well-thought-out layout, it's a quick jump through the contents to find just what you need.
From David Smyth: I hope you'll find this book useful; and keep on checking out Cat's fantastic website!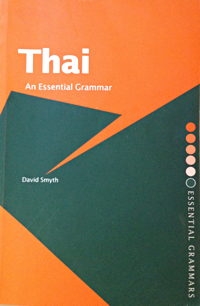 Thai: An Essential Grammar
Author: David Smyth
Price: US$29.95 / 895 baht
Paperback: 234 pages
Size: 155 x 255 mm
Published: UK 2010 (1st) Edition
I have both editions but I'm forever grabbing this one (my second edition is still pristine). And I was in luck when taking this photo of the front cover because the coffee spills and chocolate prints wiped right off the beautiful matt finish!
DCO Books: Thai: An essential Grammar is a concise and user-friendly guide to the basic structures of the language. Grammatical forms are demonstrated through examples, given in both Thai script and romanised transliteration, with clear, jargon-free explanations. Its designed for use both by students taking a taught course in Thai and for independent learners, and includes guidance on pronunciation, speech conventions and the Thai writing system as well as grammar.

With numerous examples bringing grammar to life, this unique reference work will prove invaluable to all students looking to master the grammar of Thai.
Segaller: Thai Without Tears…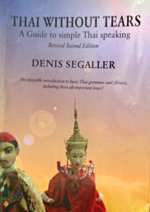 Segaller Thai Without Tears
Author: Denis Segaller
Price: $9.95
Paperback: 368 pages
Published: 1999
Segaller's phrasebook, Thai Without Tears (a guide to simple Thai speaking), is an absolute classic and a joy to read. When Danny (DCO Books) mentioned adding it to the giveaway my response was "I LOVE that book!" Actually, I love pretty much everything by Dennis Segaller (RIP). He had a blast living in Thailand and it shines through everything he wrote.
DCO Books: An enjoyable introduction to basic Thai grammar and phrases, including those all-important tones! This handy little book should enable native English speakers to learn conversational Thai in a reasonably short time, and in an interesting and enjoyable way. Its phonetic system is simple and clear – a great help in learning those all-important Thai tones.

The examples have been chosen to be as useful as possible in everyday situations, and the two teaching sections are followed by collections of phrases concerned with telephoning, food, shopping, etc. Other sections deal with colours, times and dates, social norms, getting around, festivals and public holidays presented in a highly readable way and with some cultural background here and there. 1,300 word English-Thai and Thai-English glossaries and some emergency phrases (most of which we hope you'll never need) round off the book.
Rules for WLTs Thai Language Giveaway…
The rules are dead simple:
To be included in the draw, leave comments below.
Comment(s) need to add to the conversation (it really does matter).
Each relevant comment gets counted, so please do leave as many as you like!
If you don't collect your prize within a week of the announcement, it will be given away to the next person in line.
You don't have to live in Thailand to enter the contest; the cost of shipping to anywhere in the world is covered.
I will not be responsible for choosing the winners so even if you've known me for yaks ages you too can win. Also, there is no limit to how many prizes you can win. So go ahead. If you see something you fancy, please do enter again and again and again.
Important: If you own any of these books do let us know in the comments and we'll adjust the prizes.
The draw will run from this moment until the 10th of June, 6am Thai time. At that time I'll announce the winners in the comments below as well as create a dedicated post.
Again, my thanks goes to Orchid Press and Danny from DCO Books for sponsoring these wonderful books. And of course, James Higbie for taking the time to sign copies and choose winners. Good luck everyone!
WLTs 2015 Thai Language Giveaway…
Pssst … if you haven't voted in the Language Lovers Competition, please do. It's the one time out of the year I get to strut my stuff. Cheers!