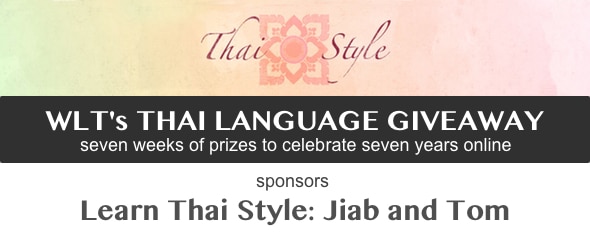 WLT's Thai Language Giveaway…
Welcome to week FIVE of WLT's seven weeks of Thai language giveaways by top movers and shakers in the learning Thai industry.
To find out about the $4,500+ in prizes being given away do read the intro post, Please Vote THAI and WIN! 2015: Top 100 Language Lovers Competition.
The previous FOUR giveaway posts by sponsor are: 1) Paiboon Publishing and Word in the Hand, and 2) DCO Books and Orchid Press, and 3) PickupThai Podcast, and 4) Learn Thai Podcast. Once again, congrats to the lucky winners! That list is getting long…

Learn Thai Style…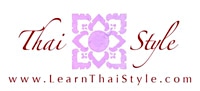 What's on offer at Learn Thai Style is mind-boggling, so to do it justice I'll save a complete review for later. Briefly, it goes like this:
Decide which course you want to take.
Pay a one-off lifetime fee for the course.
If necessary, choose your Thai teacher either by location or Skype.
Start working through the lessons with either your trained Thai teacher or via self-study.
Maarten Tummers: As far as I am concerned, Learn Thai Style is one of the more comprehensive sites for learning Thai. Their main focus is one-on-one tutoring, but they have lessons via Skype as well. And their website is gigantic – they have so much stuff going on! I can only imagine the work Jiab and Tom put into the site and study materials. I'd render the winner of your contest a lucky fellow (or gal).
I really love how this works. You pay your Thai teacher direct, at local prices. For instance, Learn Thai Style teachers in Thailand get 300 baht per hour (about what Thai teachers in Chiang mai charge for one-on-one). While in the US it's $18 and in the UK it's £12. Payment for travel to and from the class is whatever the two of you decide. Skype is charged local prices (wherever the teacher is) but there are no travel charges (obviously).
What I really found fantastic is that first the Thai teachers are trained for free (no charge) on the proper usage of Learn Thai Styles' well-developed materials. Then they use these same materials (audio, video, pdfs) to teach their students.
Yet with all of that, the teachers do not have to pay fees for the materials or the students they receive through Learn Thai Style. Instead, the one-off fee you pay LTS covers the course materials, website, marketing, etc, and the teachers keep what they make.
What this means is that the teachers can then avoid having the additional overhead of their own websites, teaching materials, and marketing costs. Face it, not everyone is cut out to run their own business; it takes time, money, and lots of trial and error to get it right.
Another plus to this method is that with all teachers being trained with the same materials, if you move around you can still continue to study. It's perfect for world travelers who bounce around, and if your teacher moves away (it happens) you won't lose momentum locating a new teacher.
And here's a detail that really pushes the envelope in the learning Thai industry. If you have a willing Thai partner or Thai friend who's interested in taking the time to teach you but doesn't know how to go about it, they too can train with Learn Thai Style (at no cost to themselves).

Speak Thai & Read and Write Thai…
On WLT's FIFTH giveaway, FOUR winners get to choose either the Speak Thai Course or the Read and Write Course. Both are valued at 3,900 baht each.
Important to note: The prize for the Speak Thai Course does not include Thai tutors (lesson fees are paid direct to the teacher of your choice) while the Read and Write Course can be self-study (no Thai teachers needed but recommended).
The winners will receive:
Lifetime access to the course.
Over 40 hours of audio and video materials.
Self-study materials to download (over 300 worksheets and audio files).
Online quizzes to put your skills to the test.
Access to over 700 teachers trained to use the materials.
Read and Write Thai: Learn the Thai alphabet, reading and writing system, grammar, sentences and general conversation.
Speak Thai: Learn about the background of the Thai language, simple grammar, and dialog and vocabulary used in everyday Thai.
These are real courses, just like in a proper language classroom. They are not a data-dump. Using text, audio, and video, the subject matter for each lesson is explained, and then they want you to DO things. That's right. To quiz you on what you studied, they give you plenty of question/answer sections and practicals. Putting all of your language learning senses to work, both courses incorporate listening, reading, writing and speaking (but up to you if you want to write during the speaking course).
There are seven stages to the Read and Write Thai Course and three for the Speak Thai Course. To keep students from being overwhelmed by the serious amount of study materials available, you can only access a new stage after you've finish the one you are working on. To help improve each course, before moving on to following stages you are asked to share your experiences.
The stages include introductions, working chapters, and revisions to end. The pdfs are not protected so you can easily extract Thai to create flashcards using Anki, BYKI, or other flashcard programs you happen to fancy. I'm all for it because I'm always wanting to fiddle.
When you complete the Speak Thai Course you'll have a good handle on basic Thai conversations. When you complete the Read and Write Thai Course the world of written Thai will be at your fingertips! I'd list all of the subjects in each one but there's just to much to share for a post of this type, so do stay tuned for more in-depth reviews.
And here's a bit about the sponsors…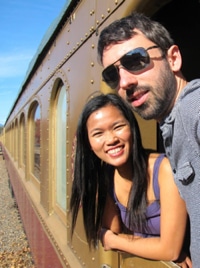 Tom and Jiab met through a friend in Bangkok on Tom's first trip in 2004. It was love at first sight! At that time Jiab was working as an assistant manager seven days a week, while putting herself through university. She ended up with not only a bachelor's degree but taught herself English along the way.
It wasn't until 2007 that Tom eventually moved to Thailand. They married in 2008 and moved to the UK where Jiab taught Thai and started developing the groundwork for the courses you see now on Learn Thai Style.
In a joint light bulb moment they realised the opportunity to develop a complete solution for teaching Thai; from using Jiab's materials as a base, to providing trained Thai teachers for both one-on-one and Skype.
Tom and Jiab's skills clearly compliment each other in the running of Learn Thai Style. Jiab is an accomplished Thai teacher, translator and interpreter with high standards. While Tom handles the website (I just love their design), deals with the fiddly bits of the business, and manages staff and clients. And they both spend hours brainstorming new projects to make Learn Thai Style the best it can be.
Rules for WLTs Thai Language Giveaway…
If you've forgotten, the rules are simple:
To be included in the draw, leave comments below.
Comment(s) need to add to the conversation (it really does matter).
Each relevant comment gets counted, so please do leave as many as you like!
If you don't collect your prize within a week of the announcement, it will be given away to the next person in line.
There is no limit to how many prizes you can win.
The draw will run from this moment until the 1st of July, 6am Thai time. At that time I'll announce the winners in the comments below as well as create a dedicated post.
Again, my thanks goes to Jiab and Tom for gifting this fabulous course! I'm looking forward to doing the coming review justice (I just love stuff and this course is swimming in it 🙂
WLTs 2015 Thai Language Giveaway…
Here are the posts so far in WLT's Thai Language Giveaway.
And remember, after this there's still TWO more weeks of prizes to be given out to celebrate WLT turning seven. Good luck everyone!