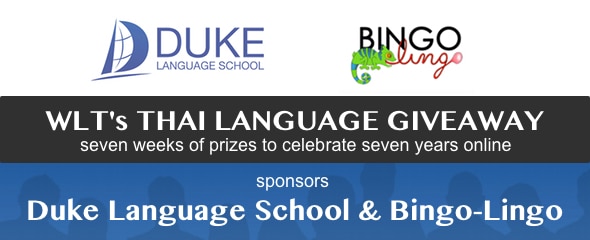 WLT's Thai Language Giveaway…
Welcome to week SIX of WLT's seven weeks of Thai language giveaways by top movers and shakers in the learning Thai industry.
To find out about the $4,500+ in prizes being given away do read the intro post, Please Vote THAI and WIN! 2015: Top 100 Language Lovers Competition.
The previous FIVE giveaway posts by sponsor are: 1) Paiboon Publishing and Word in the Hand, and 2) DCO Books and Orchid Press, and 3) PickupThai Podcast, 4) Learn Thai Podcast, and 5) Learn Thai Style. Once again, congrats to the lucky winners!

Duke Language School and Bingo-Lingo…
This week Duke Language School and Bingo-Lingo (Arthit Juyaso) have joined together to sponsor prizes.
There are FOUR of Duke's Survival One Group Lessons, which includes the textbook. Also included is free access to the beta version of Duke's online course, created by Royce Heng.
Note: 1) you need to be in Bangkok to take the course, and 2) you do not have to take it right away.
There are also FOUR copies of Bingo's detailed book, Read Thai in 10 Days (audio included). For this prize you can be anywhere in the world (we pay for shipping). Good luck!!

Bingo-Lingo: Read Thai in 10 Days….
If you are not located in Bangkok, then Duke's Survival One Group Lessons will be out of your reach for now. BUT, here's the good news. Arthit, the author behind Duke's teaching materials, has also written the terrific Read Thai in 10 Days.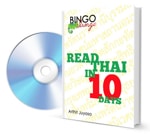 Read Thai in 10 Days
Author: Arthit Juyaso (Bingo-Lingo)
Price: $17.99 (orig $49.99)
Paperback + audio files: 170 pages
As I've already reviewed Read Thai in 10 Days in Learn to Read the Thai Alphabet in 2 Weeks, 10 Days, 60 Minutes, here's a wee snippet from Arthit:
The selling points of this course are simplification, understanding, and organisation.
Simplification: Many Thai script teaching courses don't handle rules well. For example, the tone rules. Instead of using bloated tables or cumbersome-looking tone flow charts, RTITD organises tone rules into one principle (plus the default tone for each tone mark) and three exceptions. The course also has a different take on Thai vowels. RTITD simplifies the 'traditional' number of vowels from 32 vowels (plus 10 vowel changes) to 22 vowels (4 of which have two forms), and treats vowel shortening and vowel-less words as separate.
Understanding: People may forget what they remember, but they will never forget what they understand! RTITD doesn't rely on sheer effort to purely memorise individual character's sounds when at initial and final position, it tells you WHY they are the way they are. The course also explains the nature of the Thai phonological system, that there are no unreleased finals, and which initial sound will become which final sounds, and much more.
Organisation: By prioritising what's essential, the entire course is carefully structured in such a way that makes sense. Lesson by lesson, what learners have previously studied is repeated and combined with the new materials being introduced.

For reading skill reinforcement, the approach draws from the principles of spaced repetition. Words chosen for the reading practice exercises are not random, but appropriately distributed throughout the course. Using this method, students quickly gain confidence in their ability to read Thai.
Website: Read Thai in 10 Days
Facebook: Read Thai Language
YouTube: Read Thai in 10 Days
Twitter: @readthai
Duke Language School: Survival One Group Lessons….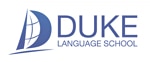 If your aim is to speak Thai right away, Duke's Survival lessons, created by Duke's Principal Arthit Juyaso (Bingo-Lingo), are rich in basic words and phrases that everyone living in Thailand should know.
When going through Survival One I was impressed to discover there are only 300 words to learn. With only a bare minimum of vocabulary, the lessons are jam-packed with useful phrases, sentence patterns and structures. Mentioning it to Arthit, he replied:
One of the main points of the course is to recycle previously seen vocabulary as much as possible (it's my love for spaced repetition).
Arthit not only knows his stuff, but equally important, he knows how to explain it to westerners. You are just going to love the helpful advice and cultural tidbits dribbled all throughout the course. And yes, it's real Thai.
Stu Jay Raj (jcademy.com): I searched for months to find Thai language schools in Bangkok that I would feel comfortable affiliating with and being able to recommend to my students of the Thai language regardless of where their level was at. They must be linguistically accurate, dynamic and have a teaching system that really engages their students.

All roads led to Duke. Their team has all the right ingredients of tech savvy, linguistically qualified experienced teachers that really know their stuff.

Their new Journey series fits in very well with CTF and the new upcoming online version that they're putting together is looking fantastic!
Duke's Survival lessons (1-3) are for basic beginners. Survival One is included in this giveaway. The Journey series (Conversational 1-3 and Fluency 1-3) focuses on speaking, Explore (1-4) introduces reading and writing, and Connect (1-4) takes it further. All courses require the same amount of time to complete. 
Survival lessons are taught onsite at Duke Language School in Bangkok. Each course is 12 days long, lasting for two hours per lesson. It's important to note because you will obviously need to be in Bangkok to collect this part of your prize!
Duke's Survival One Chapter Breakdown: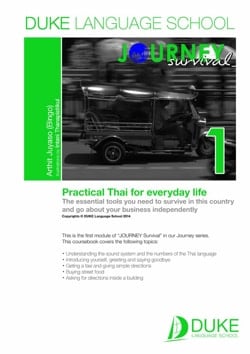 Chapter One: Getting started
About the Thai language.
Thai sounds: consonants, vowels, and tones.
Numbers from zero to 100.
Essential words and classroom phrases.
Chapter Two: Meeting and greeting
How to introduce yourself, greet people and say goodbye.
How to talk about your home country and hometown.
How Thai pronouns work.
Chapter Three: Taking a taxi
How to get a taxi and use the service.
Yes-no questions.
How to give simple directions.
Chapter Four: Buying street food
How to ask what something is called.
Buying food from the street.
About different kinds of street food.
Chapter Five: Navigating buildings
How to ask where things are.
How to talk about locations.
The words for places inside a building.
Layout of the lessons: Essential Words (20 words and mini-phrases), Dialogue (cartoons acting out the scenes, then dialogue on its own with transliteration and English, finishing with questions to make sure you understand what is happening), Key Structures and Expressions (important sentence patterns are taught in this section), Noteworthy (one of my favourite sections because goodies are imparted here), and Vocab Builder (more vocabulary to increase your usage of the patterns explained in Key Structures and Expressions).
Tod Daniels: The new course and textbooks by Duke Language School are some of the most revolutionary, best written and engaging conversational Thai textbooks I've seen after viewing the material of almost 20 private Thai language schools.

This stuff will turn the "teach conversational Thai to foreigners" marketplace on its ear. This is how Thai should have been taught to us ages ago. The material is presented in a very easy to understand and logically progressive manner. It contains contemporary, high frequency vocabulary that a student will be able to use from day one in conversations with Thais.

If you factor in the companion on-line program currently in development you've got the makings of a product that stands head and shoulders above everything else out in the marketplace now. I can't say enough positive things about the books and the course.
For more about Duke, read Tod Daniels' Review: Duke Thai Language School.
At present, Royce Heng's Survival One online course (included in the giveaway) is in sneak preview mode. Once it's been finalised winners will get two months free access. But, before it's all spiffed up, winners can preview the incomplete materials as much as they want.
Note: If you don't win one of the courses not all is lost. You can still get a free lesson by sending them an email here: Duke: Learn Thai.
Duke Language School
10/63, Trendy Building, 3rd floor
Sukhumvit Soi 13, Wattana
Bangkok 10110, Thailand
Tel: +66 8-2444-1595
Facebook: Duke Language BKK
Twitter: @DukeLanguageBKK
Rules for WLTs Thai Language Giveaway…
The rules are dead simple (at this point I could recite them in my sleep):
To be included in the draw, leave comments below.
Comment(s) need to add to the conversation (it really does matter).
Each relevant comment gets counted, so please do leave as many as you like!
You do have to live in Bangkok to enter the contest for Duke's course (let us know).
You don't have to live in Thailand to enter the contest for the book; the cost of shipping to anywhere in the world is covered (again, let us know).
If you don't collect your prize within a week of the announcement, it will be given away to the next person in line.
And remember, even if you've won in past giveaways, you can win in this one too.
The draw will run from this moment until the 7th of July, 6pm Thai time. At that time I'll announce the winners in the comments below as well as create a dedicated post. Good luck!
Again, my thanks goes to Duke Language School and Arthit for gifting these wonderful materials!
WLTs 2015 Thai Language Giveaway…
Here are the posts so far in WLT's Thai Language Giveaway.
And remember, after this there's still ONE more week of prizes to be given out to celebrate WLT turning seven. Good luck everyone!