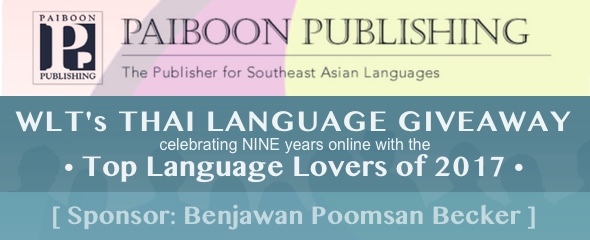 WLT's 2017 Thai Language Lovers Giveaway…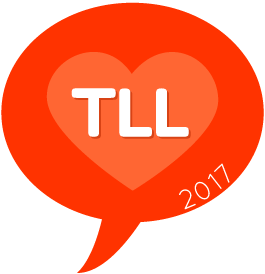 Welcome to the THIRD prize in WLT's 2017 Thai Language Lovers giveaway! Please read Vote THAI | 2017: Top 100 Language Lovers Competition to find out what to expect.
If you haven't voted yet (one vote per section) clicking the red Top Language Lovers logo to the right will take you there 🙂
Benjawan and Paiboon Publishing: Free audio downloads…
From WLT's beginning, Benjawan Poomsan Becker (the Queen of the Thai language), has gifted WLT's readers with free Thai courses and Thai apps.
And when I asked Benjawan if I could please include a ripped vocabulary list created from her Thai for Beginners, Intermediate and Advanced courses for my post Thai Frequency Lists with English Definitions, she generously said "sure!"
To celebrate WLT's ninth year I went back to Benjawan and asked permission to record the three vocabulary lists for download. Again, she came back with "absolutely!"
What I didn't realise going into this project was how time-consuming and physically tiring it would be to record, edit, name, and rerecord over 2000 audio files. Wowza.
Yet in Benjawan's Talking Thai-English-Thai dictionary she managed almost 200,000. So kudos and megga thanks to Benjawan – you are amazing – and I have proof!
Downloads: Thai for Beginners, Intermediate and Advanced…
The spreadsheets are in Excel and Numbers (Mac) formats. The Beginners sheet gives a choice of Thai script and transliteration. The Intermediate and Advanced spreadsheets are without transliteration.
Thai for Beginners: Download audio and spreadsheets (11.7mg)
Thai for Intermediate: Download audio and spreadsheets (10.8mg)
Thai for Advanced: Download audio and spreadsheets (9.4mg)
I use Flashcards Deluxe but the spreadsheets and audio files can be sucked into most flashcard software/apps. They'll come in handy when studying with Benjwan's books, or on their own. Please note that I have not checked the spreadsheets against the books so if you do find snafus just let me know via WLT's contact form.
If you can't find the books in your local bookstore, in the US you can order online from Paiboon Publishing. If you are elsewhere, DCO Books delivers.
Disclaimer: This is not a professionally recorded project. Using an iPhone during the rainy season in both Bangkok and Chiang mai, we battled through the unwelcome noise of frogs, rainstorms, cicadas, planes, tuk tuks, coughs and growling stomachs. Yeah – we had fun!
Thai Vocab Builder on Memrise…
UPDATE: Using the files above, John Smith created a four part course on Memrise.
Thai Vocab Builder 1
Thai Vocab Builder 2
Thai Vocab Builder 3
Thai Vocab Builder 4