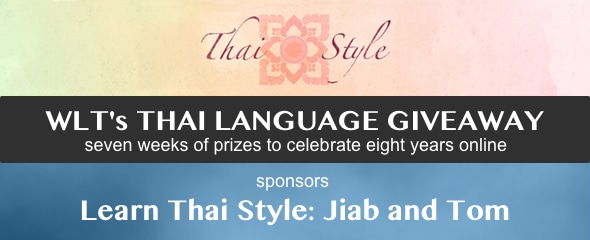 WLT's 2016 Thai Language Giveaway…
Welcome to week FOUR of WLT's seven weeks of Thai language giveaways! To catch up with the series please read Vote THAI and WIN! | SEVEN Weeks of FREE Thai Giveaways.
Jiab and Tom: Learn Thai Style…
This week Jiab and Tom from Learn Thai Style are giving away FOUR Speak Thai Courses (includes a pre-release version of Speak Thai Course with Thai script only – no transliteration).
The winners will receive lifetime access to structured worksheets, audio, video, quizzes, self study materials, learn Thai blog access, all future updates as well as access to over 900 trained teachers (UK, USA, Singapore, Thailand, Australia and Skype).
NOTE: The prize covers the course materials only (time with individual teachers is not included).
Angela (Udon Thani): "The curriculum is well structured, with a good mix of vocabulary, teaching of principles, and practice. The homework is very helpful especially the listening portion. The audio and video supplements online are very good and helpful. I like the tone table and the consistency of it throughout so that you continuously are getting a grasp on the difficult task of tones. The videos are especially helpful in providing a visual and the mouth and throat diagrams are great."
Bob (Brighton): "I have to admit to starting this course with some trepidation. I knew only a couple of words and probably mispronounced those! The tonal sounds worried me and that's just for starters! My target was to be able to have a basic conversation and have some understanding of the structures, so that I can string together some basic sentences. Eventually, I hope to make a start on reading and writing – some time away from now, though! I have just completed chapter 6 of the first course and it all going the way I hoped. The material is jam-packed with information. The homework is great especially the audio/ listening section."
Web: Thai Style Language Co. Ltd.
Facebook: LearnThaiStyle
Twitter: LearnThaiStyle
YouTube: ThaiStyleLanguage
Google+: Learnthaistyle
Rules for WLTs Thai Language Giveaway…
The rules are simple:
To be included in the draw, leave comments below.
Comment(s) need to add to the conversation (it really does matter).
Each relevant comment gets counted, so please leave as many as you like!
If you don't collect your prize within a week of the announcement, it will be given away to the next person in line.
Jiab and Tom will choose the winners, so not worries, you can still win if we are best buds or worse. And it doesn't matter if you've won before either, you can keep entering to win.
The draw will run from now until 19 June (Sunday), 6pm Thai time. After the winners have been selected a comment will be put below and I'll create a dedicated post as well.
Thank you Jiab and Tom for sponsoring WLT's eight year celebration!