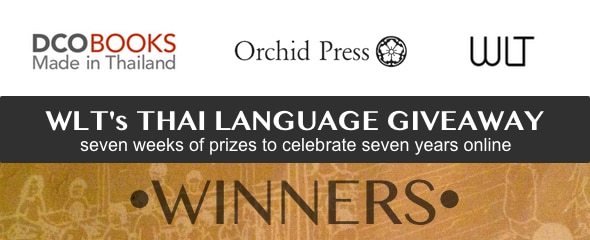 WINNERS to WLT's SECOND week of the Thai Language Giveaway…
The SECOND week of the WLT's seven weeks of Thai Language Giveaways went by just as fast as the first!
Chosen by James Higbie, here are the winners of this week's giveaway: Thai Reference Grammar: Patrick Kollish and Karen Suvakham. Essential Thai: Karla and Stuart. Thai an Essential Grammar: Ann Norman. Thai Without Tears: Michael.
David Smyth: I hope you'll find this book useful; and keep on checking out Cat's fantastic website!
James Higbie: Thanks to everyone for the positive response to my books.
If the winners would please send their snail mail address via my contact form, DCO Books will post the books to you. Please note that if you do not contact me by next Wednesday, your prize will be given to the winner/s in waiting (already chosen).
I would like to thank James Higbie for signing his books and choosing the winners. Jim was bouncing around Europe and the US when this all started so we both had a fun time playing tag via Facebook! I'd also like to thank David Smyth for sending over his kind quote. David is now retired but still keeps his eyes on all things Thai. And of course, a thanks goes to Orchid Press for donating a set of Higbies' Essential Thai and Thai Reference Grammar. And last, but not least, I'd like to thank Danny from DCO Books, who over the years has sourced wonderful books on Thailand and the Thai language for me. Not only did he sponsor two books for the giveaway, but during the contest it was Danny who arranged for discounts and shipping.
My thanks also goes to everyone who left comments. Winners or no, please keep trying because there's a lot more coming!
To get a complete list of the prizes and schedule, read the first post in the series, Please Vote THAI and WIN! 2015: Top 100 Language Lovers Competition.
WLTs 2015 Thai Language Giveaway…
BTW: So far there's been 10,204 votes in the Top 100 Language Learning Blogs section and 8226 votes in the Top 100 Language Facebook Pages section. That's a lot of voting!
So you've voted in the Language Lovers Competition, right? Thanks! It means an awful lot to me. Seriously.