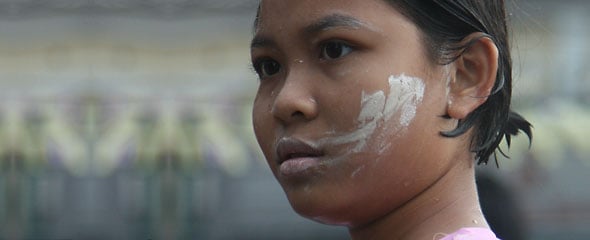 Red Shirt riots aside, just what IS สงกรานต์ (Songkran)…
One of the benefits of writing posts for WLT is being inspired to look up the many details I don't know about Thailand and its culture. And while I realise that Songkran is officially over (isn't it?) my previous post needed a trim. And besides, the Red Shirts have muffed up my posting schedule anyway, so why not go for broke?

Before this year, my knowledge of Songkran was limited to opinions from irritated expats as well as Thais, and travel articles. Apparently, all that exuberance surrounded by the throwing of water can get to be a bit too much for some, but not all.

But whether you enjoy the festivities or not, there is no getting around the dangers of Songkran. And no, I'm not talking riots, burning buses, and flying bullets.
Take a speeding motorcycle overloaded with occupants, a truck armed with water throwing maniacs wielding hoses (any of whom are most likely three sheets to the wind), and there you have it, a hard and fast recipe for six feet under.
The history of Sankhara, Sankranti, Sangkan, Songkran, Songgran…
Paraphrasing from Chiangmai-Changrai.com: Academics believe that Songkran came to Thailand via the pre-Buddhist Dtai's (some are hanging around Vietnam even today).
The word Songkran comes from the Pali language, which evolved from Sankranti to Sangkan, and depending on your spelling preference, to Songkran or Songgran.
For the Thai people, Songkran signifies the movement of the sun from Aries to Taurus; a window in time between the rice harvest being over and the rains to come.
And although Thais celebrate the Western New Year in January, Songkran is traditionally the Thai New Year. So instead of saying "Happy New Year", in Thailand one says สุขสันต์วันสงกรานต์ (Happy Songkran Day).

In Songkran's distant past, it was customary for the younger generation to pay respects to their elders by the gentle pouring of scented water over expecting shoulders. That was then and this is now. And now, buckets, water pistols, and hoses are added to the mix.

In the name of warding off evil, an elder would anoint faces and body parts with a white powder or paste carried around in a silver bowl. Today, the ritual has evolved into a modern free for all: silver bowls have been replaced with coloured plastic bowls of choice; teens to young children join in as well.

Most expats living in Thailand know about the merit-making attached to releasing birds and fish. But what I didn't know until I started poking around was the common sense behind the ritual.
Songkran is not only hottest time of the year in Thailand, it is also the driest. When the water dries up, locals gather the flopping fish from the shrinking ponds. The larger fish are eaten immediately, but the smaller fish are cared for until they can be released back into the water, gaining merit for the villagers along the way.

Another ritual practiced during Songkran is the making of sand chedis at the Thai temples. Thais used to believe that worshipers visiting temples carried sand away on their feet. As an act of merit-making, during Songkran Thais bring sand to the temples from nearby rivers to form into temporary chedis. Some chedis are decorated with flags and flowers, while others are left plain. After Songkran, the sand from the chedis is used to replace the sand supposedly lost over the past year.
And as Songkran is so much more – cooking, cleaning, string tying, Buddha washing – please drop by the informative resources below:
Songkran resources…
beachpatong.com: Songkran Festival
chiangmai-chiangrai.com: Songkran Customs, Old and New
chiangmai-chiangrai.com: The Origins of the Songkran Festival
chiangmai-chiangrai.com: The Rites of Songkran
Wikipedia: Songkran
Until Songkran next year, enjoy…