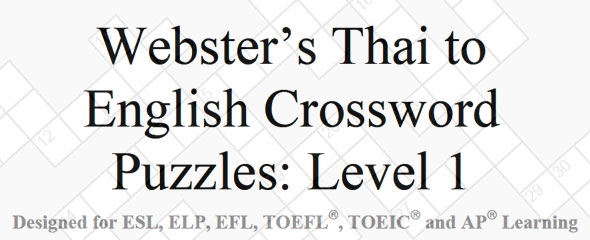 Crossword Puzzles and Google Books…
When I started researching for the post Google Books: Thai Learning Resources, I came across Webster's Thai to English Crossword Puzzles for both Level 2 and Level 4. Fabulous.
Now, I realise that some authors are scared of their work being in Google Books, but there are real benefits to being able to dig down deep into a book to see if it is for you. As this was the fourth purchase I've made after finding a book on Google Books, so it obviously works for me.
When I contacted Webster's about their Thai – Webster's Specialty Crossword Puzzles, they kindly sent me their Webster's Thai to English Crossword Puzzles: Level 1 to review.
This being the modern age, the book was sent via email as a pdf. Nice.
Webster's Thai to English Crossword Puzzles…
This edition is for Level 1 vocabulary, where the higher the level number, the more complicated the vocabulary. Though highly entertaining, if not addictive, this crossword puzzle book covers some 3000 translations. In this book, hints are in Thai, answers are in English… Within each level, the puzzles are organized to expose players to shorter and more common words first. Subsequent puzzles mostly build on these using longer and more complicated vocabulary.
For Level 1 there are 100 crossword puzzles, 121 pages in all. And they don't waste your time either, as right after the preface you jump to the first puzzle, Puzzle #1: Level 1 – Most Common (shown below).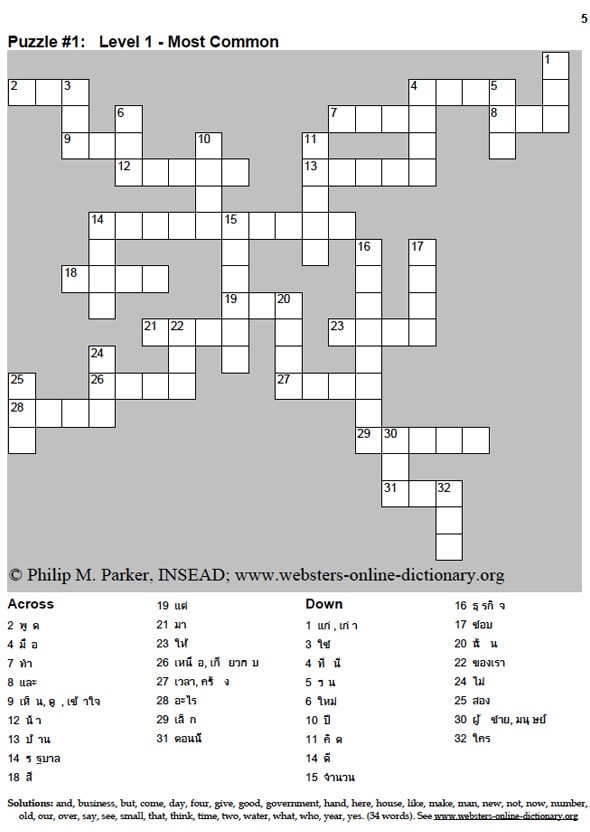 As you can see from the graphic above, you have have the guts of the crossword at the top, then the Across and Down, and below that are solutions in English. But the solutions are only hints, not answers. To get the answers you need to go to the back of the book, where they are laid out puzzle by puzzle.
There are four Webster's Thai to English Crossword Puzzles: Level 1, Level 2, Level 3, Level 4.