The tattoo festival is happening this month…

Wat Bang Phra Tattoo Festival
Saturday, 27 February, 2010
5am (starting time) – 9am (main presentation from the head monk)
If you visit Wat Bang Phra during a regular week, you can pretty much expect peace and quiet. And as I'm a softly-softly type of gal, that's what my previous post was all about: Wat Bang Phra: Tattoo Temple Time Out.
But if you show up during the Tattoo Festival, everything changes. For a few short hours, the Wat is flooded with thousands of followers attending the historic ไหว้ครู (wâi kroo ceremony). Some devotees are hyper, some are not. Others are overcome with the spiritual power garnered by their tattoos of tigers, monkeys, and snakes. And last year, all this jumping around culminated in a photographer getting his arm broken during the fracas (yet another reason why you won't see me there… this time).
Thailand's temple of tattoos: The centuries-old Thai tradition dates back to the time when schools were located in temples and teachers were monks. Once a year, students would make obeisance to past and present generations of knowledge bearers — a hierarchy of ancient Brahmin gods represented by colourful masks on a multi-tiered stage. Nowadays, the wai khru ritual is performed rarely, except in a condensed version at schools or boxing matches. And at this unusual temple.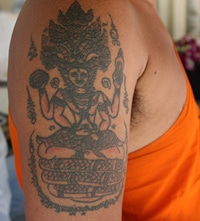 Richard Barrow states that he arrived one year at 7am and: "by 9 a.m. there were literally thousands and thousands of people packed into every available space".
Btw: The final dates for the festival came from three separate phone calls to the Wat. If you are arriving from overseas, please check back here and/or with Richard's Paknam forum before booking your ticket.
Which tattoo to choose…
Patty (one of WLT's readers), asked about a Sak Yant (สักยันต) tattoo to protect travelers.
The Thai Guide to Thailand mentions that there are many varieties of tattoos to choose from. The different styles include (but are not inclusive to) the Five Sacred Lines Yant, Nine Spires Yant, Tiger Yant, and the Hanuman Yant (Monkey God).
Your tattoo of choice does not stop there, as Khmer script makes an entrance too (Tip: Khmer script is pronounced Kom in Thai). My research gathered the following (but don't hold me to it):
อำนาจ (am-nâat – personal power)
โชคลาภ (chôhk lâap – luck and fortune)
ตามความ (dtaam kwaam – power over people, law)
จากนาง (jàak naang – paralyzing, stunning spell)
เเคล้วคลาด (kleow klâat – evasion and invisibility)
คงกระพันชาตรี (kong grà pan chaa-dtree – protection from harm and danger)
เมตตามหานิยม (mâyt-dtaa má-hăa ní-yom – lucky/popular in love)
มหาเสน่ห์ (má-hăa sà-này – charm and attraction)
สัตว์หิมพานต์ (sàt hĭm-má-paan – animal powers)
ยันต์กันไฟอุบัติเหตุ (yan gan fai ù-bàt-dtì hàyt – protection from fire and accident).
So from the looks of it, the ยันต์กันไฟอุบัติเหตุ (yan gan fai ù-bàt-dtì hàyt) will protect travelers. But with the possibility of five to nine lines to fill, it looks like party time! Ouch!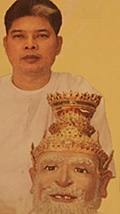 Note: I am obviously not an expert on Thai tattoo so please ask around before choosing your tattoos. In addition, each tattoo artist/monk/teacher will have their own twists and turns, so be sure to discuss it with them too.
I do have a fat book by อาจารย์หนู Arjan Noo (arjannoo.com – no longer online), the Thai tattooist responsible for working on Angela Jolie. The book is called หมื่นยันต์ (mèun yan – ten thousand magic symbols).
Arjan Noo points out that the drawings in his book are merely representative of the Khmer tattoo prayers he uses. He goes on to say that the designs have already been copied by disreputable tattoo artists, and as the Khmer script shown mean nothing, neither do their tattoos.
So, as they say in Thailand… up to you
Other Thai tattoo resources…
Tattoo Museum
Sak Yant Thai Khmer Buddhist Temple Tattoos
Sak Yant – Magic Tattoo
Wikipedia: Wat Bang Phra