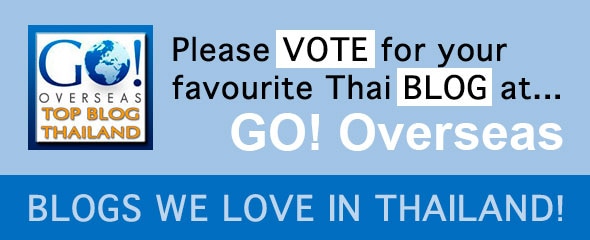 Please vote for your TOP Thai Blog…
You might not know this, but there's a competition going on. The guys at GO! Overseas collected a range of Thai blogs and they'd like you to vote for your favourite. And that goes for me as well 😉
The voting will be over soon. The 9th of November? Something like that. So if you do intend on voting, the time is pretty much now.
Who is GO! Overseas?…
In July I received an email from Andrew Dunkle at GO! Overseas:
We have finished reviewing your blog and I am delighted to inform that all of our staff agree that your blog deserves to be included in our list of top blogs in Thailand. Congratulations! Your content is clearly top-notch and we're confident our users will enjoy reading your blog as much as we have.
In preparation for a future post on GO! Overseas, I asked Andrew for a bit of information about their site. He was happy to oblige.
GO! Overseas was founded two years ago with the intention of creating a one-stop resource for meaningful travel abroad. Our motto is, "Travel with a Purpose," as we believe travelers today increasingly demand more from their overseas experiences.

GoOverseas.com serves not only as an online resource, but a community website where our users regularly interact with one another on our blog and in our forums. We know there are a lot of questions when it comes to overseas travel, and our continued goal is to provide the necessary resources to 'travel with a purpose.'

We think the positive feedback we have received so far speaks for itself and shows that there was always a strong demand for a site like this. We regularly see 100% increases in traffic from month to month, and we look forward to a bright future as we continue to expand our resources into new and exciting areas.
Site: GoOverseas
Facebook: GoOverseas
Twitter: GoOverseas