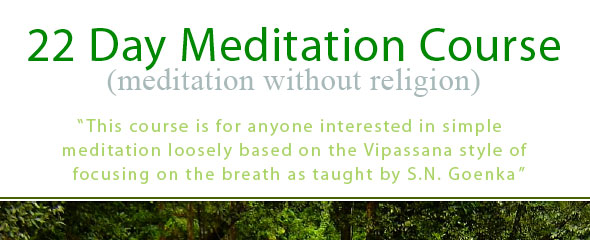 How to quiet your life…
There is no doubt about it, 2010 is MY year for personal improvement. And as my 30 Day Thai Language Trial was successful, I decided to follow with Vern's 22 Day Meditation Course.
When I asked Vern how it came about, he replied:
In 1997 I began to meditate. I discovered meditation by reading some Buddhist books and a book on Vipassana by S.N. Goenka.

But, I was not religious. I did not have a belief in any "ism" (Buddhism, Catholicism, Deism, Theism, Christianity, Islamism, Hinduism). None of it.

I was not ant- any of these religions, but I found that I was more of a "free thinker" so to speak. Not believing in a certain God, and yet not at all sure that one doesn't exist.

I found the books on meditation to be full of extra "fluff" that I wasn't sure I needed. The essence of Buddhism is in trying things out for oneself and seeing what your experience is.

I decided to try meditation without the Buddhism. Without any -ism, if that's possible.

It was. So I wrote about the basics in this free ebook…

… and my experience with meditation in the late 1990's led to my moving to Thailand… where I'm destroying the Thai language daily…
I intended to get to Vern's course at the beginning of February. But as usual, time got away from me. Then, when my good friend Mark McGuinness wrote What Daily Meditation Can Do for Your Creativity, I was reminded of my plan to quiet my life.
Checking my calendar, it looks like I'm fairly free (no weekends running around) starting next Monday, the 8th of March.
If you want to learn how to meditate too, download Vern's Free EBook – 22 Day Meditation Course.
In the meantime, I'll gather all I can about the benefits of a regular meditation schedule and language learning. And get back to you.
Note: If you are interested in more ebooks about Thailand, head over to Vern's site, Thailand eBooks: Living and Working in Thailand