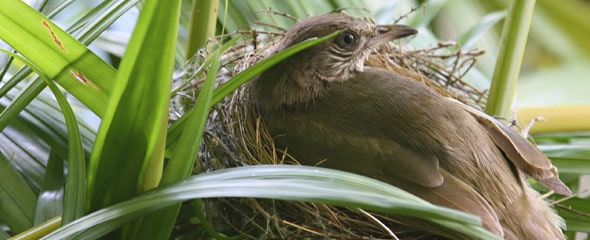 Baby bird watching and the Streak-eared Bulbul…
Following on from my previous post: Baby Bird Watching in Bangkok…
I don't know my birds – Thai birds or otherwise – so I asked on the local Thai forum. Rather quickly, someone in the know responded that it was a Streak-eared Bulbul. As there isn't much information on google, I purchased A Field Guide to the Birds of Thailand (by Craig Robson) from my local Bookers. I chose this book over two others because it has bird names both in Thai and English. Nice.
Thai name: นก ปรอด
Streak-eared Bulbul, Pycnonotus blanfordi
Size: 17.5-19.5 cm
Adult conradi: Brownish; paler throat and belly, yellowish vent, whitish-streaked ear-coverts, pale eyes.
Juvenile: Less distinctively marked.
Voice: Calls with harsh, rasping which-which-which… and piping brink-brink-brink…
Habitat: Semi-desert, scrub, cultivation, gardens, urban areas, open mixed deciduous forest, up to 915 m.
Continuing on with the Bangkok bird saga…
Before the mamma Streak-eared Bulbul built her nest, I wasn't too fussed about the lack of visibility through my bathroom window. After placing my camera on a tripod overlooking the bird's nest, I was.
At first I was worried that a spot of window cleaning would make the mother bird nervous. But, knowing that I could not take clear shots through a dirty window, Windex it was.
As it ended up, it was me who got nervous! Because each time the mother bird flew in to feed the chick, the nest would dip sideways. Further and further.
So, not wanting a baby bird death on my hands, I slipped pots under the nest for support. It took several attempts before I got it right. But, so far, so good…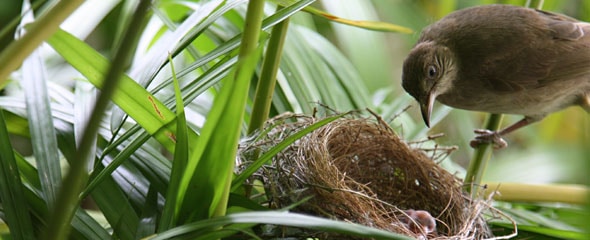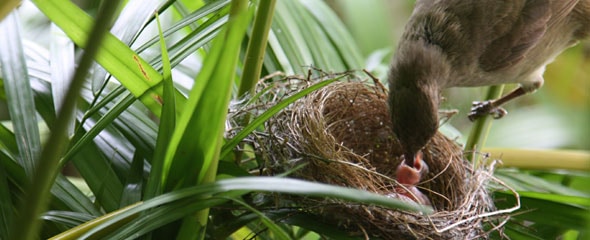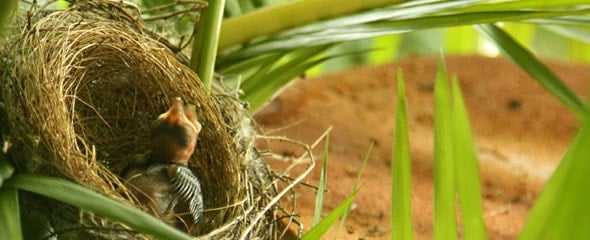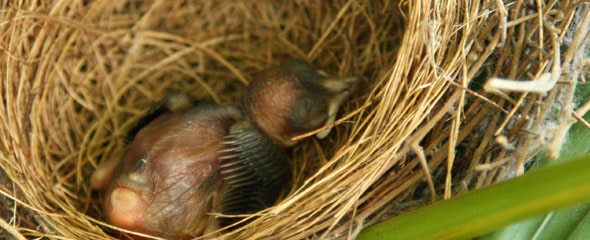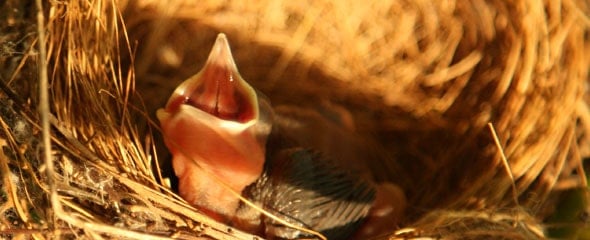 Besides finding out the name of this bird, I have learned a few interesting things.
Baby birds are ugly before their feathers grow in.
They either have their mouths wide open, screaming, or their butts in the air.
If you shake the limb next to their nest, they will scream for food.
Photographers can and do develop mean streaks.
Since the bird arrived (Wednesday last) I have snapped over 4 gigs of baby chick photos.
And as soon as I find the time, I'll put the baby bird saga on my photo blog, Catherine Wentworth Photography, as well as a few more here on WLT.