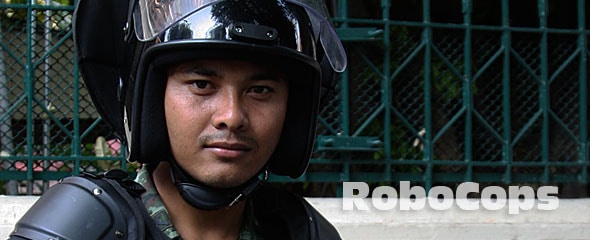 RoboCops cover the Thai army…
Thailand's RoboCops made an appearance on day one of the Red Shirt's march into Bangkok. Impressed and surprised, I had Khun Pissout whip around to drive sloooowly past this Bangkok bunch.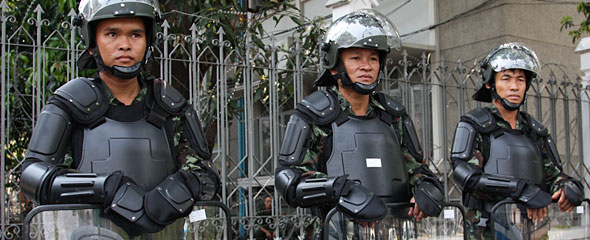 But it wasn't until day two, when I was dwarfed by RoboCops, that I realised just how impressive they are. And ok, sue me, but some men just look hot in uniform.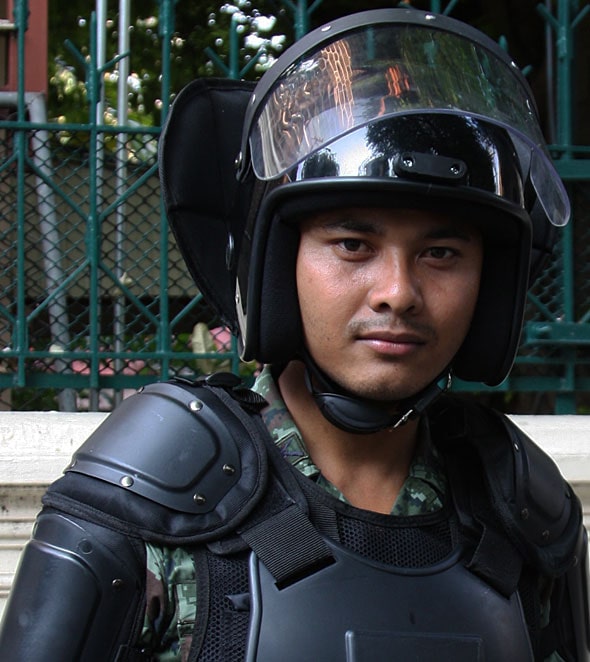 But there's hot, and there's hot. And after reading the Bangkok Post's article, PM shielded by 'robot cops', apparently they really are hot.
'It looks so 'cool', but it's very hot and heavy," a private at the 11th Infantry Regiment in Bang Khen area said when talking about his new anti-riot uniform.

"Yes, it's hot and heavy at around eight to nine kilogrammes," said one soldier.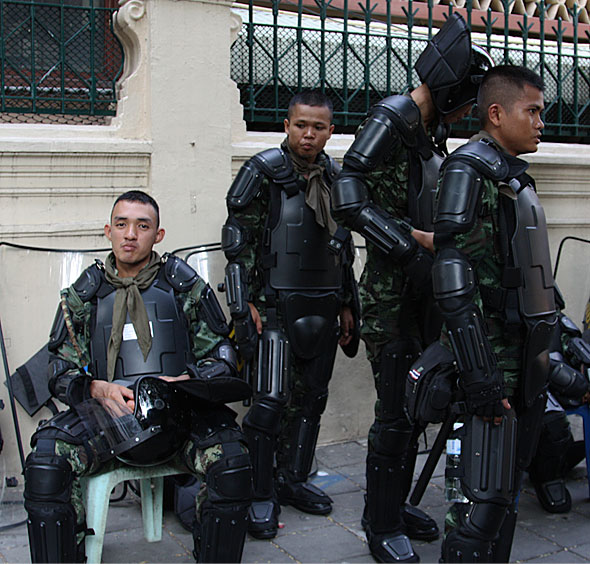 On day three, I drove past a few RoboCops outside government buildings. But there were none (that I could find) at Phan Fa Bridge. And trust me, I looked. And looked. And looked. Nadda. I saw police, but no RoboCop army (or army of any kind).
On Day four I saw mostly a sea of red and locals cheering for the sea of red. But while there was no army, there was a scattering of police. Actually, I saw one policeman watching the parade, and two policeman putting out orange cones to guide the reds in. And that was pretty much it: Red Shirts, cheering locals, and a handful of police.
In Terry Fredrickson's break down of the Bangkok Post article, we have this count:
The army initially bought new riot gear and uniforms for 48 companies (about 150 personnel each) at 18,000 baht a set.

About 112 well-trained companies with the "robocop" uniforms have been assigned to stand guard in Bangkok during the UDD rally.
Ok, my maths is pretty cacca, but…
112 x 150 = 16800 – the 300 RoboCops guarding Abhisit = 16500.
So, where have the rest of the RoboCops gone?