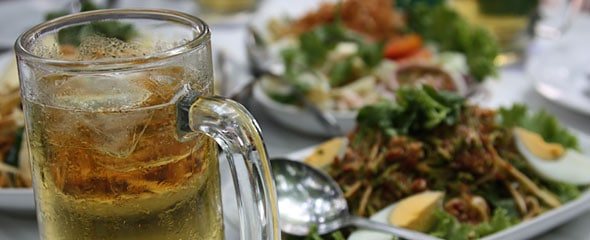 A rambling rant…
Due to the deaths in Bangkok this weekend, my time-stamped posts for Wednesday and Friday have been rescheduled for a more peaceful time. Instead, you get the below: A ramble, a sofa rant, of sorts.
But before I get into it, please let me offer condolences to those who lost family members in this weekend's tragedy. Red, Yellow, and otherwise. Because if you've spent any time on WLT, you'll know that my sympathies are with the Thai people. All Thai people.
The displays of violence – from both sides? three sides? – was deeply disturbing. It was especially so for me because I'm not into blood (which is why I bailed out of taking videos when the gathering and splattering was introduced).
Some say that even with promises of peace from both sides, the bloodshed was inevitable. And I agree. But Thais killing Thais is tough to take, no matter what.
Finally fed up and fussing…
The tension from the Red Shirts didn't start right away with me (mid-March). But by the first week of April, I was in full seething mode. I'm sure that a part of my temper was due to the heat of the season, because it has been HOT, HOT, HOT!
But what finally set me off was listening to my favourite vendors and business owners talk about their miserable loss of revenue over this past month. Their anger is aimed at the Red Shirts, but with an odd twist. When it comes to their clients, confusion enters into it too. And after thinking about it, I understood.
Now, these particular vendors are not located in high Red Shirt zones. They are based in areas out of danger. So basically, there are Bangkok residents choosing to stay home and out of the way.
With the dramatic news being reported, living on a Bangkok sofa sort of made sense. But for most of this past month the reports were way over the top. Daily we were treated to alarming headlines, with nadda happening.
Sure, there are Red Shirt hot spots around town. But the hot spots, we know about. For those of you who don't, it's easy enough to get a twitter account and follow tweets tagged with #redshirt. That way, you have a better chance of discovering which breaking news is reliable, or not.
Some expats have been treating the Red Shirts as a holiday out (and it's now Songkran, yes?) Fair enough. Others are waiting it out in the quiet. But amongst it all, there are Bangkok businesses being unnecessarily harmed.
With a little advanced planning, I've been able to make my way around Bangkok, doing what needs to be done: Grocery shopping, dental work, getting highlights and a cut.
And with careful thought, all without putting themselves in harms way, others can too.
Previous Red Shirt posts…