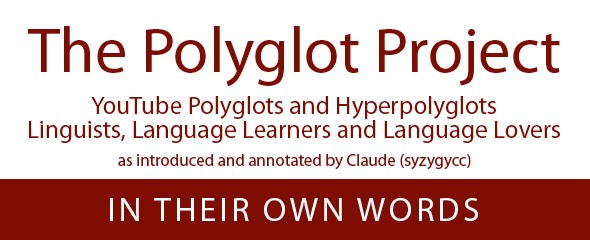 The Polyglot Project: In Their Own Words…
I'm a slooooow mover in the mornings. I flop out of bed, stagger stiff-legged and mostly blind to the kitchen, turn on the kettle, and then fix my breakfast while waiting for the water to boil. With pot, cup, and bowl or plate in hand, I point myself in the direction of the sofa to set up my computer.
First up, email. Second, site stats. Third, twitter.
And twitter is where I found lingosteve's tweet announcing: The polyglot project, my submission (posterous is no longer online).
I didn't read Steve's post (I figured the guts would be in the pdf). Instead, I went straight to The Polyglot Project's download page on docstock.com: The Polyglot Project _Draft-August 1_ 2010
And there went a chunk of my Sunday. Bye bye.
What is The Polyglot Project?…
Many of the language enthusiasts sharing experiences and tips in The Polyglot Project have YouTube channels, so I located as many as I could (links below). And it was on YouTube where I discovered more about the project from its creator, YouTube polyglot Claude (syzygycc).
Naming it The Polyglot Project is sort of inaccurate because not everyone submitting is a polyglot, or even admits to being one. But they certainly have a passion for learning languages in common. And I agree that giving it a long title such as 'YouTube Polyglots, Hyperpolyglots, Linguists, Language Learners and Language Lovers' is too much of a mouthful. But calling it plain 'Language Lovers' would be too… sweet. Yes?
From Claude: The Polyglot Project is a book written entirely by YouTube Polyglots and language learners. In it, they explain their foreign language learning methodologies. It is motivating, informative and (dare one say) almost encyclopedic in its scope. There is nothing else like it. And, best of all, it's completely free!

It is currently in the draft stage. The final book should be ready sometime in late September, 2010. If you wish to submit, it's not too late–you have until August 31.
It sort of reminds me of a series on WLT – Interviewing Successful Language Learners – excepting that mine is limited to those learning the Thai language (not polyglots), with the replies being less freeform (ok, ok, apart from one: Chris Baker)
Below is the call for action posted at how-to-learn-any-language.com:
I want to put a book together, available to all for free which is written by you language lovers for all language lovers. How did you learn your languages? How has the study of foreign languages enriched your life? Who influenced you? I want to know. Send me a written piece, in English […] About 1-15 pages, covering any topic you wish relating to foreign languages. I'm looking forward to hearing from you guys!
It's now Sunday the 22nd of August, so those aiming to be included in the project had better get a move on!
Polyglots, Hyperpolyglots, Linguists, Language Lovers and Learners…
As of the August 17th draft, there are 18 language aficionados involved in the project:
Yurithebest (Ukrainian), Shanna Tan (Singaporean), Philip Price (British), Peter E Browne (American), Moses McCormick (American), Amy Burr (American), Ivan Kupka (Slovakian), Oscar (Spanish), Dion Francavilla (Australian-Italian), Nelson Mendez (Venezuelan), Luka Skrbic (Serbian), Félix (Belgian), Graeme (Scottish), < Paul Barbato (American), Anthony Lauder (British), Stephen Eustace (Irish), Skrik (Taiwanese), Raashid Kola (British-Indian), Christopher Sarda (American), Vera (German), Steve Kaufmann (Canadian). Some language enthusiasts talk about their backgrounds, others share tips for learning languages. But I'll wait until the book is published before writing about the tips in any detail. I'm already jumping up and down over the contents, so whatever gets added later is soooooooooo gravy.
Missing YouTube Polyglots, Hyperpolyglots, and Linguists…
Reading through both drafts, I kept expecting to see the two inspiring polyglots in my life: Luca Lampariello and Stu Jay Raj.
I expected to see Steve Kaufman's entry as well (otherwise known as lingosteve). But I imagine Claude came across Steve's bits at the same time I did.
No matter. The countdown for final submissions is on… and I'll be waiting.