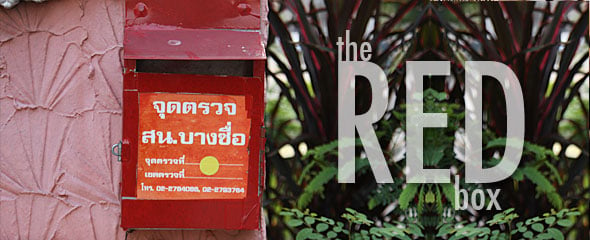 The mystery of the red boxes…
Waiting behind a long line of cars at a stop sign in Ari, I watched two tandem riding motorcycle cops drive onto the sidewalk. One policeman got off the back of the bike, opened a red box attached to a building, took something out, scribbled on it, and then put it back in. This was repeated at several spots down the road.
These red boxes were not new to me but I'd registered them as mail boxes. You know, like they have all over the UK these days, at times replacing the free standing post boxes.
Khun Pissout was driving at the time so I put the question to him. He came back with one word. Two, actually: กล่อง เเดง /glòng daeng/
Red boxes? Ok. Fine. I can see that they are red boxes, but what are the police doing with them?
Khun Pissout thought for a bit, looked at me in the rearview mirror of his taxi, and said to ask Khun Phairo.
Khun Phairo didn't know much more, but at least I know a little more than I did then.
Apparently (?) the red boxes are said to be complaint boxes: ตู้ ร้อง เรียน /dtôo róng rian/. Their official name is ตู้ ร้อง ทุกข์ ตำรวจ /dtôo róng túk dtam-rùat/
The basic idea behind the boxes is this (and please please jump in if you know more): When a Thai (or community of Thais) feel the extra need to protect their homes or businesses beyond the traditional sleepy security guards, they make an agreement for the local police to come by every so often. At some point in this process a red box is attached to the side of the building in question. And for as many times as they've been paid, the local police stop by, open the box, sign a piece of paper to note they've been, and then close the box up again.
So all over Thailand (?) police are riding around in tandem, opening red boxes, signing white pieces of paper, and putting them back in the boxes. And getting paid for the service.
The next time you are running around Thailand, check on the sides of houses, shops, and petrol stations to see what I mean. And if you do see these boxes elsewhere (like, far far from Bangkok) drop me a line.
Btw – Please leave a comment below if you have more knowledge about the boxes as they continue to be a mystery to me. For instance: How much are the police paid, where do they get the boxes, can the police cheat by filling out more than one piece of paper at time, is there a special department set up to handle this sort of thing, do towns outside of Thailand do the same… questions such as that.