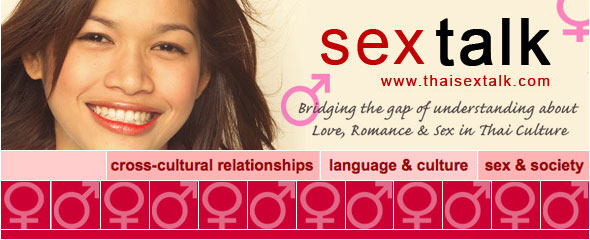 The down to earth Thai Sex Talk…
Before you think I've gone all Thai sex-crazed, please let me explain.
The well-crafted book, Thai Sex Talk, is not about the smutty side of Thai life. It is a collection of Thai words and expressions that focus on personal relationships. And they are (a given) relationships that include sex and love.
And after reading Thai Sex Talk from cover to cover, I can confirm that the author, Kaewmla, has sweetened the mix with a fair amount of Thai history and culture. Just like I like.
Language and Love, Romance and Sexuality: Language, in the from of words and expressions, reflects the way people think, act and relate to one another in that culture. Language reveals the culture's history, how the society has changed over time, and what internal and external influences have shaped and changed that society. People's choices of words and how they express them also inform about their attitude and worldview.
I started chatting with Kaewmla after Dan from Absolutely Bangkok (no longer online) interviewed her in his post, Thai Love Talk (when it comes to the new bits in Thai town, Dan is often the man).
Just like in her book, Kaewmla is highly intelligent and clever. And I do hope she stops by to say 'hi'!
I purposely waited until right before Valentine's Day to post my review of Thai Sex Talk. I believe the why should be obvious. But if not…
Whether you are in love or seeking love with a Thai… or simply curious about how Thais think and talk about sex… Thai Sex Talk is your indispensable guide.
Forget that Thais don't traditionally celebrate St Valentine's Day, we do! And as today is the 12th of February, and Valentine's Day is on the 14th, my post has been timed to remind you to acquire your very own copy of Thai Sex Talk too.
A chapter to chapter review of Thai Sex Talk…
Thai Sex Talk is loaded with relationship expressions. Some have Western equivalents, but I mostly picked through those sporting the flavour of Thailand. What I have not included are well-known Thai terms, such as: Walking ATM, major wife, and minor wife.
Note: In this post the transliteration is hidden. If you cannot read Thai script, then scroll over the Thai to see the transliteration. As before, the transliteration comes from T2E (as is).
Chapter One: Sexually speaking…
The first chapter is a brief explanation and overview of the book. In a nutshell:
This book is intended primarily for those who are, or expect to be, in a cross-cultural romance with a Thai.
Chapter Two: The Thai sexual jungle…
Partly due to the subject of animal metaphors, this is a chapter that I am most fond of.
หมาเห่าเครื่องบิน
Dog barking at an airplane: Just like a soi dog, a man of limited means and education should keep to his place in Thai society. When he does not, he is known as a 'dog barking at an airplane'.
ดอกฟ้ากับหมาวัด
Heavenly flower and temple dog: Again, the description is about relationships between the have's (hi-so = heavenly flower) and the have-nots (low-so = temple dog).
หนูตกถังข้าวสาร
Lucky mouse falling into a rice bin: In a twist of good luck, a poor man (mouse / low-so / temple dog) marries a rich women (rice bin / hi-so / heavenly flower).
Chapter Three: The battle between love and lust…
This chapter covers: Sexual attraction, falling in love, being in love, sexual free thinkers, and how it all affects the heart.
ใจหวั่นไหว
Melting heart: This one is Western too, but I just had to include this lovely ใจ (jai – heart) expression.
พบไม้งามเมื่อขวานบิ่น
Finding love when already a dull old ax: Dull axes are self-explanatory. Yes? Many of us (I'm sure) would like to think that we are still sharp enough 😉
Chapter Four: Looking for love…
Nudge, nudge… Kaewmla offers an excellent selling point for Thai Sex Talk:
Looking for love without an adequate vocabulary is like going on a treasure hunt without a good treasure map. A set of basic vocabulary can make navigating the wild love jungle a much more fun and satisfying experience.
30 ยังแจ๋ว, 40 กะรัต
Still hot at 30, 40 carats: Although the bar has been raised in the West (for both men and women), Thailand has their 'still hot at 30′, and '40 carats' (carats = the addition of wisdom).
เตะปี๊บดัง
To kick a can loudly: Kicking tin cans in Thailand is all about the sexual virility of old(er) men. I equate can kicking with youth, so I have questions. Hopefully Kaewmla will clear up the mystery.
ไม้ป่าเดียวกัน
Trees from the same forest: While no longer a popular term with the present gay community (even the most pleasant of words can be turned), 'trees from the same forest' reads quite fine to my years.
Chapter Five: The art of flirting…
This chapter is chock-full of Thai flirting expressions, as well as insights into how Thais flirt. What fun!
ก้างขวางคอ
Bone in the throat: This is when someone gets in the way of the romance. An old fling or a MIL-to-be are common culprits in any culture.
ระริกระรี้เป็นกระดี่ได้น้ำ
Being dancing-fish excited: This expression is strictly for females. Apparently women should not act overly excited, so are at risk at being compared to fish getting fresh water poured into their tank (giggling, jumping around, etc). But neither are they supposed to be too standoffish. Sigh…
Chapter Six: Traditional courtship rituals…
I found this an absorbing chapter because it discusses history and the Thai classics (I have a fondness for both). In places, it is exactly like Merry 'Ole England. In others, quaintly Thai (but I won't ruin it for you).
เข้าตามตรอก ออกตามประตู
Enter through the proper alley way, exit through the door: In Thailand (more so than in the US or the UK), there is a right way to court: Respect the parents, respect the girl, not too many late nights, etc. The West is similar, but does not take the respect for the parents to such great heights.
หัวกระไดไม่แห้ง
Wet the top of the staircase: Keeping a large water jar at the foot of the stairs for guests to wash their feet is an old Thai custom. And if there is a beautiful daughter in the house, the stairs stay wet.
Chapter Seven: Modern courtship and dating…
Chapter seven is where expats make their entrance into the Thai dating scheme of things.
A new kind of romance has also emerged in Thai sexual culture. Thai-foreign relationships, especially between Thai women and Western men, have become a trend. So, I also cover these relationships, which beg much cultural and historical discussion.
ตกกระไดพลอยโจน
Jump along as one falls down the staircase: This is the equivalent of a shotgun wedding in the West.
ก้นหม้อไม่ทันดำ
Before the pot becomes black: In the old days, rice was cooked over a charcoal fire. 'Before the pot becomes black' describes a relationship that is over before the bottom of the clay pot turns black.
Chapter Eight: Lovers and bed mates…
Here we move on from courtship to more. And what Thai word dominates? รัก (rák = love), of course.
รักข้ามขอบฟ้า
Love over the skyline: With expats in the picture, long distance relationships become a part of Thai society. Kaewmla mentions an old Thai song of the same name. If anyone has any information about the song, please drop me a line in the comments.
ดอกไม้ริมทาง
Flower by the roadside: This is a sad expression used for a women who has been played with, and then lightly discarded by a wealthy man.
นำ้พริกถ้วยเก่า
Old bowl of chili paste: When the spice in a relationship wanes, couples (usually the man) are sometimes left with a tasteless romance.
Chapter Nine: In the eye of the (Thai) beholder…
If you are considering a relationship with a Thai and would like to get some insight into their preferences for a mate, then go straight to page 227. No surprises, looks do come into it.
หล่อลากดิน
Dragging the ground handsome: Kaewmla has a theory that this phrase is about the weight of the handsomeness. Would anyone else clued into Thailand care to share their thoughts?
สวยลากไส้
Pulling the intestines gorgeous: This is the female version of Thailand's ground dragging men. But it makes more sense to me as I've had my insides tugged by painfully handsome men. And the physical affects are felt in the stomach.
Chapter Ten: Sexy (or not) Thai style…
This chapter is all about body style: Tall, skinny, fat, short. Most of the shared descriptions refer to women.
ดำตับเป็ด
Dark like a duck's liver: A sexy, dark-skinned women.
เนื้อนมไข่
Beef, milk, and eggs: A voluptuous body raised on a Western diet.
มะขามข้อเดียว
Jointless tamarind: Short and stocky (usually a man).
The end…
So there you have it. A quick review of the ten chapters of Thai Sex Talk: Understanding Thai Love, Romance & Sexuality. If you are a student of Thai, you are certain to enjoy adding these and more phrases into your language stash.
Suggestion: If you are in the market for books with a Thai relationship twist, along with Kaewmla's Thai Sex Talk, why not grab a copy of Christopher Moore's Heart Talk too.
Kinokuniya presently has a Valentine's promotion going for both Thai Sex Talk and Heart Talk. Thai Sex Talk is now 20% off = 316 baht. Heart Talk also gets 20% off = 495 baht.
In addition, Thai Sex Talk is available as print on demand on Amazon and eBook.
Btw: you can read my review of Heart Talk here: Heart Talk by Christopher G Moore.