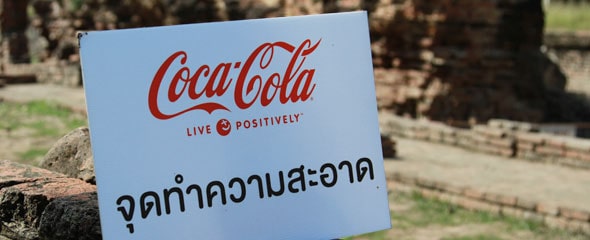 Scams of the Thai Floods…
Thailand is infamous for its scams. To warn their countrymen about the ongoing problem, the New Zealand Embassy felt obligated to create a dedicated page to Scams in Thailand. And due to the (repeatedly) ignored scams targeting tourists, the Australian Embassy warned Phuket's Governor about Jet-Ski and Tuk-Tuk scams. Yeah. As if the governor (or Mayor for that matter) didn't already know.
On my first visit to Thailand I was introduced to the jewelry scam (the bracelet fits fine thank-you-very-much). And my first introduction to Thai disaster scammers happened after I moved to Thailand, during the aftermath of the Tsunami.
So when the Thai floods hit the country hard, I was prepared for another round of scams. I didn't have to wait long: Donations siphoned off (Bangkok Post article no longer online), MWA warns of water bill scam and Con men target disaster victims (Bangkok Post article no longer online) are just a few.
Like many, I wanted to help victims of the Thai floods but I didn't want to be scammed. And while the SET Foundation is my Thai charity of choice I also wanted to help actual people in need. So I did. My way. Silly me.
But months into receiving my help, a con was rigged. The result? They received a whopping 1,700 baht (peanuts compared to previous assistance) and lost my trust and my support. Finish.
And before you say it, I totally know that the west is no stranger to scams. Just check out this bit of Christmas cheer: Thieves steal children's charity donation bucket. Sick, yes? But the thing is, I don't live in the west. I live here. In Thailand.
Westerners grew up with the saying, "Don't bite the hand that feeds you". I did anyway. And when asked a Thai friend, I was told the Thai equivalent is, "Don't break your own rice pot".
Don't break your own rice pot.
อย่าทุบหม้อข้าวตัวเอง
yàa túp môr-kâao dtua-ayng
I prefer the Thai twist. You?
One side of me is pissed off about being scammed. Another side is mystified why someone already getting generous assistance would take a chance at being caught (especially when it was so blatantly obvious). But the practical side of me just shrugs because face it, scams are a regular part of Thailand's landscape.
Anyway, instead of allowing the frustration to smolder, I decided to share the true heroes of the Thai flood crisis. The ongoing Thai flood crisis. Because it's not over yet.
Heroes of the Thai floods: Lillian Suwanrumpha…
Like many expats in Thailand, when a crisis hits I stay glued to twitter. Twitter is also where a smattering of heroes like Lillian Suwanrumpha are found.
For these past months (and remember, it's not over yet) Lillian has spent countless hours in crisis shelters, wading through rotting water, and boating far into flooded areas. Reading Lilli's tweets, I've been impressed by her energy and stamina. And spunk (I totally like her spunk!)
Daily, I'd read Lillian's calls for flood volunteers and donations. And when asked, she also gave great advice for rotting feet. And when frustrated, she'd bite the heads off fools.
@TheLilyfish: Looking for committed volunteers, 10 days minimum to help at animal shelter Cha Am. Please email [email protected]

@TheLilyfish: @WomenLearnThai @elgrodo @vaitor Check out why your feet are peeling first, if it's fungal, don't use Betnovate! Only for inflammation.

@TheLilyfish: Dear wannabe #ThaifloodEng donors, if u want to know where money goes, pls follow up group, not nag me about their political "affiliations"

@TheLilyfish: Instead of bitching and moaning about FROC/Puea Thai/ or whatever, go and #### help, you morons.
When I contacted Lillian about my planned post on the heroes of the Thai floods, she replied:
I'd hardly call myself a hero…there are so many others doing what I do, and besides I don't do a full 9 to 5 job. But thanks!
Taking a different tack, I asked about other Thai flood heroes. Lillian tweeted back:
Red Cyber are the group who manage the donations tent at Victory Monument and do daily missions to Ayutthaya, Pathum Thani, Nonthaburi. Cyber have been great – they do missions every day, even night shifts. They sleep in their tents at Victory Monument in case there is a call.

@GlobalMouthful (no longer online) has been working with lots of small groups and buying donations daily.

SiamArsa (no longer online) and Thai Flood Eng have been great at coordinating donations, translating relief calls and organising their own.
Due to Lillian's dedication, she's been in a prime position to write and photograph what's going on. Here are four of her Thai flood articles, featured at Asian Correspondent.
Thai flood: Giving and receiving in a time of crisis – A photo essay
A day after Yingluck Shinawatra's administration implemented the Flood-Relief Operation Command at Don Muang Airport in an effort to alleviate Thailand's worst natural disaster in 50 years, a call to action was sounded through media outlets for volunteers to help sort and pack supplies on the ground floor below the "war room".

Since then, thousands of schoolkids, university students, local NGO groups, government underlings, army recruits, families and the occasional celebrity or two have crammed into Terminal 3 on a furious mission to prepare water, food, clothing and basic medical supplies for those in need.
Thai flood relief: Civilians lead the way – A photo essay
Despite rigorous attempts by the Puea Thai government and the Royal Thai Army to alleviate Thailand's worst flooding in 50 years, most recently with the implementation of the Flood-Relief Operation Command at Don Muang Airport, it is civilian operations that are leading the way with donations distribution in the hardest-hit areas in Thailand during the nation's worst flooding in 50 years.
Thai Floods: Relief for our furry friends – A photo essay
In the midst of Thailand's worst flooding in over 50 years, last week the cabinet announced an official holiday from October 27-31 for those in 21 flood-hit provinces.

Many took the opportunity to escape to unscathed areas in the country or abroad to cope with the crisis, leaving the centre of Bangkok a ghost town.

Others, however, opted to stay either to continue working or to use their days off to help others in need – including those of the four-legged kind.
Thai Floods: Life beyond the 'Big Bag' barrier – A photo essay
As rumours filter in regarding the possibility of 400 Rangsit locals descending upon the "Big Bag" barrier with destruction in mind, many beyond the great divide attempt to carry on with life as normal – if 'normal' could in any way be applied to navigating one's neighbourhood in up to two metres of water.
You can see more samples of Lillian's work at: Lillian Suwanrumpha
Heroes of the Thai floods: Ramin Assemi and Pi Wit…
Ramin Assemi is another Thai flood hero. And the same as Lillian, when I approached him about this post, his main focus was on others working to help those in need.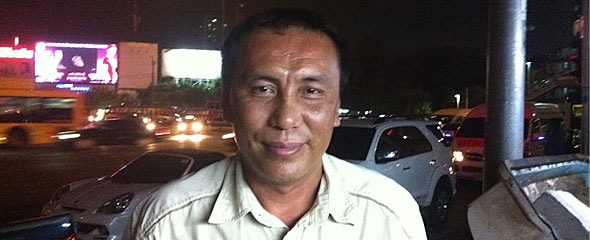 His name is Pi Wit. He is a government official working for the Royal Irrigation Department in Mahasarakham as an electrical engineer. A couple of weeks ago he came to Bangkok with his own pickup and 3 boats to help Thai flood victims.

He repeatedly went out to deliver relief items and help flood victims in other ways with his own boat and car, even though his boats and car had to been fixed 3 times now (and the boats even more often). Gasoline has been paid by donations (there's a group that's making small concerts and going around with donation boxes), and part of the costs for fixing has been paid by these donations too, but he paid a lot of the fixing costs out of his own pocket too.

I've been on the boat with him a couple of times, and was very impressed for several reasons. He's taking good care of the volunteers who help on the boats and was always willing to jump in where help is needed, risking both his health and his boats. He went to great lengths to reach people who didn't receive any other help, sometimes driving around in his small boat at night in a completely darkened area with just a little flashlight to reach one family after a very long day when all of us where tired, hungry, aching, covered from top to toe in mosquito bites – he being the guy on the boat must have been the most tired, especially because most volunteers circulate (going one day on a relief trip, then resting another day), while he went several days in a row.

It's a guy who helps more than he talks, which is a rare quality.
There are others, but when I asked them they preferred not to be mentioned. I've met so many people who do very little but push their smiling faces in front on every pic they can, taking credit for other people's hard work.
When we went out with the boats, we sometimes encountered people who refused to accept relief packs because they said that there are others further down some soi where no boat has gone for days, and they requested that the boats go there first to help them because they needed it more, even though they themselves actually did need the bags too.

As for me I'm very grateful to my friends who donated so much money. I originally set out to raise 20,000 baht in donations, and now we already have more than 190,000, pretty sure that by next week will be more than 200,000. I think for people who want to help, a very powerful way is to call up and email friends, and tap into their social networks and get busy asking for donations, and telling them that they'll make sure donations are used the right way and using the Internet to make it all as transparent as possible. When people see how their donations benefit those whom they actually want to help, and there's a trusted friend, they become a lot more generous and helpful than you'd expect them.

At the same time, when someone does this, they really have to get busy checking what happens with the donations and if possible follow it until it reaches those who need help. There is so much abuse of donations and sometimes very stupid and wasteful inefficiency it can be very disappointing and upsetting, but then you focus on the good peeps and find it's worth all the trouble.

Right now the group at Wat Duang Khae needs donations of chicken and eggs. And the Camillian Home for the Disabled in Lad Krabang needs donations to take care of the kids – it's not really flood relief (they did a flood relief in their local community, but the flood has pretty much receeded around there except for some sois where there's just a bit of standing water) but seems to me very well worth supporting.

My impression is that many of the smaller groups don't really need donations for flood relief packs anymore because relief efforts are by now so well organized and gaps by the army and large relief organizations have mostly been closed, but if you come across a small team you think is worth supporting where small donations can help please let me know about it and I'll check it out.

Also it makes sense to keep some of the money you want to donate for the time when people still will need help, but the media has already moved on and people focus on other things.
Ramin gave tips on how you can get money or donations to the smaller groups, but, as not everyone has the time, I asked how people could get money to his flood efforts. He came back with several options: Preference 1. Bankwire (BKK Bank), 2. Cash (can pick up in BKK & do life post during transaction to keep accountable) or 3. Paypal.
So if you are strapped for time yet still want to help a grassroots effort, please make contact with Ramin through his Facebook (Ramin Assemi).
Worthwhile Thai flood charities…
There are many charities set up to help the flood efforts. Some are good. Some are great. Some are iffy. The charities listed below have been vouched for.
Camillian Home for The Disabled
Flood Situation: The medical and social workers at Camillian Home have been involved in supporting disabled people living in the community; providing food, medicine, training, adaptive equipment, and very importantly, establishing a deep personal link so they know and feel that they are not alone. Our teams do this work 6 days a week, 52 weeks a year.
Baanarsa Jaidee
The Thai Health Promotion Foundation, an autonomous government agency, in collaboration with civil society–ArsaDusit Volunteers, Thaiflood, and others–opened Baan Arsa Jaidee on October 14th, 2011. It has quickly proved itself an aggressive and responsive flood relief effort because it helps to coordinate dozens of existing civil society groups.

Baan Arsa Jaidee and its partners: mobilize volunteers; coordinate aid; deliver timely flood information; and deliver survival bags, food, medicine, camp toilets, life jackets and other assistance to the flood-affected communities.
Soi Dog Foundation
Large scale evacuations of people are currently occurring in the worst affected areas of the Bangkok area. People being evacuated are typically not allowed to take their pets and these dogs and cats as well as thousands of strays left behind need your help now.

Soi Dog is working with groups in the Bangkok area to rescue these animals. These groups are working around the clock to save the dogs and cats before it is to late. Time is running out and they need your help.
2500 units of blood required daily: The National Blood Center of the Thai Red Cross requires 2500 units of blood per day as reserve to ensure there is enough blood to meet requirements during the ongoing flooding.

… Since 1 October, with the ongoing flooding affecting thirty provinces and the situation still critical, blood collection has been difficult. The Center's regional blood centers in Lopburi and Pisanuloke provinces are sent 400 units of blood each daily to supply hospitals in the central and lower central regions.
Volunteering…
There are many ways to help about the Thai flood. You can volunteer (packing flood relief items, filling and carrying sandbags, teach and entertain kids in flood shelters, go out in flooded districts to deliver relief bags and so on) or donate (either money or things like rice, canned fish, instant noodles, baby diapers, and many other things that are urgently needed to help those most heavily affected by the Thai flood).
SiamArsa (Thai)
Coordinates donations and organises volunteers. In Thai.
Thai Flood (Eng)
Coordinates donations and organises volunteers. In English.
Wipe the Tide is a fundraising campaign whereby a massive "flashmob" invades Bangkok's major traffic intersections to clean the windshields of cars in order to raise funds for flood victims and to help rebuilding devastated areas, when ever severe floods in Thailand occur.

We are NOT going to donate cash to a random organization and say: "do what you want with it!" but rather invest in things that are needed.
Other heroes of the Thai floods…
As I mentioned, the Thai flood crisis is not over yet. To keep this fact in the public eye I'd like to continue to share the real heroes of the Thai flood. If you know of any, please give me a holler via my contact form.
In the meantime, here are a few handy flood crisis articles from Matt Crook (Lost Boy).
How to help those affected by the Thailand floods and So where is your money going? and To Ayutthaya and Back…
Thai Floods: 2011…
Ayutthaya Underwater: Bangkok Now Bracing for Floods
Bangkok is STILL Bracing for the Thai Floods. Barely.
Thai Language Thai Culture: Primer on Thai Disaster Words
Thai Language Thai Culture: Basic Thai Flood Phrases
Bangkok Flood Info: Preparing for Floods in Bangkok
Thailand's 50 Million Blue Whales Flood Bangkok
Karn.TV Cartoons: Flooding in Thailand
Thai Floods: FROC's Highway to…
Thai Floods: 1000 Boats? Nope. Just 6 Boats Pushing Flood Water
Thai Floods: Returning to Flooded Ayutthaya
You are Invited to the Charity Cat Party!