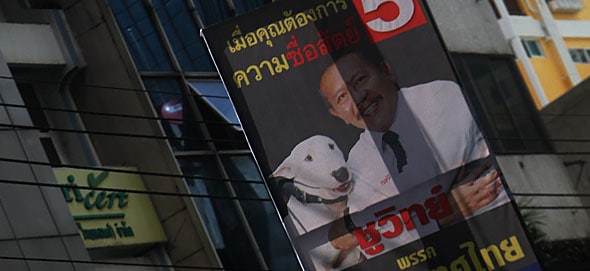 "*" indicates required fields
Chuwit Kamolvisit is one colourful Thai politician….
It's party time in Thailand! And who living here can miss it? The country is slathered with campaign posters on light poles, along highways and sidewalks, and stuffed under the Skytrain even. Weekly, new posters go up, entertaining expats and locals alike. And what Thai party is knocking the socks off the rest? The one-man show known as Chuwit Kamolvisit (ชูวิทย์ กมลวิศิษฎ์).
And I'm not saying that other Thai politicians are uninteresting (Sonthi has two wives). And I won't go into the predicted winners even. I'm talking design and marketing alone.
Chris Baker: After a misspent youth, Chuvit Kamolvisit took a degree in business management in the US, and then applied two basic principles of modern mass marketing to retailing sex. First, he created megastores, selling various products (karaoke, massage, etc) on a large scale. Second he invested in standout advertising, featuring massive blowups of blonde women. It made him very rich. He uses the same professional approach to presenting himself in politics.
Not counting the yellow PAD 'vote NO' posters (coming to you soon), when you compare Chuvit's campaign with the rest of the Thai candidates, his posters shout out loud, leaving their dull efforts far far behind.
Besides boredom at their design choices, the only emotion I felt when comparing the other Thai political posters to Chuvit's was snarky amusement after noticing that the female candidates were decked out as 1970's airline stewardesses. And what's up with that?
Chuvit's poster: the man and his dog…
Ah. And before I get too far down on this post to for you to easily scroll back up to see, and because this is a learning Thai blog, let me sneak in some Thai for you. The above poster is as below:
เมื่อคุณต้องการความซื่อสัตย์ VOTE 5 ชูวิทย์
mêua kun dtông gaan kwaam sêusàt Chuvit
When you need (want) honesty VOTE 5 Chuvit
พรรครักประเทศไทย
pák rák-bprà-tâyt-sà-tai
Love Thailand Party
บัญชีรายชื่อทุกจังหวัดทั่วประเทศ
ban-chee raai-chêu túk jang-wàt tûa bprà-tâyt
Roster, every province, countrywide (everyone in the country).
Chuvit's campaign is all about anti-corruption, honesty, and running as the other guy. Throwing a dog into the mix infers that a dog is loyal and… you got it. Fair enough. In a later post I'll share Chuvit's other campaign posters but in this one I aim to talk about his wonderfully honest white bull terrier, Motomoto (โมโตโมโต้). And Chuvit's park. His infamous park.
Chuvit's park: the history, the drama, Thai-style…
The tranquil Chuvit Park is located in Bangkok on Sukhumvit Soi 10. In a previous life the property was known as Sukhumvit Square and housed thriving businesses (120 bars and…).
That was until Chuvit decided on a clean sweep:
wikipedia: In January 2003, Chuwit was accused of having hired some 600 men to raze several bars, shops, a laundry and a travel agency on "Sukhumvit Square", a plot of land he owns at Sukhumvit Soi 10.
Taking advantage of the moment, the then PM and former policeman Thaksin Shinawatra waded in (ah, the irony of it all):
atimes.com: "We will not tolerate mafia rule in Thailand," he warned. The government will make no exceptions" when it comes to punishing those involved in the Sukhumvit Square "anarchy", Thaksin told the public and law-enforcement authorities. "No matter who they are or who they are connected with, the law will be applied against them. Influential people cannot use the police to solve this issue."
Hah! And Thaksin's mention of the Thai police was exactly the opening Chuvit needed:
wikipedia: Angry that police dared to arrest him, he [Chuvit] publicly released the amounts of bribes he had regularly paid in the past, along with names of the high ranking police recipients. He put the total amount of bribes at 200 million baht over 10 years, but has since suggested it was closer to 12 million baht. He also claimed that "VIP" policemen received free service in his parlors (an allegation that was later confirmed by interviewing some of the masseuses.

Chuwit claimed that he had paid Thai policemen to clear his Sukhumvit Soi 10 property. When the issue became public, the police had allegedly demanded more money, which he refused to pay. They turned against him, and he revealed his bribe payments in response.
Checkmate!
There's way more to this story – TiT – but what a big kerfluffle surrounding such a quiet little park on Suk!
You can't discuss Chuvit without mentioning the history behind the park so to dress up this post and prepare for the other Chuvit posters following, I headed to Suk to see what photos I could snap.
Chuwit Park on Sukumvit soi 10….
Except for one competitor's poster, the street in front of the park was covered with Chuvit's campaign posters. In order to get photos of the Chuvit poster lineup I had my taxi driver drop me off a little before Chuvit park. And yes, you got it right, to take that photo I am standing in traffic, in the middle of Sukumvit road, around noon. It took four tries with me jumping in front of oncoming cars to get that particular shot so that's as good as it gets.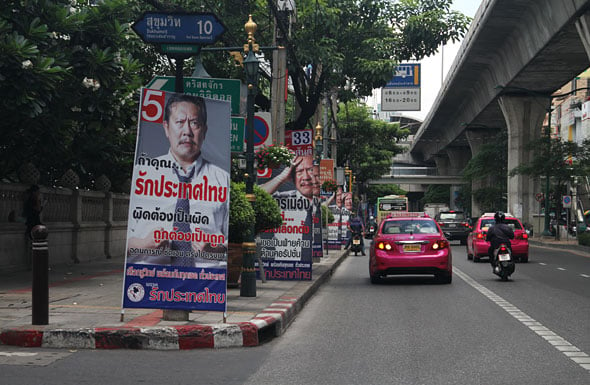 PM Abhisit's. Unlike Chuvit, Abhisit lives in one place and his home is protected by the Thai army. The army have closed down the area on occasion, causing hardship to Abhisit's neighbours (some who are trying to run businesses).
When I pointed out that the protection was only needed because the Red Shirts harassed the PM at his home, my driver shrugged in response. Conversation over.
white bull terrier.
bangkoklive.co.cc quoting Chuvit (no longer online): Dogs show our honesty. Dogs, we bark when the burglars are coming. Dogs, they never know that I am beautiful that I am handsome, that I have money in my pocket. Dogs never change the party. So dog is good. Why not? Dog is better than someone, better than some politicians, I believe.