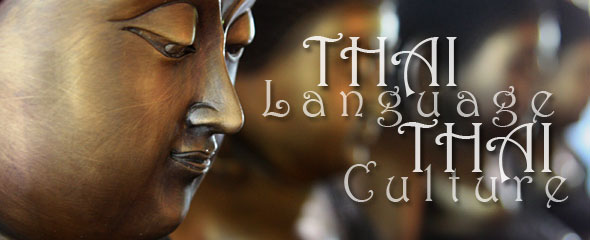 Book Review – The Why? Series…
To many people, the search for the holy grail of learning to read Thai is finding a book that fulfils a number of requirements.
It is at the appropriate reading level for the learner.
It is written in straight forward language, and if possible, more spoken Thai than literary or newspaper Thai.
Has clear print.
Hold ones interest and is age appropriate.
Some really good learning material, such as the Manee Books are very good for the person just beginning to learn to read Thai. But they are basically children's books and one can keep ones interests in the comings and goings of little children for just so long. The same goes for the "Two Language" books (สองภาษา) you can find in the children's section of your local Thai book store.
What's an old codger to do to find good Thai reading material past the beginner's level that will not only hold my interest but also help me to learn how to read this fairly impossible-to-read language?
I was with a friend the other day who had just retired to Thailand. In his younger days he had spent quite a few years here and his Thai became fluent enough so the he had passed the Prathom 4 exam – something that I would probably have a hard time doing even now.
We were at a bookstore and he came across some books that he knew well. He said that they had helped him when he was first learning to read Thai.
And just like that, I had found the Holy Grail.
This was the Why" series, or in Thai สารานุกรมความรู้วิทยาศาสตร์ ฉบับการ์ตูน (Science Knowledge Encyclopedia, Cartoon Edition), Published by Nanmeebooks. The books were first written in Korean and then translated into Thai. The series contains dozens of titles such as Birds, Fish, Reptiles, Electricity, Space, Transportation, and many more.
I chose the one on birds (นก) to take for a test drive.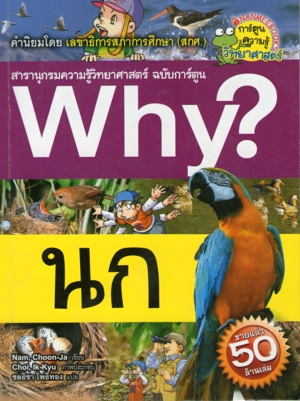 It's by Nam, Choon-Ja, illustrated by Choi, Ik-Kyu, and translated into Thai by Chontichaa Pothong. Nanmeebooks. Baht 180.
Most of the books in the Why? Series have basically the same format. There are a couple of inquisitive children who ask lots of questions and an expert or two who are there to answer them. When they get down to specific descriptions there are really good drawings or photographs to help illustrate the point.
In The "Why?" Bird Book, Robin and Eagle have a long holiday weekend and are given the homework to go bird watching. And from there we learn everything and more about birds.
I chose this book because I have been an avid birdwatcher for many years so I thought that it would hold my interest. And that it did.
This book covers everything from bird behavior and bird anatomy to their feeding and nesting habits – all in colloquial Thai. It ends with information on conservation and ecology. These are not fairy tales and stories of little children's adventures, but topics that will hold an adult's interest.
For my vocabulary level I knew most of the words but ran into lots of new ones. When I encountered a new word I usually underlined it and then tried to decipher it in context. Then for good measure I did a dictionary lookup.

The above conversation goes something like this:
Let's go see the migrating birds.
Migrating birds?
Migrate means the birds move their home during certain seasons.
They migrate to where there is food to eat.
In this case I underlined the word ถิ่นฐาน and looked up the meaning (homeland). Other interesting words were อพยพ (migrate) and ฤดูกาล (season). So you can see that even though there are children doing the talking and it is in cartoon form the vocabulary and the topic being discussed here is definitely at the level that an adult would appreciate.
Some of the really nice features of this series are:
The drawings and photos are clear and really help to illustrate the topic.
The print in the balloons is very readable.
The Thai in the balloons is conversational and in everyday speech.
There are many side bars with discussions in more technical Thai.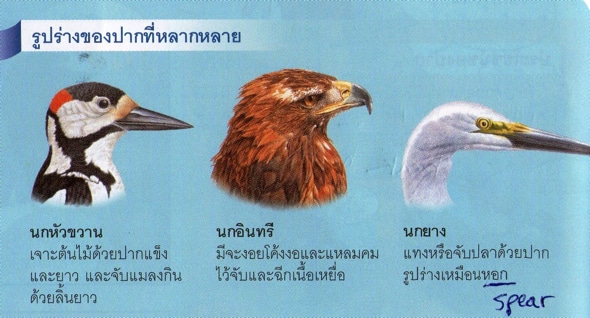 The illustration above is titled "The Many Shapes of Bird Beaks". Here I found the word หอก (javelin, spear), and the word จะงอย was a new to me and turned out to be the very bird-specific Thai word for "beak". The word ปาก (mouth) and จะงอย (beak) were used interchangeably which is really good for helping us to guess a word in context.
The series is written for students (Korean and later Thai) to help them increase their scientific knowledge. They probably never guessed that it could help an adult foreigner learn to read a foreign language.
If you are in search of Thai reading material that will not only help you with reading flow and vocabulary building but will also give you lots of examples of regular conversational Thai, go on down to you local Thai bookstore and take a look at the Why? series. The cover says that over 50 million have already been sold, so I think you'll be able to find something that will peak your interest.
Since I have raised turtles and helped to keep them off the Thai dinner tables and return them to the wild, I'm think going to go back to get a copy of the Reptile Why? book.
Hugh Leong
Retire 2 Thailand
Retire 2 Thailand: Blog
eBooks in Thailand