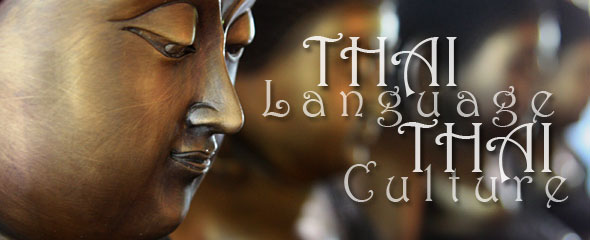 The Do-Be-Do-Be-Do system of learning Thai tones…
(Apologies to Frank Sinatra)
If language were like a song, then the vocabulary and grammar of the language would be the words. The vowels, consonants, syllable stress and sentence intonation in English, and the tones in Thai would be the music. You really have to sing both the words and the music to get the song across.
The Thai tones (the music of the language) are some of the most difficult things an Expat language learner has to tackle. But although our cultures and languages may be different, every human being, who's born with normal body parts, can make all the sounds of all the languages of the world. From the mouth torturing French vowel sounds, to the German gutturals, to the Arab and Hebrew throat clearing noises, to the African click sounds, to the sing-song Asian languages, to the rather ridiculous "th" sounds of English, our tongue, mouth, lips, nose, and throat, can make every sound of every language. Our speech apparatuses are all the same. Therefore, we really can produce all the Thai tones correctly. If we can't produce them then it is not because we can't physically make them.
What about simply hearing the Thai tones? I have often heard the excuse, "I'm tone deaf. I just can't hear the tones in Thai." Well, almost every human being in the world will recognize the tune of "Happy Birthday". It is the most widely played song in the world. In fact, if someone were to sing Happy Birthday to you with different notes, you would know it immediately. If we can identify the notes of Happy Birthday, then we CAN hear all the sounds of a tonal language like Thai. If we are not hearing the tones, then there is something else getting in the way.
Here is an example of someone who can produce a perfectly good falling tone. The problem is, he should be using a rising tone. I tried to help a long-time Expat when I heard him use the wrong tone for the word meaning "to see". His Thai listener was having trouble understanding him since he had gotten the tone wrong. He said "hên", using a falling tone. I corrected him, "no, the word for "see" in Thai is "hĕn", with a raising tone." "Oh, I get it", he said, "hên". "Try again", I said, "hĕn." "Yes, yes, hên", he said. I knew when I was beat. I said, "not bad.", and left it at that. Looked like he could produce tones correctly, he just wasn't listening. I developed a lot of empathy for our Thai teachers.
I think I have found a way to help us to hear, as well as produce Thai tones. It uses our ability to hum. Now different cultures have different ways to hum. In my favorite movie is Casablanca, the one where no one ever said "play it again Sam" even though everyone thinks that is a quote from the movie. Even Woody Allen named a movie of his own after the misquote. It seems that non-listening is not isolated to language learners. In the movie, Ingrid Bergman shows us the way Scandinavians hum.
This is how the dialog really went: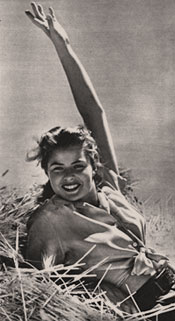 Ingrid Bergman (as Ilsa): Play it, Sam. Play "As Time Goes By."
Dooley Smith (as Sam): Oh, I can't remember it, Miss Ilsa. I'm a little rusty on it.
Ingrid Bergman: I'll hum it for you. Da-dy-da-dy-da-dum, da-dy-da-dee-da-dum…
Dooley Smith: You must remember this, a kiss is still a kiss…
Miss Iisa hums differently than I do, but no matter how you hum, "da-dy-da-dy-da-dum" or "do-be-do-be-do", humming is something that can help you, 1. Identify a tone in Thai, and 2. Learn how to produce it.
Here is how the Do-be-do-be-do system of learning Thai tones works:
Note on the do-be-do-be-do transcriptions below. This is just for illustrative purposes. Each tone, mid, high, low, falling and rising has its own note to hum. I have used upper case for falling tones just as an example. BTW, hum out loud, not in your head. It will give your voice producing organs practice. Don't worry about which tone it is, just think of what note you are humming.
No matter what level of Thai you are at currently, you will be hearing Thai often. If the words or phrases are new to you, instead of trying to decipher the meaning first, simply hum (or sing) back what you just heard. This works even better if you are working with a teacher. She says something like คุณชื่ออะไร /kun chêu à~rai/, and whether you understand the words or not, you can hum or sing the words right back at her, something like "daaa DA da-da" (please use your own humming system). You can see that the second word has a big stress on it (the falling tone). You can do this first for single words. Later use it for phrases, and then for complete sentences.
By the way, for those of you who are English teachers here in Thailand, you can use this method to teach English word stress ("beautiful" is DA da-da) or English sentence intonation ("you speak Thai very well" is "da da da DA-da da").
Now you know the music. After you have hummed back the target word or phrase and feel that you have the rhythm and notes correct, just add the consonants and vowels (problems in their own right I am afraid) and you will have both the words and the music. If you speak the words just as you hummed them, then the tones will come out correctly.
คุณพูดภาษาไทยเก่งมาก
kun pôot paa-săa tai gèng mâak
Da DA da-da-da da DA
Hugh's fun Thai word for the month…
The fun Thai word for this month is ซ่า /sâa/
Normally ซ่า means "tingling" but it has morphed its meaning to describe the bubbles in a carbonated drink. For instance, if you open a bottle of Coke and there are no bubbles and you want to return it to the waitress, you can say ไม่มีซ่า /mâi mee sâa/. It is a fun word to say because with its aspirated "s" and the long "aa" and the falling tone, it is onomatopoetic. It sounds just like what it is. When you pop open a soft drink can or bottle it goes ซ่า /sâa/.
Hugh Leong
Retire 2 Thailand
Retire 2 Thailand: Blog
eBooks in Thailand