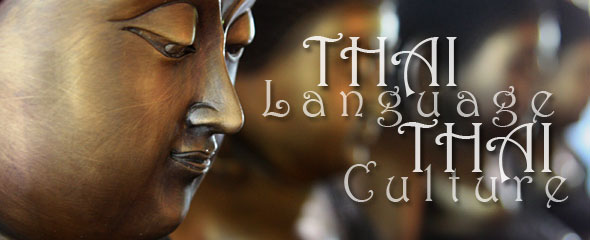 Pain and Suffering…
My last post was about dental vocabulary. To keep me believing in the concept of Synchronicity, after finishing my post I broke a lower molar and had to go back to the dentist to have a crown made.
Let the fun begin.
Woa !!! Aching, hurting, burning and stinging…
As I sat in the chair with my mouth wide open for close to 3 hours, enjoying the deftness of my dentist, I used this considerable free time I found myself with to think about all the Thai words and phrases I could remember that had anything to do with "pain" and "suffering". I mean, it was something that was already on my mind.
It turns out that I didn't have to look very far for appropriate vocabulary as my dentist kept using one or more of the many "pain words" that I began to grow so familiar with, usually to tell me what to expect next.
Ache: ปวด /bpùuat/
The word ปวด /bpùuat/ is best translated as "ache" and is the pain prefix for a number of common ailments.
Toothache: ปวดฟัน /bpùuat-​fan/ – why I was sitting in the dentist chair.
Headache: ปวดหัว /bpùuat-​hǔua/ – what this whole "crown affair" was giving me.
Backache: ปวดหลัง /bpùuat-​lǎng/ – what the dentist's chair was doing to my back.
Dentist: Does that hurt?
ปวดไหม
bpùuat mǎi
Me: YES!
ปวดสิ
bpùuat si
Dentist: I'll give you a painkiller.
จะให้ยาแก้ปวด
jà hâi yaa-​gɛ̂ɛ-​bpùuat
Me: Gratitude big time! (Please do it quick)
ขอบคุณครับ
kop-​kun kráp
Hurt: เจ็บ /jèp/
The difference in usage between เจ็บ /jèp/ and ปวด /bpùuat/ is the same as the differences between the English words "hurt" and "ache". If I stub my toe on a rock it would "hurt" (เจ็บนิ้วเท้า /jèp níu-​táao/ – I hurt my toe) but if after a day or two I still have some pain in my toe then it "aches" (นิ้วเท้าปวด /níu-​táao bpùuat/ – My toe aches and is in pain).
Someone pokes you in the eye with a stick: เจ็บตา /jèp dtaa/
Someone kicks you in the shin: เจ็บขา /jèp kǎa/
You bump your knee on the edge of a table: เจ็บหัวเข่า /jèp hǔua-​kào/
But sometimes you can combine เจ็บ /jèp/ and ปวด /bpùuat/ to be more expressive, like what was happening to me in that dental chair.
Agonize; anguish; feel pain: เจ็บปวด /jèp-​bpùuat/
Excruciating: เจ็บปวดมาก /jèp-​bpùuat-​mâak/
Burning, stinging: แสบ /sàep/
This is the pain you might feel if you were stung by a bee or when the dentist sticks you with a needle injecting the painkiller. But a really good use of แสบ /sàep/ is if you were in a boxing match and someone stung you right on the chin with a good left hook (what I was fanaticizing about doing to my lovely dentist as she was sticking me). A long while ago there was a world-class Thai boxer who had a devastating punch. He was nicknamed – ไอ้แสบ /âi sàep/ "Mr. Sting" for obvious reasons.
Shooting pain: เสียว /sǐiao/
An example from my dentist will show the use of เสียว /sǐiao/. About three hours into my "crown affair", just as the painkiller ยาแก้ปวด /yaa-​gɛ̂ɛ-​bpùuat/ was wearing off and my dentist needed to blow some air onto my exposed root to dry it out, she said:
Dentist: This is going to hurt (shooting pain) a little.
เดี๋ยวจะเสียวหน่อย
dǐiao jà sǐiao noi
Me: Woa !!!!!!!! You ain't kidding! (Shooting pain tends to help me forget my Thai)
เสียว /sǐiao/ is also an emotion. This is the feeling you get when you hear something that makes you cringe, like someone telling you about their last dental visit.
Muscle pain and fatigued: เมื่อย /mêuay/
This is how your muscles feel after exercising too much or sitting in a really uncomfortable dental chair for too long. I love this word because of the almost unpronounceable first vowel sound. Just trying to say it makes my jaw เมื่อย /mêuay/.
Endure: ton /ทน/
Dentist: Endure (take it) just a little longer. We're almost finished.
ทนได้ น่ะ เดี๋ยวเสร็จ
ton dâai nâ dǐiao sèt
Me: I can handle it.
ทนได้
ton dâai
(Well, that is what I said, not what I was thinking. What I was thinking was that they should get ready to call 911, or 191 in Thailand, as I could feel a heart attack coming on).
But I made it and now I have a nice shinny crown in the back of my mouth and lots of great pain words that hopefully I won't have to use until my next dental office visit.
Hugh Leong
Retire 2 Thailand
Retire 2 Thailand: Blog
eBooks in Thailand