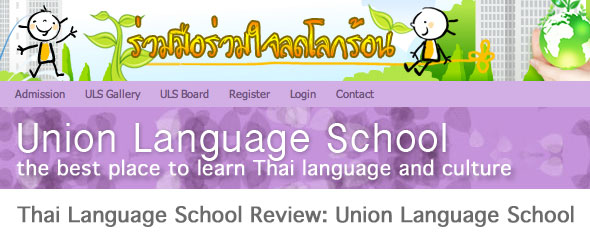 Union Language School…
Website: Union Language School
Address: 328 CCT.Office. Bldg. 7th floor, Ratchathewi, Phayathai Bangkok 10400
Telephone Number: 02-214-6033
Location: You can't hardly miss the building as it has a GIANT cross on the top (being sponsored by the Church of Christ and all). It's about a 100-150 meter walk down Phayathai Road from the Ratchathewi BTS station (NOT the Phayathai one). Take the Asia Hotel exit (#1) and head towards the canal. Just before you get there you'll see the complex. It's in the back of the building I mentioned earlier.
Basic Info: Union Language School is said to be the original Union school that so many other Thai schools cloned their material and methodology from. Now, I hafta admit I feel uncomfortable with religion of any make or model. For me, even going to visit the school pushed my comfort level a fair bit. Factor in that I showed up in my normal attire: Levis and a black KISS t-shirt, which could have been why my reception was a little cooler than the typical foreigner off the street. Still, the principal named Nareeboon Rachkeeree (sp?) was engaging enough and lightened up a fair bit after a while. She told me that the Union Language School was founded a mind wobbling 57 years ago! Now, if that information is to be believed (and I see no reason why it shouldn't be) any way you slice it, that's a fair chunk back in time.
If you are looking for a good resource to learn Thai online, check out Learn Thai from a White Guy. Upon entering your email, you'll get five free lessons to help you start learning to read Thai.
Once you get into the main building in back and go to the 7th floor it's a nice inviting typical school set up. Union Language School has a good break and sitting area, it's well lit, and other than the religious pics on the walls, not too bad of an environment to study in. The other inviting thing about the place is that it's surrounded by big trees with many outside sitting areas.
Materials: Seeing as this is the original Union school, the materials, as expected, are pretty much like the Union clones. After conversational Thai levels 1-3, students are exposed to the Thai writing system in levels 4 & 5A, which covers the fundamentals of reading and writing Thai. Levels 5B & 6 teach culture and intermediate conversation. Once a student goes thru those levels, next up are Social Problems 1 & 2. This gives them a foundation to take other elective classes. The elective classes run the gamut of Newspaper 1 & 2, Thai Culture, Folk Tales, Introduction to Buddhism and of course the Bible.
The school mentioned that the material has gone thru several re-writes and is more contemporary, up-2-date, and useful. It would appear (from reading the intro to Social Problems 1) that Herbert Purnell had a serious hand in the development of the material. Google him and you'll see he's more than qualified to tackle a job of this sort.
Method: The classes are taught as intensive module or level based. The chapters are broken down into standard fare: meeting, greeting, asking questions, etc. They go over new vocab and practice dialog, with a heavy emphasis on getting the tones nailed early on. During class the vocab is covered, the dialog is gone over as a group, and then the students break into pairs to practice with their partners. The teacher walks around the room correcting errant pronunciation, etc, and then she goes over the dialog one-on-one with every student in the class. A successful methodology, it can't be knocked in terms of sheer numbers of foreigners with reasonably clear Thai who've come out the other side of these classes.
Teachers: I only got to talk with the principal but I was able to look in on a few classes. All of the students seemed to be really engaged (as in, I didn't see anyone noddin' off or NOT payin' close attention to what was being covered). I'd say given the longevity of the school (even with the plethora of teachers who've bailed over the years to make their own schools) there are high caliber teachers at Union Language School.
Classes: The class schedule is module based or term based, with one module/term equaling one book of material. The morning classes are 80 hours and the afternoon classes are 40. There is quite a disparity between the pricing (afternoons are more expensive) even though they cover the exact same material. It's because the morning classes have larger groups and the teaching methodology necessitates that with more students a longer time is needed to go around the room reviewing the dialog. The afternoon classes are semi-private and limited in size to no more than 4 people. This gives a much better teacher/student ratio. And that's also why they cover the same material in 40 hours, compared to the morning session's 80 hours.
ED Visa: Union Language School is registered with the Ministry of Education. It offers visa assistance for students seeking an ED visa for studying Thai. There is a quirky enrollment as far as the specific number of modules you need to take in a year. They DO NOT offer a Thai program which follows the Ministry of Education's minimum enrollment of 4 hours a week. If you are interested, check with the school to see how many modules you need to take in order to qualify for an ED visa for a specific time in-country.
Bang-4-The-Baht: Union Language School is a viable place to take module based Thai language classes. The principal certainly gave me the impression that the focus of the school is more about teaching Thai than hawking visas to facilitate foreigners staying in Thailand. She even went so far as to say they're about teaching Thai NOT about making money. I'd suggest anyone interested in intensive module based learning of the Thai language to go scope out the school. I give them a very high "bang-4-the-baht", especially as the Union Clones shamelessly ripped off their material and methodology.
I hope you found this of interest. It's becoming increasingly harder to come up with innovative or different things to say about the schools. This is especially a problem for the Union Clone schools seeing as they teach the same way with the exact same material. Still, I'm doin' the best I can here guys.
If you're interested a specific school, drop either Catherine or me a line and we'll see if a review can be arranged. Please realize, with liability laws in Thailand being what they are, there are gonna be some private Thai language schools out there which I WON'T review. Period. In that regard I'll just follow the old adage of "if I can't say anything nice about 'em, I won't say anything at all."
Tod Daniels | toddaniels at gmail dot com
Reviewing Thai Language Schools in Bangkok
(BTW: Tod is NOT affiliated with any Thai language school)