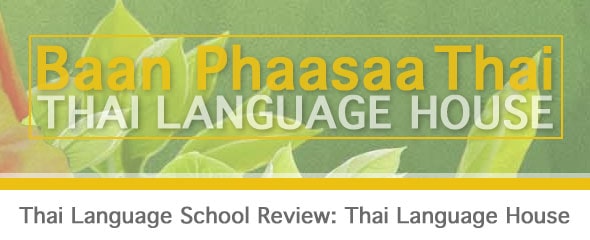 Thai Language House…
Web: Thai Language House
Address: Saranjai Mansion, Sukhmumvit Soi 6, Building 2, 14th floor, Room 17/570, Klongtoey, Klongtoey, Bangkok 10330
Tel: 02-653-0462
Location: Thai Language House is easy to get to from Nana BTS Station. Walk to Soi Six (it's an L shaped Soi which runs from Sukhumvit Road down, makes a right turn, then comes out about half way down Soi Four). Thai Language House is the first building of the Saranjai Mansion complex (although the sign for the school downstairs is sorta misleading as it points to the other building). Take the lift to the 14th floor (the rooms start with a 17 prefix, but don't let that throw you either, you're really on the 14th floor). Come out of the lift, go to the left, and it's the first door on the right.
Basic Info: Thai Language House is a small school but I thought I'd start to review a few of the lesser known (but not less in quality) schools around Bangkok. Thai Language House is a double condo comprised of the school, the owner's art gallery and her place of residence. Overall, it's inviting, nice, clean and cozy. It definitely does not have that stale school atmosphere some of the ancient schools tend to have.
Yawwalak, the owner, has been teaching Thai to foreigners for over 20 years so she's not lacking in experience. It can't be easy to pound Thai into (some) expats overly thick heads. To do it for that long shows motivation, sincerity and determination.
Materials: The books at Thai Language House are self-written. The beginning books use phonetics (like almost all schools that start out by teaching conversational Thai). The course materials cover the standard fare as in: meeting, greeting, getting around, asking directions, etc. The materials are dialog driven, with a vocabulary and question/answer format. The main focus is to get you speaking something close enough to Thai so that Thais understand you.
Thai Language House also teaches writing, reading, and has advanced classes for businessmen who need specific vocabulary for the workplace. If you can already read Thai the higher level books are available in Thai script.
Method: Until a sufficient spoken vocabulary is mastered phonetics are used. Later, the student is exposed to the Thai alphabetic system. I mentioned to the owner that in the next print run it would be helpful to have Thai script even if it wasn't taught in earlier conversational lessons. At least it would show students what Thai looks like. Then again, I mention this to ALL the schools which use karaoke Thai for their beginner books.
Thai Language House also has classes tailored to the needs of the student. Customised courses are coming into fashion in more of the schools I've toured. That way, the schools can provide relevant material and concentrate on teaching in a way which increases proficiency, rather than by the broad brush method. With this focus schools gain access to niche markets teaching specialized vocabulary for business, finance, emails, etc (topics that not all foreign Thai students have a desire to learn).
Teachers: Thai Language House has a pool of teachers to select from. Some teach just at the school, some do offsite teaching, etc. I met two Thai teachers while there; the owner, as well as a staff teacher. In my opinion, they're both qualified to teach Thai to foreigners. Actually, they're so good at understanding off-toned foreign accented Thai that I was able to converse with them almost 100% in Thai. And for that to happen, I believe they're pretty darned good!
Both of the students I saw were taking copious notes and had nothing but good things to say about the teachers. I even asked when the teachers were out of earshot but got the same answers. As Thai lessons go, the students were happy with what they were receiving.
Classes: Thai Language House offers a variety of times to attend class. The classe size range from one-on-one to small groups. The classes can be taught at the school or off-site at a business or residence. Regular classes run in 50 minute blocks.
In class you're encouraged to speak Thai from the get go. It's not nearly as hard core as some Unity Clone schools with their no-engrish-in-class rules. But still, Thai Language House wants you to speak Thai as much as you can. It's a very forgiving environment and the two students I observed were both laughing and learning. Funny how those two things seem to go hand in hand with actually acquiring knowledge of any kind.
Thai Language House offers online classes via Skype and other internet chat service providers. Skype lessons are useful for students who buy blocks of class hours but don't use all their time. If students leave early they can still continue their Thai studies back in their home countries.
On offer are group, private and corporate lesson plans of various lengths and subjects, so I'd check with the school to see what fits you best in that regard.
ED Visa: When Thai Language House was in two different locations they were registered with the Ministry of Education. However, since moving to Saranjai Mansion, they no longer maintain their registration. What this means is that you'll need to sort out your own visa situation. It isn't any different than several other private Thai schools I've reviewed where their focus is teaching Thai, not facilitating foreigners to stay in the country. In my opinion method, materials and teachers make a quality Thai language school, NOT a piece of paper issued by a government agency.
Bang-4-The-Baht: As far as a school which isn't registered with the MOE, I'd rate Thai Language House quite high in quality of language instruction versus baht you pay for the lessons. I'd recommend people stop by, look at their material, take a trial lesson, and see if this school is a fit.
BTW: I said the owner uses part of the school as her art gallery. She's quite good. The website for her art work is at Art of Jim 9. It's worth stopping by to peruse her art.
Tod Daniels | toddaniels at gmail dot com
Reviewing Thai Language Schools in Bangkok
(BTW: Tod is NOT affiliated with any Thai language school)