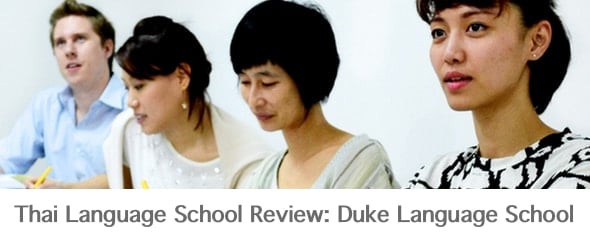 EDIT: Please read Duke Thai Language School: Materials Review first.
First, a bit of a ramble about Union schools…
Preamble: I haven't written any reviews in quite awhile. Mostly because there are so few schools coming into the "teach Thai to adult foreigners" niche market. In addition, my somewhat skewed opinion about what I call "Union Clone" schools is too well known. Don't get me wrong, the teaching methodology is solid and the classes are intensive, but nothing much has been done to freshen up their materials. It's dry to the n-th degree. And for me at least, it teaches foreigners to speak a version of Thai that hasn't been heard on the streets of Thailand perhaps ever. The materials have an archaic, too formal a version of syrupy sweet over the top Thai. I am of the mind that back in the day, the objective of the original Union material was to teach foreigners to speak Thai so that the would never be identified as near-native speakers of the language. That could just be my paranoia speaking, but I wouldn't put it past the original developers of the material either.
Now, in defense of the Union material, it is successful and they've probably turned out more foreign speakers of coherent Thai than any other methodology out there. This is mostly due to the sheer number of Union type of schools in Bangkok rather than the material. Still, it does work IF a student is willing to buckle down and go the distance with the intensive class structure. It's so fast paced that if you miss a single three hour lesson, you'll fall behind the curve and are unlikely to catch up to speed. I've met more students who've washed out of a Union Clone school than I have students who've survived to the end.
Other than a few schools, most are using the original dated Union materials (albeit with their own schools name on the textbooks). This is why, when I went to Duke Language School's website and saw the format; I surmised it was another Union Clone School in methodology and course structure.
They do have the same module based structure: three hours a day, five days a week, for four weeks. They do also teach via "karaoke Thai" for the first three levels of conversation too. But that's where ANY and ALL similarity ends as far as a Union Clone school. Quite honestly, I didn't even want to lump them in with the other Union Clone schools but so far I haven't come up with a good comparative name other than Union Version 2.0.
And now, with all that off my chest and out of the way, here's the review:
Duke Thai Language School…
Website: Duke Language School
Address: 10/63, Trendy Building, 3rd floor Sukhumvit Soi 13,
Wattana, Bangkok Thailand 10110
Email: [email protected]
Tel: Land: 02-168-7274 Mobile: 082-444-1595
Location: It's an easy walk from either the Nana or Asok BTS station to the Trendy building on Soi 13. Take the escalators up to the third floor and you're there!
Basic Info: The school is in a brand spanking new building which has only been open about four months, so as you might expect, everything is gleaming! The classrooms are small and what I'd call cozy. All in all it's a well thought out, well designed modern school. It even has a sitting area for breaks, etc.
The front staff is pleasant and well versed in the programs. Now, like most Union Clone schools, the front staff appears a little light on their English ability but this isn't unique to schools in Bangkok by any means. I've never quite figured this conundrum out, seeing as they're teaching Thai to non-native adult speakers and most Asians possess at least a basic command of English.
Materials: The materials are possibly some of the best "Union type" I've seen in my nine years in this country. They are contemporary, current, and totally re-written! Gone are the endless pages of boring text (like most Union clone schools have). In their place are labeled pictures and nice diagrams. Honestly, I can't say enough about how fresh and meaningful the material is versus the old Union stuff.
The two co-founders of Duke Language School put a TON of time weeding out the useful teaching material from the dated stuff which was garbage. They re-wrote what was left, organised it in a more logical way, and that included thinning out the artificial sounding constructs. The end result gives the lessons a good flow and real-life feel to them.
Many schools get duped by the printer to run WAY too many text books but Duke did a limited first run. The plan is to weed out any mistakes (it happens), get suggestions, and then make corrections and further tweak the system before the second run. I've been to schools where, before they teach a single word, the teacher goes thru the textbooks page by page to tell students about the mistakes. That won't be the case at Duke Language School.
Method: It is definitely a Union based methodology as they teach speaking before they teach reading and writing Thai. Now that's not a bad thing by any stretch of the imagination so don't take it as a negative. I've met some pretty talented foreign speakers of Thai who learned via karaoke and some still can't tell a chicken กอ ไก่ from an owl ฮอ นกฮูก (the first and last letters of the Thai alphabet).
Of all the possibly hundreds of Thai students I've spoken to, the FIRST thing they want to learn is speaking and understanding Thai. Then way down the list, and I mean WAY down the list, is learning to read and write. Personally, no matter how many people say, "being able to read Thai makes you speak better Thai", I don't buy it. Kids can't read a character, yet they seem to be able to develop competent spoken language skills sans reading. To me speaking and reading are horses of a different color. I doubt that many people if ANY think about how a word is spelled in Thai before they say it out loud. If they do, they must be some pretty slow clunky speakers of Thai. I mean it just don't happen in the real world. Now is reading Thai useful? Heck yeah it is! But is reading Thai necessary to learn to speak it? Nope, it is abso-tively posi-lutely NOT necessary to learn read before you start to speak coherent Thai.
At Duke Language school students are first taught how their karaoke Thai system works, what the symbols mean, and sounds are made. In looking at it, it's almost 100% the same as Benjawan Becker's phonemic transcription method, so transitioning from Duke's text books to Benjawan's is almost seamless. This is a huge plus because I've been to some schools that have their own "proprietary school specific karaoke" which often bears little resemblance to anyone else's method so you can't easily switch between available materials (and we all do).
Face it, there's no one who has more books in print about learning Thai than Benjawan does, so if a school uses her karaoke there is a plethora of other materials a student can use to supplement their learning. Once the phonetic system at Duke Language School is learned the class starts on the basics with meeting greeting, names, questions, etc. They do the typical 50 minute classes with a 10-15 minute break in between.
Duke is also one of the first schools I've been to that uses audio visual and big screens to teach Thai. It's incorporated into almost every level they teach. And they are constantly developing additional ways to use it in the school's curriculum. I believe it will become the "gold standard" as far as teaching Thai to foreigners goes. Right now no one else (or should I say, no place else that I've ever been to) is doing it. Students watch a short clip or a presentation, then talk about and discuss it. It's a no-brainer in today's tech-savvy world, especially with all of the resources available in internet-land.
Duke offers monthly field trips which students, no matter their level of Thai, can participate in. To encourage the students to interact with each other and further their Thai ability, on the field trips they incorporate various activities. This also helps build friendship between students no matter what module or level they're learning at school. FWIW: these aren't just those b/s trips to a Soi side street vendor, J/J Market or Pratunam, but decent day trips, which in talking to the students, seem to be well received and attended.
Teachers: Sitting in a trial class I was impressed that the teacher went out of her way to speak clearly. She spoke slow enough so students could comprehend and understand her, but not too slow to make it feel like she was "spoon feeding" the students. Teachers at Duke Language School are competent in the teaching method, are engaging, and no matter how off-toned or poorly pronounced the students are, seriously try to get them to break out of their shell and speak. The teachers are sticklers on getting pronunciation, vowel length and intonation right. But that's a plus, seeing as it's the key to being understood in Thai. Sitting outside talking with the front desk staff, I could hear the laughter and animated conversations going on in the rooms. Too many times sitting in class, it's no fun learning Thai (or any language), but these teachers appear to go out of their way and make it fun. It can and does make learning a lot easier.
Classes: They run four weeks of group classes or terms that are available in the morning, afternoon or evening. They also offer private lessons too.
ED Visa: DLS is approved by the Ministry of Education to offer ED visa assistance and support for both their six month and their yearlong Thai courses.
Bang-4-The-Baht: If, as a student of the Thai language, you want to do intensive courses in Thai (versus milking the current education system by learning Thai four hours a week just to get a visa to stay here) this school is at the top of the pile! Hands down I'd recommend Duke Language School over ANY other school out there that I've been to so far (be sure to check the date of this post against the others that went before). No other schools can compete with Duke in terms of quality material, qualified teachers, and an overall good atmosphere to learn the Thai language. They have some of the most competitive pricing for group lessons. Make sure to check their website for promotions, etc.
After going to so many schools, saying the same old B/S spiel, "Hi, I just moved here to Thailand. I love the country, the people and the culture so much that I want to learn Thai", I've become a pretty darned jaded foreigner as far as how Thai is taught. It takes a lot for a school to wow me nowadays, but I can honestly say, with no reservations at Duke Language School I was indeed wowed!
I hope you guys found this review of interest. As I said in the beginning, after a long break I'm a little rusty writing Thai language school reviews. If you're wanting to learn Thai you should definitely put Duke on your list of schools to scope out. Be sure to sit a trial lesson while you are there.
Good luck, and as always I'm not affiliated with ANY Thai language school, I just want you guys to know what's what out there in the learn Thai marketplace.
Tod Daniels | toddaniels at gmail dot com
Reviewing Thai Language Schools in Bangkok
(BTW: Tod is NOT affiliated with any Thai language school)