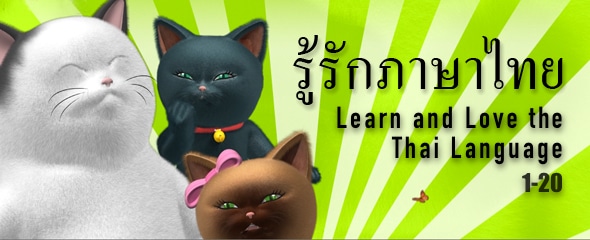 Last year when the Thai Cat Cartoon series launched I thought it'd be a great idea to create study files.
Sean thought I was totally bonkers but I slogged on anyway. In the end, Sean was right. Well, we both were. Having study files is a great idea but I ran out of steam. Plus, I have a megga project coming up.
Ah. The guilt. Yes. I'm bowing out.
If you are looking for a good resource to learn Thai online, check out Learn Thai from a White Guy. Upon entering your email, you'll get five free lessons to help you start learning to read Thai.
To partially make it up to everyone, I've created a compilation pdf from the first twenty episodes. Accompanying it is a spreadsheet with the vocabulary.
Download: Thai Cat Cartoons Episodes One to Twenty: Conversations
Download: Thai Cat Cartoons Episodes One to Twenty: Vocabulary
Disclaimer…
Sean has not read my version of the Thai Cat Cartoons (the vocabulary translations). When it comes to Thai he's a bit of a perfectionist and crunched for time so it's for the best. If you aren't too sure about the vocabulary sections then please do grab a dictionary and/or a Thai to find out for yourself. That's how I do it. Sometimes I'm wrong and sometimes right, but I always learn something extra.