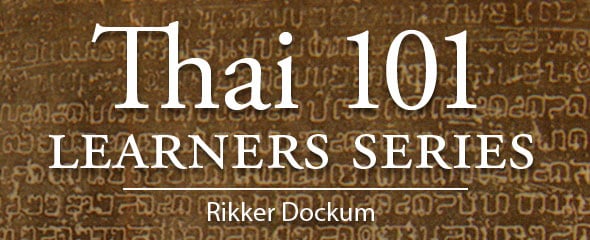 Taking the long way home…
One skill that will always come in handy when learning a second language is being able to say what you want without knowing how to say it.
Yes, you read correctly. It's the fine art of circumlocution: literally, talking a circle around what you mean. And it's something you'll find you need to do in virtually every conversation. The value of circumlocution is twofold:
First, it gets your point across.
Second, and probably more importantly, the person you're talking with is bound to tell you the correct word after he figures out what on earth you have been trying to say.
Venturing forth to talk about things you haven't learned yet is a great way to expand your vocabulary, so be fearless.
First off, consider the word ที่ /thîi/. It's an extremely versatile word, and you may recall from an earlier column that it's the second most commonly used word in Thai, after การ /kaan/. It turns out that ที่ /thîi/ is really useful when you find yourself searching for the right word.
One meaning of ที่ /thîi/ is, roughly, "a thing used to… ", in such expressions as ที่ นั่ง /thîi nâng/ "seat" (literally, thing for sitting) and ที่ นอน /thîi nawn/ "mattress, bed" (literally, thing used for sleeping), ที่ ปัด น้ำ ฝน /thîi pàt nám fǒn/ "windshield wiper" (literally, rainwater wiper), ที่ เย็บ กระดาษ /thîi yép kradàat/, "stapler" (literally "a thing to sew paper").
In many other expressions, ที่ /thîi/ is sometimes used in place of a more specific word. ไม้ ตี ยุง /máai tii yung/ refers to those ever-popular racquet-shaped electric mosquito zappers, but you'll also hear ที่ ตี ยุง /thîi tii yung/ "mosquito swatter".
To make a long story short, ที่ /thîi/ is a handy word to use at times when you want to refer to something, but you don't know what it's called.
Sometimes you may even stumble upon the correct name. If you ask for "a thing that opens bottles", ที่ เปิด ขวด thîi pèrt khùat/, then you've hit on the exact phrase Thais use for "bottle opener". Lucky eh? Even if you don't get it exactly right, this short word goes a long way in helping find what you need.
Say you were at the store and you needed to buy a rubber eraser, but you didn't know what it was called. So you try asking for ที่ ลบ ดินสอ /thîi lóp dinsǎw/, literally "a thing for erasing pencils".
You aren't going to win any elocution prizes, but the shopkeeper would probably give a big อ๋อ /ǎw/ (which is Thai for "now I know what you're talking about, you nutty farang") before fetching you a ยาง ลบ /yaang lóp/, a rubber eraser. Mission accomplished.
Practise using basic words like these in order to get your meaning across; there are plenty more where ที่ /thîi/ came from.
เครื่อง /khrûeang/ is a common word for machines and gadgets: เครื่อง บิน /khrûeang bin/ "airplane", เครื่อง ซัก ผ้า /khrûeang sák phâa/ "washing machine", เครื่อง คิด เลข /khrûeang khít lêek/ "calculator" and so forth.
For example, you might use เครื่อง /khrûeang/ if you forgot what a refrigerator is called.
เครื่อง ที่ ทำ ให้ อหาร เย็น /khrûeang thîi tham hâi aahǎan yen/ "machine that makes food cold" will sound funny to the Thai ear, but they'll probably be able to figure out what you mean. Then they will tell you it's called a ตู้ เย็น /tûu yen/ "fridge".
รถ /rót/ is used with all things wheeled: รถ ยนตร์ /rót yon/ "automobile", รถ เมล์ /rót mee/ "bus", รถ ไฟ /rót fai/ "train".
You could ask the word for "bicycle" by describing it as รถ ที่ ใช้ เท้า ถีบ /rót thîi chái tháao thìip/ "vehicle that you use your feet to propel". This will lead you to the proper word, รถ จักรยาน /rót jàkrayaan/, or just จักรยาน /jàkrayaan/.
Incidentally, รถ ถีบ /rót thìip/ is the old Isarn word for bicycle.
And one final useful word: คล้าย /khláai/ or คล้ายๆ /khláai khláai/ "similar to". You could describe a pen as คล้ายๆ ดินสอ /khláai khláai dinsǎw/ "similar to a pencil".
You might also mimic the action of writing, or better yet, just pull out a pen and ask them the word. You get the idea. Or, if you were trying to tell a Thai friend what a Nissan Tiida looks like, try saying it's คล้ายๆ /khláai khláai/ Honda Jazz.
If you don't find yourself in need of a little circumlocution every day, then you're probably not learning much.
Now go and strike up a conversation with someone about, I dunno, a hydroelectric power plant or the gearing mechanism on your old Suzuki Caribbean.
Rikker Dockum
Thai 101
The Thai 101 Learners Series first appeared in the Phuket Gazette '08
@ Copyright 2008-2009 Rikker Dockum