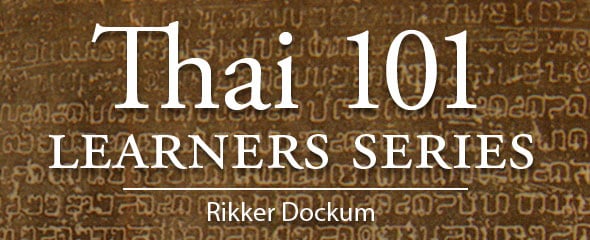 Long or short really does matter…
When it comes to Thai vowels, length really does matter. I remember in grade school that the teacher taught about "long" and "short" vowels in English, where the i in "bite" is long, but the i in "bit" is short. Or something like that.
This terminology has been around a long time, but in modern English there is nothing phonetically long or short about these vowels. These are just terms to differentiate two ways of pronouncing the same written vowel.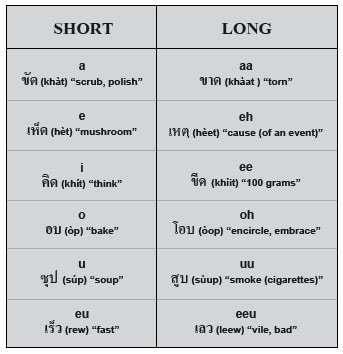 In Thai, on the other hand, vowel length refers to actual duration – the length of time it takes to pronounce the vowel.
In previous columns I've written about contrasting and non-contrasting sounds. Now I'm here to tell you that vowel length is contrasting in Thai.
That means two words that are the same in every respect except vowel length will mean two different things.
For example, หัด /hàt/ means "practice", but หาด /hàat/ means "beach".
This subject reminds me of something that happened to a Thai friend of mine. Like many small restaurant owners, he hired a Burmese fellow to help out around the kitchen.
Finding himself out of potatoes at a busy time, he sent the man off to the market with a couple hundred baht and instructions to buy as many potatoes /mun faràng/ as he could get.
His employee quickly returned, eager to please, with a big smile on his face and a sack in his hand filled with 40 packs of chewing gum /màak faràng/.
My friend felt like making him chew the whole lot at once.
There's more to that mixup than just vowel length. Because Burmese has different contrasting sounds than Thai, it was hard for the well-meaning kitchen boy to tell the words apart. While this seems to us like a silly mistake, we often get into the same situation with pairs like b and p, or d and t.
When two words sound the same, often vowel length can help to pick out the difference.
Each Thai vowel has a long or short form. I won't include every single possibility here, just some of the most common ones (see table above).
For a couple of these pairs, the tone of the two words is different. I did that so I could stick to more common words. But apart from tone, vowel length is the only difference.
There is one exception: the last pair. In normal speech, Thais don't always distinguish between r and l, so it's a common mistake for foreigners to say เลว /leew/ "vile" when they mean เร็ว /rew/ "fast". Be careful, since เลว /leew/ is rather rude. It's a misunderstanding waiting to happen.
Ask a Thai friend to read these words pairs aloud to you, and help you practice distinguishing between them.
You're armed with the basics of vowel length now, so get out there and have a conversation.
If you come back with a black eye, though, don't say I didn't warn you.
Rikker Dockum
Thai 101
The Thai 101 Learners Series first appeared in the Phuket Gazette '08
@ Copyright 2008-2009 Rikker Dockum