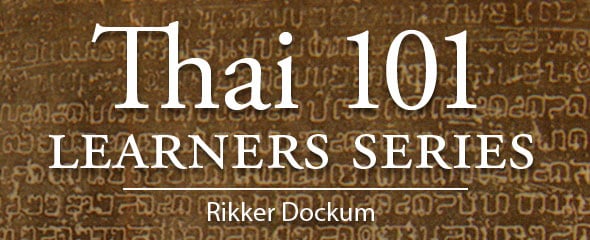 The Thais have nicknames too…
This week I'll give you a break from my normal spiel on the linguistic nuts and bolts of the Thai language and do something a bit lighter. If you've spent any amount of time in Thailand, you're bound to have noticed that Thais have very colorful nicknames. Common Thai nicknames include อ้วน (Ooan, meaning fat) and หมู (Moo, meaning pig). I know at least half a dozen people named แดง (Daeng, red).
In Thai culture, a person's nickname is generally chosen by the parents at birth and is used throughout their life. Thai nicknames are different from legal names. The legal name usually comes from Pali and Sanskrit words, with careful attention given to attach an auspicious meaning. Often parents will ask a trusted monk to choose the name for a child on their behalf.
Nicknames, on the other hand, have their own logic. Ooan was probably a podgy baby, while Moo was likely born in the Year of the Pig and Daeng may have had a ruddy complexion at birth. My wife's nickname is เก้า (Kao, the word for nine) because she was born at 9 am on the 19th day of the 9th Thai month.
Nicknames are an interesting part of Thai culture. Thais have a fondness for changing their given names, often for astrological reasons. My mother-in-law changed her name the year she retired. At the advice of a fortune teller, an aspiring Thai weightlifter changed her name from Junpim Kuntatean to Prapawadee Jaroenrattanatarakoon before going on to smash an Olympic record in the 53-kilogram women's clean-and-jerk and return home with a gold medal.
While some Thais are known to change their formal names many times in the course of a lifetime, nicknames usually stick. Sure, I know people who have changed their nicknames, but I know more who have changed their legal name and kept the nickname. The nickname is so integral to Thai culture that longtime acquaintances may know each other only by their nickname.
In recent decades, though, a new trend has developed. More and more Thai nicknames are coming from English. First, a few popular ones. I would be surprised if you don't know anyone with one of these names.
For boys: แบงค์ (Bank); เบิร์ด (Bird); ก็อฟ (Golf)
For girls: โบว์ (Bow); กิ๊ฟ (Gift); โรส (Rose)
When you first run into some of these nicknames, it can be comical. But after a while, you don't even bat an eye when you run into a person named Cartoon or Fluke. There's a certain perceived cachet to English names. English is cool. It's different. No matter how many Banks there are, there are still boatloads more Thai people named Moo and Daeng. So it's a way to be unique.
Maybe too unique. I've run into some very, well, creative nicknames. I knew a fellow who worked as a baker and I thought for a long time his son was named East, until one day he corrected me to say no, the boy's name is ยีสต์ (Yeast). It was a word he knew through his profession and he liked the sound of it.
Another time, I met a Muslim man who had given his son the nickname ก๊อด (God). He was proud of the name and saw it as a sign of his strong faith in his religion. I don't even want to think of how that would go over in my conservative American hometown if this kid became an exchange student there.
And it's not just Thailand. When I was in the fourth grade, a boy named Percy moved into my town. He had emigrated from China with his parents and we were in the same class at school.
My best friend, who lived next door to the family, asked Percy why he chose that name. My friend swore that the response was that he liked Pepsi and Percy was close to Pepsi. My nine-year-old mind thought for sure my friend was pulling my leg.
Well, now that I've lived in Thailand for a while, I'm inclined to believe him. I've met more than one Pepsi. I've also met เบ็นซ (Benz), เฟิร์สท (First), สต็อป (Stop), ไทเกอร์ (Tiger), ฟิวส์ (Fuse), เบียร์ (Beer), มิ้นท์ (Mint), ไอซ์ (Ice) and many more. I've heard of such names as มาเฟีย (Mafia) and ไฮเนเก้น (Heineken).
Gwyneth Paltrow has a daughter named Apple. If she ever comes to Thailand, she'll fit right in.
Rikker Dockum
Thai 101
The Thai 101 Learners Series first appeared in the Phuket Gazette '08
@ Copyright 2008-2009 Rikker Dockum