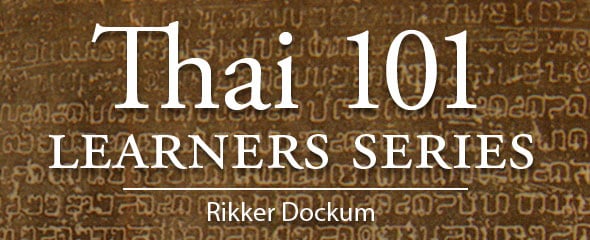 Welcome to the Thai 101 Learners Series…
It's easy to start learning a language. You might pick up a few words from friends, memorize a line or two from a phrasebook, even study some grammar.
At the same time, it's easy to get in over your head. And when it comes to mastering a new language, who isn't in over their head?
Think of all the English literary references in, say, a Shrek movie. Now compound that with pop-culture references, slang and characters who speak with half-a-dozen accents and this is marketed as entertainment for kids.
If you consider how a foreigner learning English must feel, it's dizzying. Yet somehow there are billions who speak or study English as a second language.
So what makes you think you can't learn Thai? That's where I can help. You're reading the maiden voyage of "Thai 101," a new column in which I'll address questions and issues for students of the Thai language.
I've lived in Thailand off and on for six years.
During these years, learning, improving and mastering my Thai has always been one of my main pursuits.
While you were enjoying the latest bestseller beneath the sunshine of Koh Samui, I was browsing the stacks at the library.
While you were honing your karaoke skills, you would have found me reading up on etymology or serial verb constructions.
I'm not a polyglot who wants to learn every language. I've studied a few, but Thai has captivated me in a way I can't shake.
Last year, as I approached the five-year anniversary of the first time I ever uttered sawatdee khrap, I tried something new, I started a blog, with which this column shares its name.
I called it Thai 101, because even after several years of intensive study, I'm a perpetual student and it reminds me of how much Thai I have still to learn.
The good news is that Thais appreciate even the tiniest amount of effort on your part.
As you may have noticed, most people you meet will be impressed that you are making the effort to learn their difficult language at all.
Some will heap praise upon you as if you had just recited the entire Ramakien, when all you did was order lunch.
I have learned the most by simply speaking Thai with Thais every day. I ask questions, and I pay careful attention to the way natives speak – word choice, phrasing, intonation.
I recommend the same to anyone, but sometimes it's helpful to hear something particularly puzzling explained by someone who has been through the same learning process. That's where I come in.
This column will serve as a useful forum for your questions. Pronunciation, vocabulary, grammar, I'll tackle them all.
The column will be geared toward beginners, but I'll gladly take questions on any topic, any level.
If it's not suitable for here, I could always write about it on my blog, which tends toward more advanced topics.
Whenever I meet someone who's lived in Thailand for a while and who thinks it's hopeless to learn the language, I want to prove them wrong.
If that's you, then read this column and see if the language isn't worth another try.
Next time we'll kick things off with an overview of free resources for the would-be student of Thai.
We're already in over our heads. We might as well keep swimming.
Rikker Dockum
Thai 101
The Thai 101 Learners Series first appeared in the Phuket Gazette '08
@ Copyright 2008-2009 Rikker Dockum