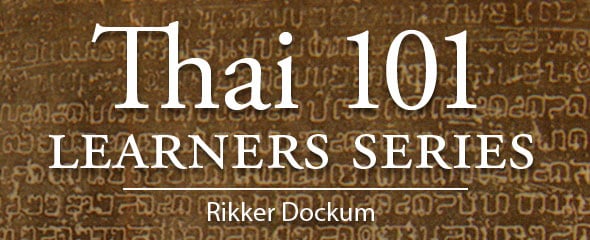 Language thinking gets you everywhere…
When speaking a new language, it's tough to kick the impulse to translate what you want to say from your mother tongue.
When you're first learning, you're thinking of each sentence in English first. This can result in some pretty tortured Thai.
As you continue to improve, your speech patterns should start to sound more like a native speaker.
In achieving this, remember it's often the little things that count. Like prepositions: those words that pair up with a noun to tell us where things are, when something happens and so on.
Languages can use prepositions very differently.
In English we're used to saying that we visited a friend on Sunday, but if we try to translate that into Thai using บน /bon/, it sounds very silly. For Thais, you do things in a certain day. The same can apply to spatial descriptions. For example, in English we say the bird is in the sky, but that sounds silly in Thai.
Instead you have to say the bird is on บน /bon/ the sky.
There's plenty in common, too. Both English and Thai use "in" ใน /nai/ for months and years. Thai for "in 2005…" would be: ใน ปี ๒๐๐๕ /nai pii sǎwng phan hâa/.
Let's have a look at some basic prepositions:
1. บน /bon/ "on (top of)", as in "the book is on the table" หนังสือ อยู่ บน โต๊ะ /nangsǔe yùu bon tó/. Thais talk about the upper level of a house as บน บ้าน /bon bâan/ "on the house", a reference to the traditional Thai house built on stilts. You'll hear this even in Bangkok, where elegant stilt houses have given way to hulking cement monstrosities.
2. ใต้ /tai/ "below, underneath", as in "the hammer is underneath the table": ค้อน อยู่ ใต้ โต๊ะ /kháwn yùu tâi tó/.
And the phrase ใต้ โต๊ะ /tâi tó/ is also commonly used to mean illicit or secret dealings, probably from the English phrase "under the table". Also, the open-air area beneath a Thai stilt house is called ใต้ ถุน /tâi thǔn/. ใต้ /tâi/ is also the word for "south".
3. เหนือ /nǔea/ "above, over", as in "there's a spider hanging above the table" มี แมง มุม ลอย อยู่ เหนือ โต๊ะ /mii maeng mum loi yùu nǔea tó/.
Similar to its opposite ใต้ /tâi/, เหนือ /nǔea/ is also the word for "north". But you'll see it in common phrases like เหนือ หัว /nǔea hǔa/ "overhead" (or the more polite version เหนือ ศีรษะ /nǔea sǐisà/, and เหนือ ธรรมชาติ /nǔea thammachâat/ "supernatural" (literally "over nature").
4. ข้าง /khâang/ "beside, next to", as in "the chair is next to the table": เก้าอี้ อยู่ ข้าง โต๊ะ /kâo-ii yùu khâang tó/.
You'll also see this word in phrases like ผล ข้าง เคียง /phǒn khâang khiang/ "side effects" and เข้า ข้าง /khâo khâang/ "to take (a) side" in an argument.
5. ล่าง /lâang/ "bottom-most, lowest to the ground", as in: "His room is on the ground floor". ห้อง ของ เขาอ ยู่ ชั้น ล่าง /hâwng khǎwng kháo yùu chán lâang/.
Or if you drive a car in Thailand, you may have to fix the ช่วง ล่าง /chûang lâang/, which is the "suspension", so-called because it's part of the underbody of the vehicle.
6. หน้า /nâa/ "in front of, front," as in: "The car is parked in front of the house". รถ จอด อยู่ หน้า บ้าน /rót jàwt yùu nâa bâan/. หน้า is also the word for "face".
The word หน้า /nâa/ shows up all over the place: หัว หน้า /hǔa nâa/ "boss"; ล่วง หน้า /lûang nâa/ "ahead of time, in advance, early"; หน้า ตา /nâa taa/ "appearance"; หน้า รถ /nâa rót/ "hood (of a car)".
7. หลัง /lǎng/ "behind", as in "the keys fell behind the sofa": กุญแจ หล่น อยู่ ข้าง หลัง โซฟา /kunjae lòn yùu khâang lǎng soofaa/. หลัง is also the word for "back", as in ปวด หลัง /pùat lǎng/ "backache".
You'll see หลัง /lǎng/ in expressions like: ทีห ลัง /thii lǎng/ "later"; หลัง จาก /lǎng jàak/ "after (in time)", ถอย หลัง /thǒi lǎng/ "to reverse, move backwards", สัน หลัง /sǎn lǎng/ "spine, backbone".
You can also add the word ข้าง /khâang/ "side" to the front of any of these, to be more specific. หน้า /nâa/ can mean a lot of things, but ข้าง หน้า /khâang nâa/ narrows it down to "in front of, ahead".
You can even say ข้าง ข้าง /khâang khâang/. Repeating the word emphasizes that it's directly adjacent to what you're describing: อยู่ ข้าง ข้าง ตู้ เย็น /yùu khâang khâang tûu yen/ "it's right next to the fridge".
Paying close attention to how native speakers use these basic but important words can help your Thai immensely.
Rikker Dockum
Thai 101
The Thai 101 Learners Series first appeared in the Phuket Gazette '08
@ Copyright 2008-2009 Rikker Dockum